Welcome to Thank FOC It's Friday (back on a Friday) – and planned to coincide and cover the demands of Final Order Cut Off at Diamond Comic Distributors. And now UCS and Lunar as well. Of course, in these times, so much of this is up in the air. There's a lot of product coming through that needs adjusting. Because this represents the comic book industry returning to comic book stores en masse,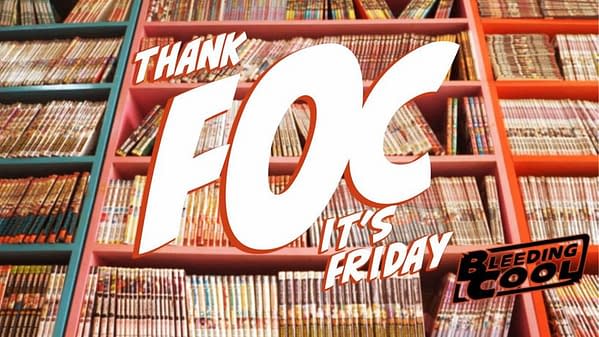 Traditionally FOC is the date when retailers have a last chance to amend their advance orders for comic books without penalty. A final chance for publishers to promote books while orders can still be added. A time for credits to be amends, new covers to be revealed and a final push given. This is an attempt to sift through them all and find the most relevant items.
So what's FOC'ing today?
All four issues of Transformers/My Little Pony are FOCing this weekend, after a little rescheduling on IDW's part. 1:10 incentive covers for all issues and a 1:100 incentive cover for #1.
Free Comic Book Summer titles include Batman Overdrive, Bibi Miyu & Fox Little Tanuki, Invincible #1, Lumberjanes Farewell To Summer, Resistance, The Tick and Zoo Patrol Squad Kingdom Caper.
The Alien Original Screenplay adaptation is being rescheduled again from Dark Horse with its #1
Marvel Action Avengers #10 gets a second print courtesy of the Yellow Hulk, while #11 is up for FOC with a 1:10 cover incentive.
We mentioned the FOC incentives for Negan Lives and Fire Power. Fill yourself in.
How did Goddamned: Virgin Brides #1 do? #2 is up.
Marvel's digital-only comics return to prin with Ant-Man, Black Cat Strikes, and Avengers Of The Wasteland, as well as the return of Captain America, Black Cat, Strikeforce, Star Wars, Deadpool, Guardian Of The Galaxy and more. They have been a while.
Empyre #4 is up – as is Empyre Handbook, Empyre X-Men #2, Celestial Messiah and Fantastic Four #22 for those keeping count.
There's also a Giant-Size FantomeX waiting too.
Mike Deodato and Christa Faust are launching Bad Mother #1 at AWA – which does look a bit like recent Kick Ass...
Seven Secrets #1 from Tom Taylor and Daniele Di Nicuolo will be Boom's big launch of the year it look like.
Heathen and Money Shot return from Vault but the launch of Vampire: The Masquerade #1 is getting a lot of attention.
Titan Comics is launching Horizon Zero Dawn, we ran a preview earlier. With plenty of tiered variants, up to a 1:100 Gold Artgerm variant.
Arkworld #1 by Josh Blaylock and Travis Hymel is launching from Devil's Due.
While Avatar Press, Bleeding Cool's owner, continues to unearth variant covers from the past, many of which have never been offered to the direct market before. Including Caliban, Chronicles of Wormwood
While DC Comics has their own section. Joker War rages on, reeling from the effects of the worst Joker toxin attack ever, in Batman #96. Dark Nights Death Metal Legends of the Dark Knights #1 in now without Warren Ellis. DC launches Dreaming Waking Hours by G. Willow Wilson and . Harley Quinn #75 by Sam Humphries and Sami Basri has its big ending. And Justice League #50 is a special extra-size anniversary issue, the final chapter of The Rule of War by Si Spurrier and Aaron Lopresti.
What's on your FOC?
Sign up below and we'll see what Thank FOC It's Friday brings next week… on time possibly.
Enjoyed this article? Share it!