Marvel Puts the Cosmic Ghost Rider in Chains For New Revenge Comic
Today, Marvel released its special edition of THE PULL LIST, unveiling exclusive information for titles coming to comic shops this December… catch the rest of them here. including another Cosmic Ghost Rider series that sees as the Future Frank Castle gets jailed big time.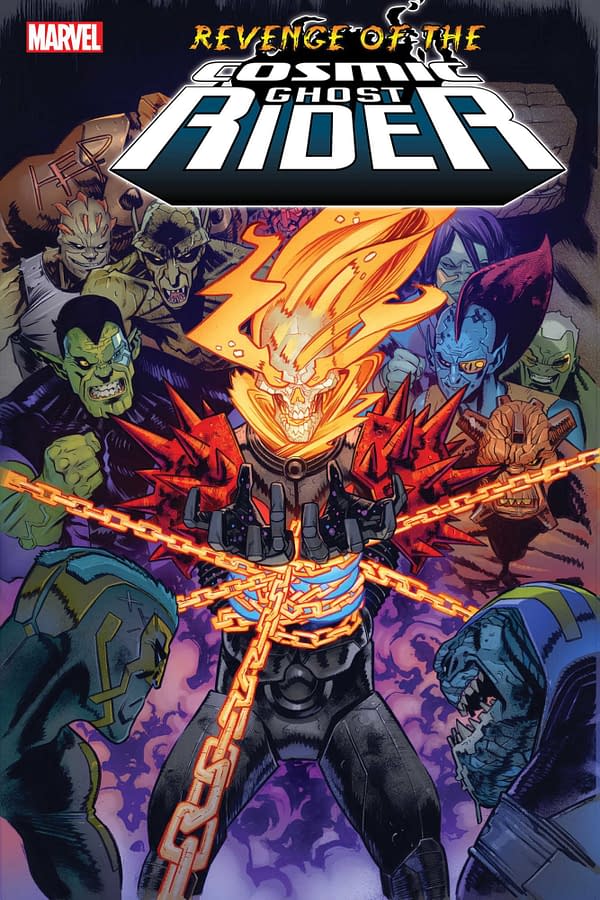 REVENGE OF THE COSMIC GHOST RIDER #1 (OF 5)
Written by DENISS "HOPELESS" HALLUM & DONNY CATES

Art by SCOTT HEPBURN & GEOFF SHAW

Cover by SCOTT HEPBURN

Cosmic Ghost Rider is back, baby! But with a reputation like his, it's only a matter of time before the law catches up to the future Frank Castle and tries to put him in chains – too bad for the law, chains are Castle's weapons of choice these days. Now in an intergalactic prison, the Rider is going to turn his cage into an all-out cage match! Who's going to be the last alien standing?! Find out in this all new miniseries from Dennis "Hopeless" Hallum (MARVEL'S SPIDERMAN: CITY AT WAR) and Scott Hepburn (DEADPOOL)! Plus – Don't miss out on a brand new short story from the guys who started it all, Donny Cates (ABSOLUTE CARNAGE) and Geoff Shaw (GUARDIANS OF THE GALAXY)!
This was revealed amongst other titles in Marvel's Pull List vlog, presented by hosts Ryan "Agent M" Penagos and Tucker Markus, THE PULL LIST sheds light on some of the most highly-anticipated Marvel comics news, sharing details on Incoming #1, an sprawling one-shot that will shape the Marvel Universe for the year to come, and Guardians of the Galaxy #12, the exciting conclusion to Donny Cate's legendary cosmic run, as well as first looks at new series Dr. Strange #1, Revenge of the Cosmic Ghost Rider #1, Marvel's Avengers: Iron Man #1, and Spider-Ham #1!