Marvel Comics – Still Missing In Action
We have had the full Marvel Comics solicitations for September 2020, but there are still a few missing titles. Quite a few actually, not just the ones we missed out on this morning.
Ghost Rider #7 by Ed Brisson and Aaron Kuder has a publication date for July 7th but nothing for August or September, Will this be the final issue?
Runaways #31 was published in March before the shutdown. There has been no subsequent issue published, or rescheduled since the industry returned. Was that its final issue? It did conclude on a cliffhanger, promising a #32 that has not yet been seen. Nothing digital either…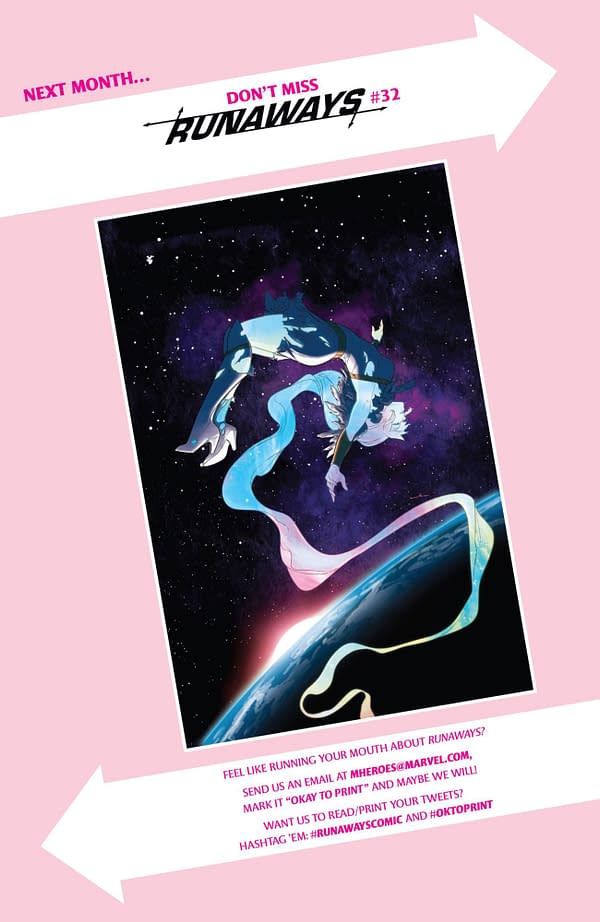 There has been no rescheduling or resolicitation for the Outlawed series Champions, New Warriors or Power Pack. There has been no sign of Children of The Atom. Nor Union or Black Cat. Also missing are the Infinite Destinies Annuals: Iron Man, Thor, Avengers, Guardians.
Nothing for the Amazing Mary Jane or Gwen Stacy. Nothing for Darkhold or Atlantic Attacks.
All the Empyre tie ins that haven't shown up yet must be considered cancelled or digital surprises, as the Empyre aftermath issues are being solicited for September now. Including the Spirit of Corruption and the Spirit of Pollution battle from Ghost Rider: Empyre.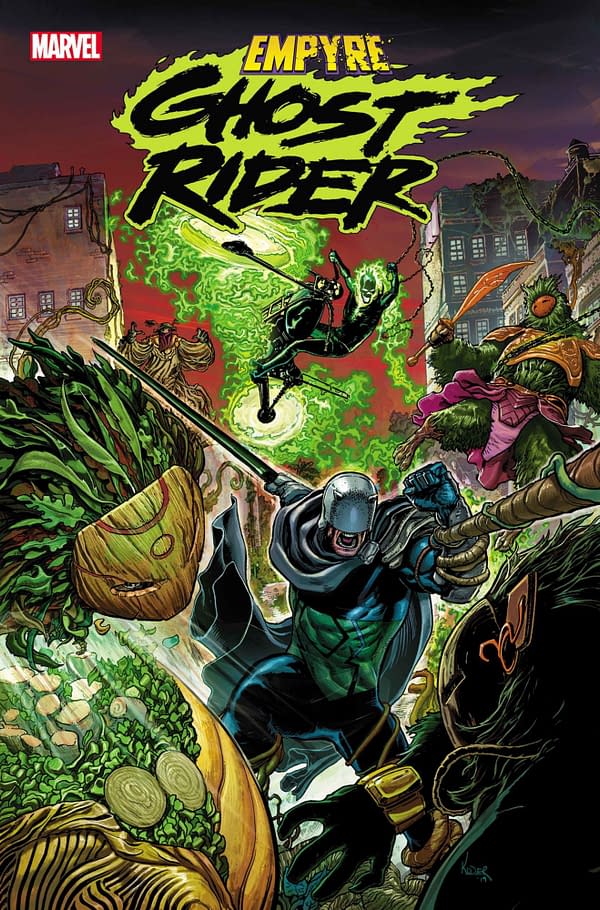 Ghost Rider really doesn't have any luck right now, does he? One reader tells Bleeding Cool "you know what, considering everything, it would be really nice if Marvel were just honest for once about what is cancelled and what is not so we can all work out our bloody pull lists." Here are some of the titles still yet to find a rescheduled home, whether in print or digital.
Darkhold Alpha
X-Men: Dawn Of X Saga
Amazing Mary Jane
The Punisher Vs Barracuda
Werewolf By Night
Children Of The Atom
Gwen Stacy
Amazing Spider-Man: The Daily Bugle
Runaways
Aero
Sword Master
Morbius
Black Panther
Nebula
Atlantis Attacks
Marvel
The Marvels
America Chavez: Made In The USA
Empyre: Spider-Man
Black Widow: Widow's Sting
Widowmakers: Red Guardian and Yelena Belova #1
Taskmaster #1
How To Read Comics The Marvel Way #1
Conan The Barbarian
Savage Sword Of Conan
Dark Agnes
Empyre: Stormranger
Empyre: Thor
Empyre: Squadron Supreme
Empyre: The Invasion Of Wakanda
Empyre: Ghost Rider
New Warriors
Union
Power Pack
Champions
Infinite Destinies Annuals: Iron Man, Thor, Avengers, Guardians
W.E.B. Of Spider-Man #1
Ghost Rider Annual
Star Wars: The Rise Of Skywalker #1
There are also titles that have had issues rescheduled for but which have no subsequent issue in September solicitations. They may of course also return from Marvel Comics in October. They may not.
Ghost Rider
Doctor Strange
Black Panther: Agents Of Wakanda