Marvel Comics Teases December Event – A Burning Crown Of Flame?
Marvel Comics has teased their planned December event before. And at today's Diamond Retailer Lunch, we got the same logos, laying out The War Of The Realms, The House and Powers Of X and Absolute Carnage with a big fat question mark logo for December. Pretty much like before.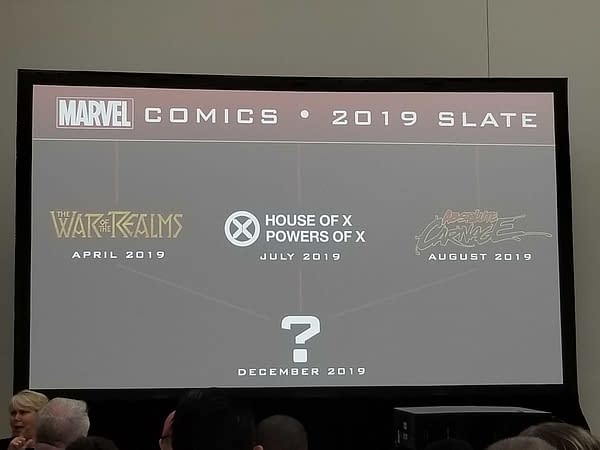 And then just before the slide changed, Bleeding Cool's Daniel Celko's quick fingers grabbed the logo as it flickered to reveal something else.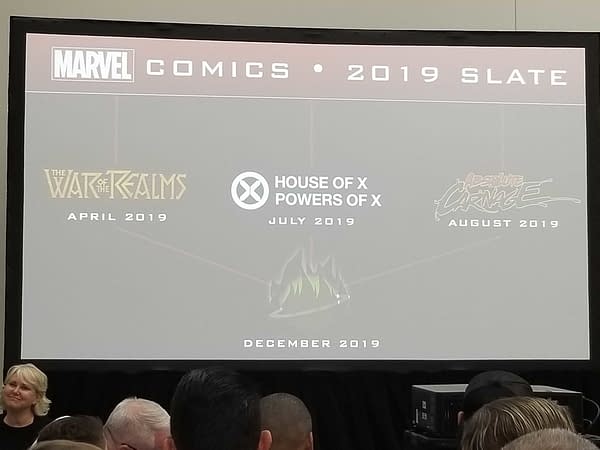 Is that… a burning circle? A crown? Is this Ghost Rider related? We already knew there's a new Ghost Rider series or two coming, and a new Ghost Rider TV series and a Helstrom TV series… could it all be connected to that? Or will December 2019 bring something else for the final month of Marvel's 85th year?
This was all announced by Marvel Comics at the Diamond Retailer Lunch taking place right now. Keep an eye on more from the Diamond Retailer Lunch at San Diego Comic-Con with this handy Bleeding Cool tag.