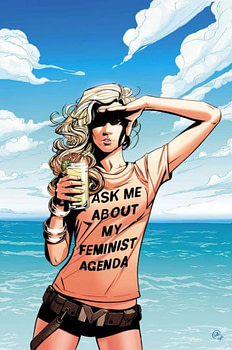 And that' what a little outrage can do.,
Chelsea Cain and Kate Niemczyk's Mockingbird series, recently cancelled and the target of online trolls, has seen a lot of backlash support of late.
So much so that Mockingbird Vol 1: Let Me Explain is the current bestselling superhero graphic novel on Amazon right now. Marvel's best seller too. And the sixth biggest selling graphic novel.
That's just for volume one though, the first five issues. Can Marvel really collect the final three into their own collection on the basis of this sudden burst of activity?
Yes. The suddenly renamed and put together Mockingbird Vol 2: My Feminist Agenda collecting Mockingbird #6-8 and New Avengers #13-14 to help bump it up.
And out in April.
Clever Marvel.