When we first noticed the solicitation for the Warren Ellis Hellstorm Omnibus
, we couldn't quite believe it. Neither could Ellis. His first work for Marvel, commissioned by Marie Javins, took over the Hellstorm comic and made it far dirtier, far darker, far deeper than one might have expected.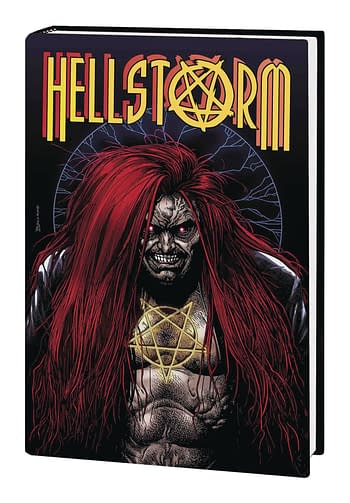 Not only that, but they are publishing the two written issues of the Satana series that, for Marvel editorial at the time, was just too much, and Ellis later reworked into the series Strange Kiss, also too much for DC Vertigo and so Bleeding Cool publisher Avatar Press put it out, which spun off Stranger Kisses, Strange Killings and finally Gravel.
And now someone at Marvel Comics has actually read what they are about to publish. And so, as a result, has issued this warning to all retailers.
*HELLSTORM BY WARREN ELLIS OMNIBUS HC (APR180843, $75.00) will now be rated Explicit Content, instead of the previously solicited Parental Advisory.
Marvel hasn't published anything with such a label in some time. Good old Warren, even your earliest work is still causing comic book higher-ups to have heart attacks.
HELLSTORM BY WARREN ELLIS OMNIBUS HC
(W) Warren Ellis (A) Leonardo Manco, Peter Gross, Derek Yaniger, Martin Chaplin (CA) Brian Bolland
In his first American Marvel comic, rising superstar Warren Ellis made one hell of a debut! Now, rediscover his edgy and unsettling tales of Daimon Hellstrom, the Son of Satan himself! Daimon is on the hunt of a serial magician murderer alongside his ally Isaac Christians, the Gargoyle. But who is Jaine Cutter, and what is her role in the delicate balance between Heaven and Hell? What terrible fate lies in store for Daimon's ex-wife, Patsy "Hellcat" Walker? And what happened to Daimon during his fateful confrontation with his demonic father? Ghosts, demons and things that go bump in the night all await – as does the truth about Satan himself! Plus: Ellis revamps the sorcerous Doctor Druid! Collecting HELLSTORM: PRINCE OF LIES #12-21 and DRUID #1-4.
Explicit Content In Shops: Oct 03, 2018
SRP: $75.00
Enjoyed this article? Share it!