Michael Moreci's writer's commentary on the new Battlestar Galactica: Twilight Command #1 on sale now from Dynamite Entertainment.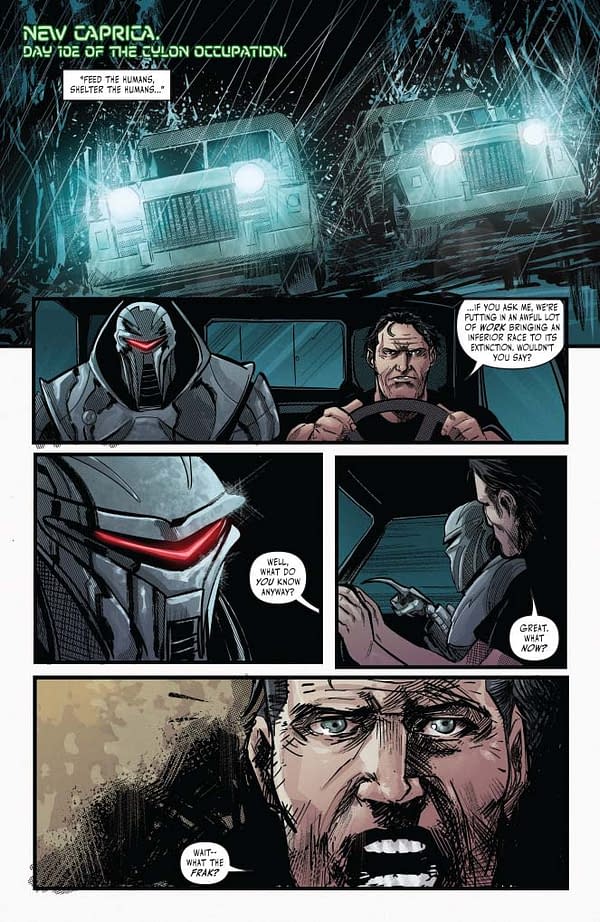 PAGE 1:
Okay! Here we are—Page 1. Setting the stage. Well, we're saying right off the bat that this is happening during the Cylon occupation of New Caprica. So that puts us firmly in end of season 2, beginning of season 3 territory. We're getting right to it, with Cavil leading this convoy of trucks, and who's riding shotgun but a big ol' toaster. I so love that there's a toaster chilling in the passenger seat. And Breno can sure draw the heck out of Centurions, can't he?
And I love that Cavil's trying to strike up a conversation with one—even skinjobs get bored, eh? Though it's not like Centurions can talk. Or can they…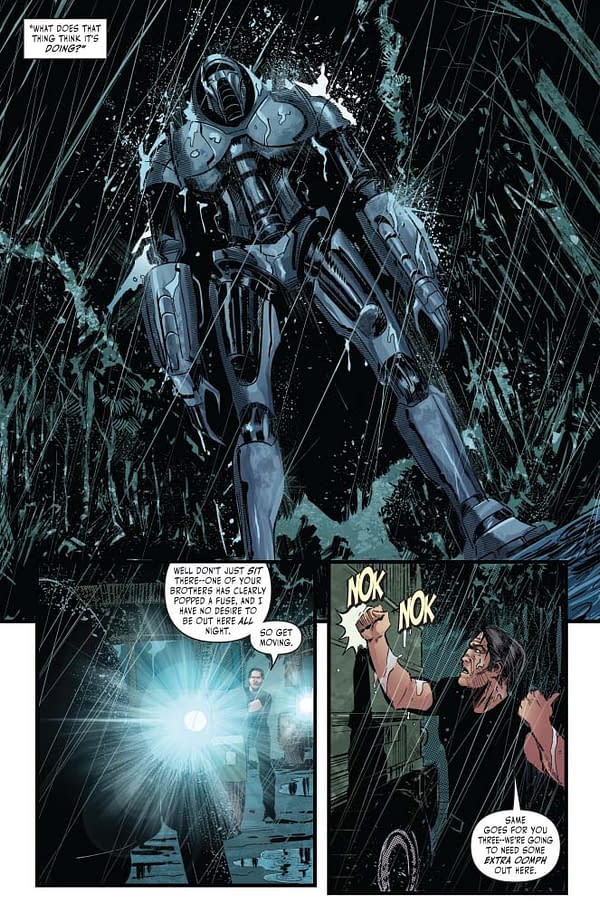 PAGE 2:
Uh-oh. Roadblock. Seemingly a powered-down Centurion. Mysterious.
And, yes, because I'm a Star Wars freak, Cavil saying he's going to need some "extra oomph" mirrors Beckett in Solo saying "we're going to need some of that Wookie oomph."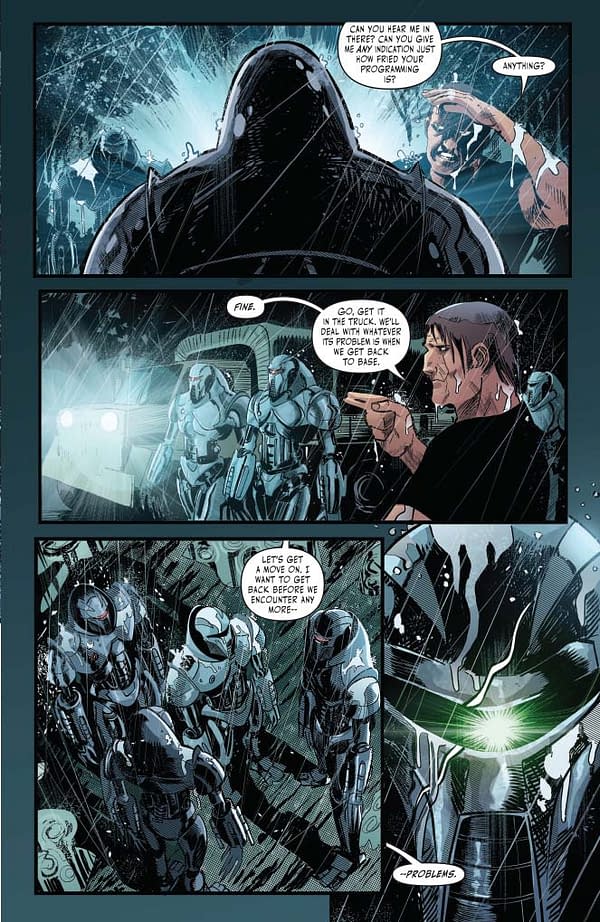 PAGE 3:
I really like Taylor's flow on this page. I always like Taylor's flow, but his balloon placements are really nice here. He drives the eyes nicely around the page, and there's ample room for the art to breathe—which is always a good thing.
And I believe it was either Dijjo's call or Kevin's to make Deacon (the strange Centurion) have a green visor rather than red. Deacon also has a scarf over its face, but it's hard to tell in this panel. Either way, whoever called for this, it was the right call.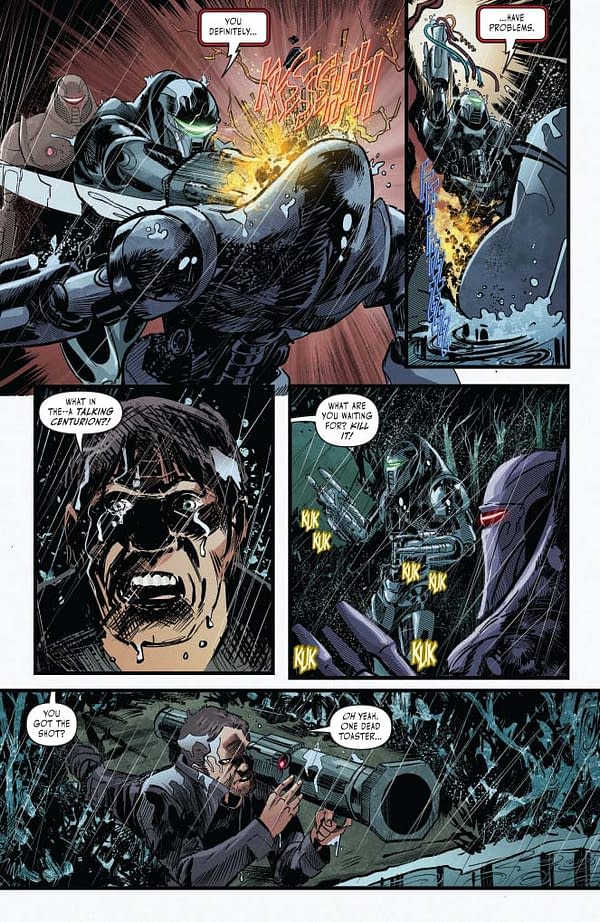 PAGE 4:
Page turn reveal! I love being able to make reveals happen on the page turn when possible. I'm not married to it, because I feel like it's story first, but when I can make it happen, I push for it. Here's one of those times I was able to make it happen, and boom! You turn the page and discover that not only is this Centurion attacking other Centurions, it can frakking talk!
Also, in the final panel, we're getting the first glimpse of the humans in Twilight Command (TC)—and he's holding a bazooka. That's no accident—I wanted to firmly establish TC as bad-ass soldiers, and that's what you get here.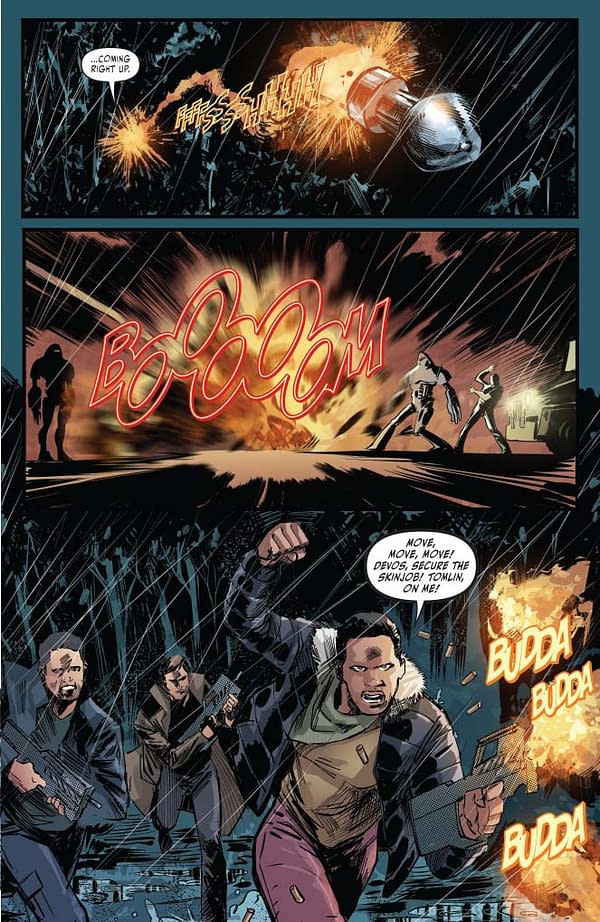 PAGE 5:
And the action heats up—literally. Flores, TC's leader, comes charging in, Tomlin and Devos right behind her.
PAGE 6:
I love Breno's Cylon vs. Cylon action, and I love how he frames this entire sequence. Action in comics can be hard sometimes—I often find myself (and this goes for movies as well) wondering which character is where and what's happening. The more elaborate the staging, the more confusing, at times, the action logistics can get. Breno keeps this nice and neat, and clear, and I like that.
PAGE 7:
"By your command." A little nod to the BSG original series, there.
I like that we're getting into some of the philosophical differences between Cylons and humans, which ultimately leads to Cavil's disdain for the colonists. Also, another cool reveal—"we're not from the colony." Then where is TC from?
Also, I like the Brendo didn't go for photorealism in these characters. Cavil doesn't look exactly like Cavil, and that's okay. Photorealism is weird and looks just…off to me.
PAGE 8:
Ah, New Caprica. Boy, does it suck here.
I loved writing Tigh—being a grumpy old man is surely my final form, and I really enjoyed conveying Tigh's gruff demeanor.
Dijjo's colors on this page are just great. They're great throughout, but I love how human he makes faces with his tones, especially in close-ups.
PAGES 9 and 10:
Chief! One of my favorite BSG characters. And with this issue—see, it was tricky. Because we had to accomplish a few competing things:
One, we had to establish where this stories takes place in canon, and we had to set that scene. Humans are enslaved, a resistance is growing on the ground. In my first pass of the script, in fact, the opening scene was Anders and Chief attacking the Cylon transport—they had guns and grenades, but it seemed like it didn't fit the show's canon. It felt too soon for the resistance to be gaining so much steam and for Anders and Chief to have that kind of firepower and taking those kinds of risks. They're too calculating, too careful—it's Twilight Command that's the opposite.
Also, we had to get some vintage characters in there. I never wanted any existing character to be the lead, but they had to be around to at least pass the torch, so to speak, and that's what this issue gives us.
And, finally, we had to establish Twilight Command. Now, this is something I feel like we only scratch the surface at, but we get much more of these characters—who they are, where they come from, etc—in issue #2.
PAGE 11:
Now we have Chief and Anders trying to unravel the mystery of who this Flores is. I wanted her to be unknown—the Colonial forces must have been pretty large pre-Cylon nuclear strike, so it's entirely possible—likely, even—that not everyone knows each other.
The question is, how do they find this person they've never even heard of?
PAGE 12:
Breno does some nice POV switching here, to keep the dialogue/talking head scene fresh and visually interesting.
PAGE 13:
Personal stakes. Family. Love. Loss. This is the core—the human core—of BSG. The things we fight for—against all odds, against all reason. We fight for the ones we love.
PAGE 14:
I purposefully didn't have Spark in the first scene—the attack on Cavil's convoy. For one thing, he's not a solider. For another, it's cool that we run into him in the forest and don't know who he is—we're already chasing a ghost in Flores. Now who's this guy?
PAGE 15:
More talking toaster, and Flores's reveal—along with her cynicism. We'll learn all about this in time.
PAGE 16:
Breno has some great facial expressions here.
And this is the first layer of the fundamental differences between Flores (and TC) and Adama, and something unexplored in BSG—the humans lost. In Flores's mind, it's best to accept that and adjust accordingly.
PAGE 18:
I LOVE that panel with toasters getting fried. Great colors, great depiction. Totally works.
PAGE 19:
Yeah, they "kill" Cavil. Of course they do! He knows where to find TC, so they have to do whatever they can to ensure he never comes back.
That final panel on Chief is so great—so dark and gritty, which couldn't be more appropriate for BSG. In fact, Breno is simply a perfect fit for this story—he can do dark and gritty so well, but the humanity in his characters shines through exactly when it's supposed to. He did a great job balancing both, light and dark, in this issue.
PAGE 20
So, the torch has been passed. Twilight Command has their mission—motivated by Chief's very human, and desperate, plea (going back to what makes BSG tick—Sina Qua Non, for those in the know). And we're left with a group shot of TC, and a promise of what's to come. The stage is set for these characters to take on a dangerous mission; we'll learn more about that mission, and this team behind it, in the coming issues!
Enjoyed this article? Share it!