Miles Morales #1 Goes to Third Printing, Immortal Hulk #12 and Blossoms 666 #1 to Second
The first issue of the new Archie horror series Blossoms 666 #1 has sold out and gone to a second printing, with a new cover by Francesco Francavilla, and in stores for March 6th.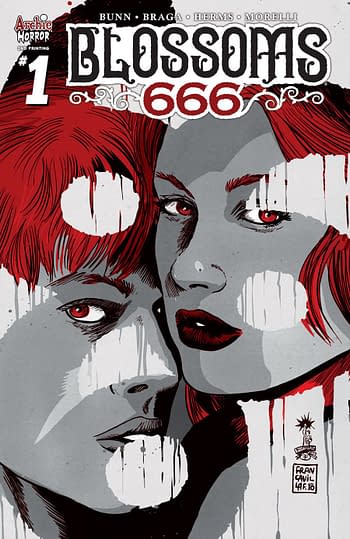 Marvel Comics has a couple more comic books also getting further printings on March 6th. Miles Morales: Spider-Man #1 getting a third printing and Immortal Hulk #12 getting a second printing.
No covers for them yet, but we do have covers for Marvel's second printings from the last couple of weeks..
IMMORTAL HULK #12
(W) Al Ewing (A) Joe Bennett, Ruy Jose, Eric Nguyen (CA) Alex Ross
"HULK IN HELL" PART TWO!
• It whispers through many mouths. It destroys with many hands. Its only weapon is hate.
• It wears human souls like masks on a stage to work its will on the world – but in the lowest hell, underneath all others, all the masks come off…
• …and THE ONE BELOW ALL is revealed.
Rated T+ SRP: $3.99

MILES MORALES SPIDER-MAN #1
(W) Saladin Ahmed (A) Javi Garron (CA) Brian Stelfreeze
Balancing his normal life, school, parents, etc…and super-heroing has never been easy, but when the Rhino and a cadre of mysterious criminals start plaguing Brooklyn, things take a dark turn. And Miles doesn't even know the half of it yet. Eisner Award-winner Saladin Ahmed (BLACK BOLT) and Young Gun Javier Garr n (ANT-MAN & THE WASP) bring you the latest incarnation of the coolest character in the Marvel Universe!
Rated T

BLOSSOMS 666 #1
(W) Cullen Bunn (A) Matt Herms (A/CA) Laura Braga
BRAND NEW SERIES! Cheryl and Jason Blossom are a pair of seemingly normal kids in Riverdale. They're wealthy, popular and likeable-but they also harbor a deep, dark secret-one of the Blossom Twins is the Anti-Christ. Both want the title, and no one in Riverdale is safe.