Miles Morales Gets a Doppelganger in Absolute Carnage? (Spoilers)
In Absolute Carnage #2 and Absolute Carnage: Miles Morales #1, Miles Morales went up against the horde of Carnage alongside the Scorpion. It didn't end well for Mac Gargan. But it also wasn't peachy for Miles Morales either. In Absolute Carnage #2 looking like this…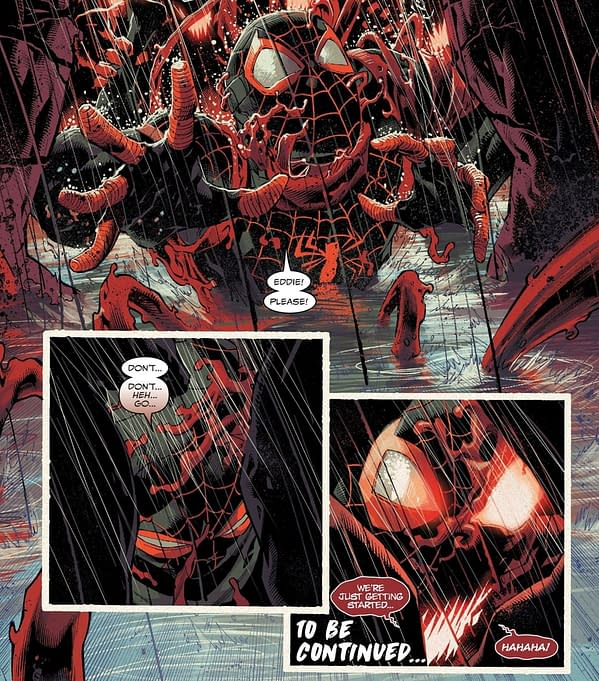 …and in Absolute Carnage: Miles Morales #1 looking like this.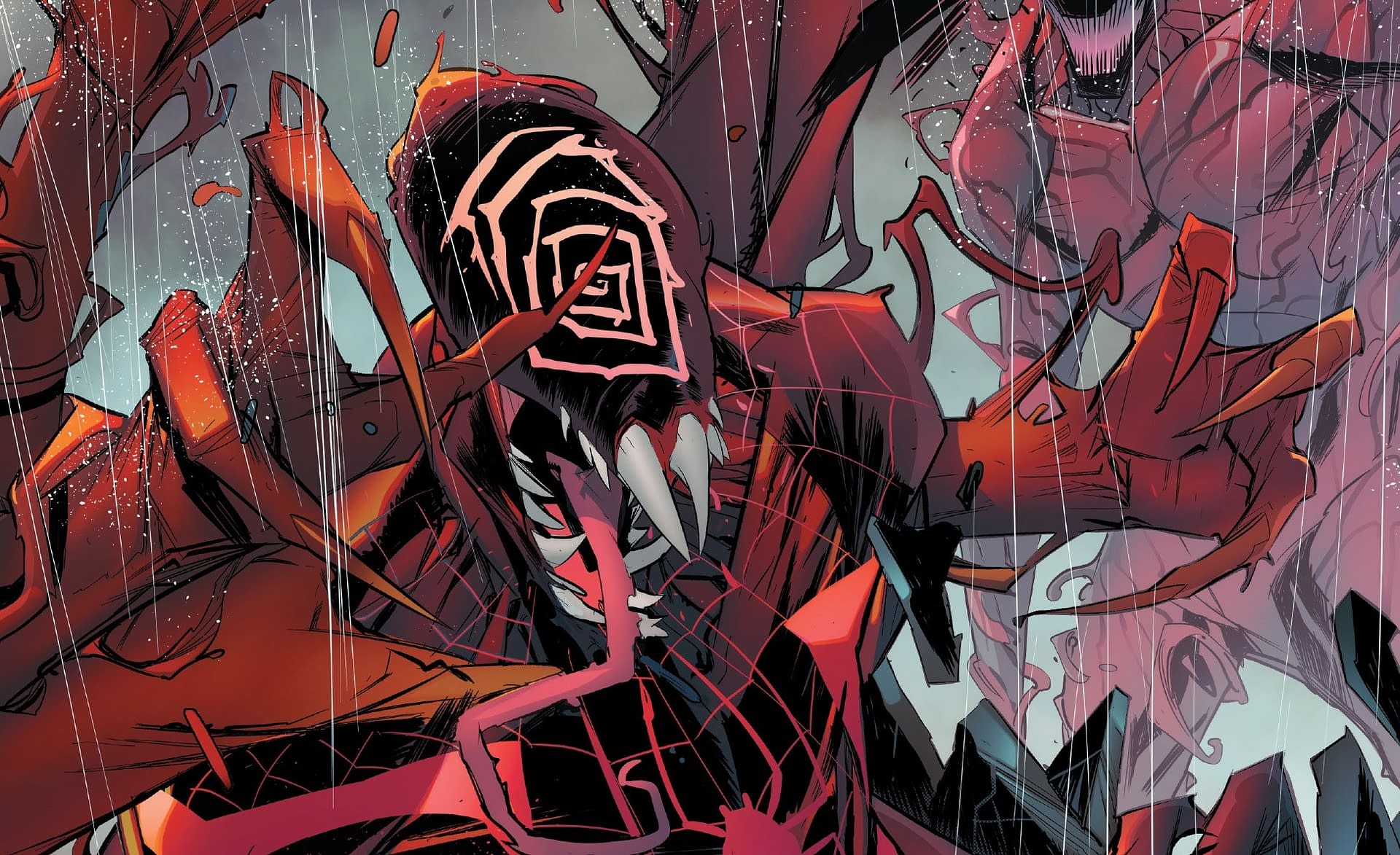 Some people who picked up the Javier Garron Young Guns variant cover to the Absolute Carnage: Miles Morales #1 might have had an inkling ahead. Classified before publication, it gave look at a Miles Morales version of Doppelganger…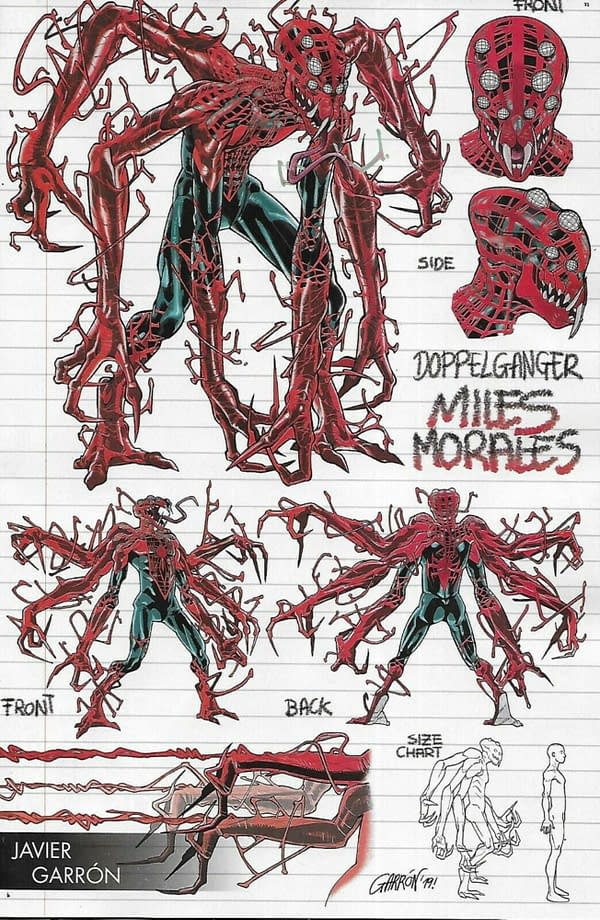 Doppelganger was an evil, near-mindless duplicate of Spider-Man was created by Magus during the Infinity War. The eight-limbed creature was one of many doppelgängers created by Magus during this conflict. The Doppelganger possesses Spider-Man's strength, speed, wall-climbing abilities, and spider-sense, and also has six arms, claws, fangs, and the ability to produce its own razor-edged webbing. It acts like an animal, and growls and hisses rather than speaks.
The Doppelganger began life as a living fractal, a geometric pattern in the Dimension of Manifestations, able to assume the forms and attributes of any being, real or abstract. When a mysterious Magus sets out to obtain the vast power of the Infinity Gauntlet, he contracts the ruling fractal, Prime Manifester Anthropomorpho, to transform several young fractals into monstrous versions of Earth's super heroes; the Doppelganger is one such creation, based upon Spider-Man. It and its brethren are sent to Earth to attack the heroes in the Infinity War. Though most of the fractal doubles were completely destroyed upon being defeated, the Doppelganger is retrieved by the demonic Demogoblin, who infuses it with supernatural energy, enabling it to remain in the Earth dimension even following Magus' defeat.
Doppelganger became a pesudo-child to Carnage and Shriek and, re-uniting ahead of Absolute Carnage, together formed a cult dedicated in worshipping Knull. In Web of Venom: Cult of Carnage they eventually return to Doverton and got the codexes – the symbiote remnants left on the bodies of previous hosts – from the citizens who were infected by Carnage. With Doppelganger doing the dirty work…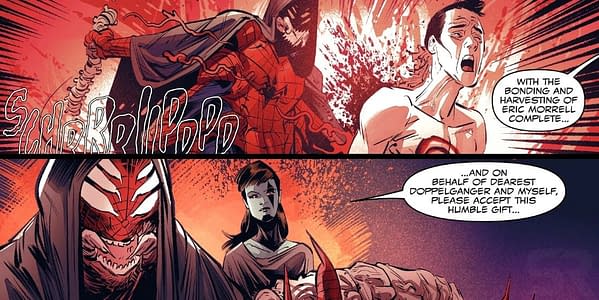 According to scientists who were briefly able to study him after an apparent death, Doppelganger is "inorganic and may not have been legally alive to begin with".
What the nature of the Miles Morales version of Doppelganger is, we may wait to see…
Copies are selling on eBay from $10 to $20 if you want to grab one.
ABSOLUTE CARNAGE MILES MORALES #1 (OF 3) GARRON YOUNG GUNS V
(W) Saladin Ahmed (A) Federico Vincentini (CA) Javi Garron
TARGET: SCORPION!
It's business as usual for Miles Morales as he finds himself squaring off with Mac Gargan, A.K.A. THE SCORPION! But as a cult of Carnage's bloodthirsty acolytes swarms New York, Miles will learn the hard way that Scorpion has a history with Venom and the other symbiotes of the Marvel Universe! If he can survive this issue, that is.
Rated T In Shops: Aug 28, 2019 SRP: $3.99