The following is merely mindless speculation based on rereading the most recent issue of Civil War II. Because someone has to.
Last week's issue gave us some information about the future. That something about the Inhumans leaving, the world changing, was over Tony Stark.
Specifically over Tony Stark pushing "her" too far. Naturally, we are led to believe the "her" is Captain Marvel. And that this is the result. Though that might necessitate an armour change. After all in Iron Man's own titles, he's all "virtual" and "artificial"… and described as no longer being with us. But did it have to be Captain Marvel who did the deed? At the beginning, the action that kicked Iron Man into taking this position was the death of James Rhodes at the hands of Thanos, after a pre-emptive strike by Captain Marvel. But also injured in that battle was She-Hulk. Who at one point flat-lined… …and was put in a coma. Though not before making her opposition to Tony Stark clear. Although we got a little rewriting to ensure that it wasn't just Rhodes' missile that did her in, over in A-Force's crossover… So there's that. But a coma couldn't keep Shulky down for long. And… that's it. Chekov's Jennifer Walters? Did we really just get this scene and let that be the end of her story in this series? She is getting a new series but is this based on something that happens in issue 8? Someone has rage issues. Against Tony Stark. Against Hawkeye. Could she be the one that goes for Iron Man in the final issue? Revenge? Preventing a future? Saving herself? Although in the Old Man Logan future, there are a bunch of incestuous kids as a result of Hulk raping SheHulk because – well, because it was written by Mark Millar I suppose. But they didn't get mentioned.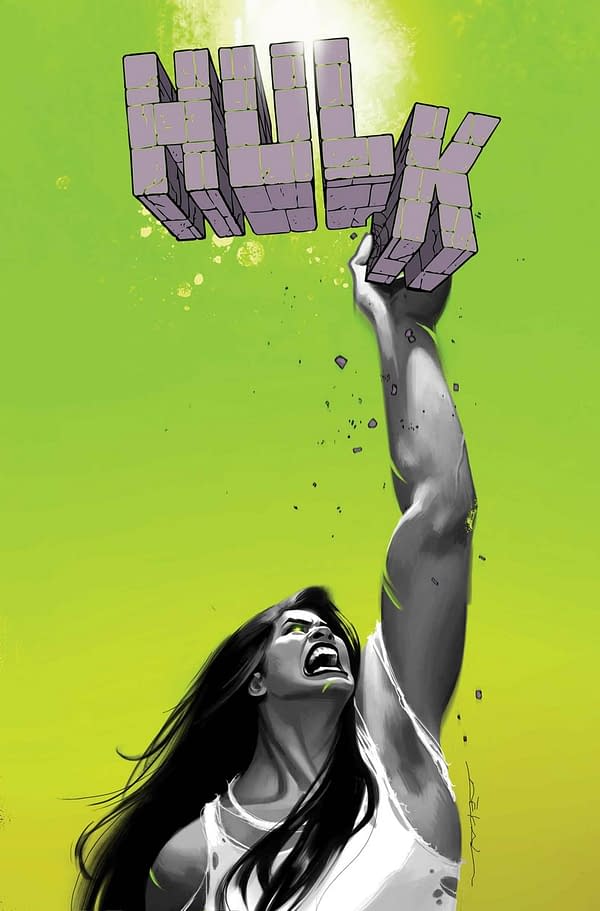 And also, there's no reason to believe solicit copy is giving anything away. But she does seem to have rage issues….
Enjoyed this article? Share it!