All sorts of people read Bleeding Cool…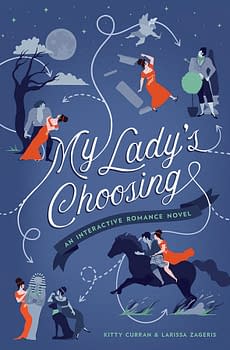 The Chicago Reader has just run a feature on My Lady's Choosing, a new choose-your-romance novel by Chicagoans Kitty Curran and Larissa Zageris.
And that was, in fact, how the book was created. They hadn't intended to write a choose-your-own-adventure romance. But last year when they went to the Denver Independent Comic and Art Expo to promote their first book, the Nancy Drew parody Taylor Swift, Girl Detective: The Secrets of the Starbucks Lovers, they realized they needed to fill out their merch table. So they threw together a pamphlet called How Ill Is Your Repute?, which Curran describes as "a Buzzfeed quiz for 17th-century maidens." It was featured on the comics website Bleeding Cool and attracted the attention of an editor at Quirk Books who suggested letting the questions lead to different story lines to satisfy various readers' personalities.
Always nice to see… here's the Amazon listing.
The romance novel that lets you pick your path, follow your heart, and find happily ever after

You are the plucky but penniless heroine in the center of eighteenth-century society, courtship season has begun, and your future is at hand. Will you flip forward fetchingly to find love with the bantering baronet Sir Benedict Granville? Or turn the page to true love with the hardworking, horse-loving highlander Captain Angus McTaggart? Or perhaps race through the chapters chasing a good (and arousing) man gone mad, bad, and scandalous to know, Lord Garraway Craven? Or read on recklessly and take to the Continent as the "traveling companion" of the spirited and adventuresome Lady Evangeline? Or yet some other intriguing fate? Make choices, turn pages, and discover all the daring delights of the multiple (and intertwining!) storylines. And in every path you pick, beguiling illustrations bring all the lust and love to life.
If you have a comic-book-or-popular-arts-related project you'd like to get a little love this Easter weekend on Bleeding Cool, email richjohnston@gmail.com today.
Enjoyed this article? Share it!