Can Nazi Captain America Buy a Presidential Pardon From Donald Trump?
BECAUSE U DEMANDED IT! Nazi Steve Rogers, the alternate version of the titular Captain (or is he the real version?) from Secret Empire is back in next week's issue of Captain America. Will he be busting out of jail, on his own or with help from Cap's other enemies? Well, not quite.
Alexa Lukin has arranged for Nazi Steve to go free, as she tells him while visiting his prison cell. This gives us the opportunity for a sexy two-page spread featuring the fan-favorite anti-hero, as Alexa finds Nazi Steve right in the middle of a sweaty, topless workout. We see it all in this preview of next week's issue…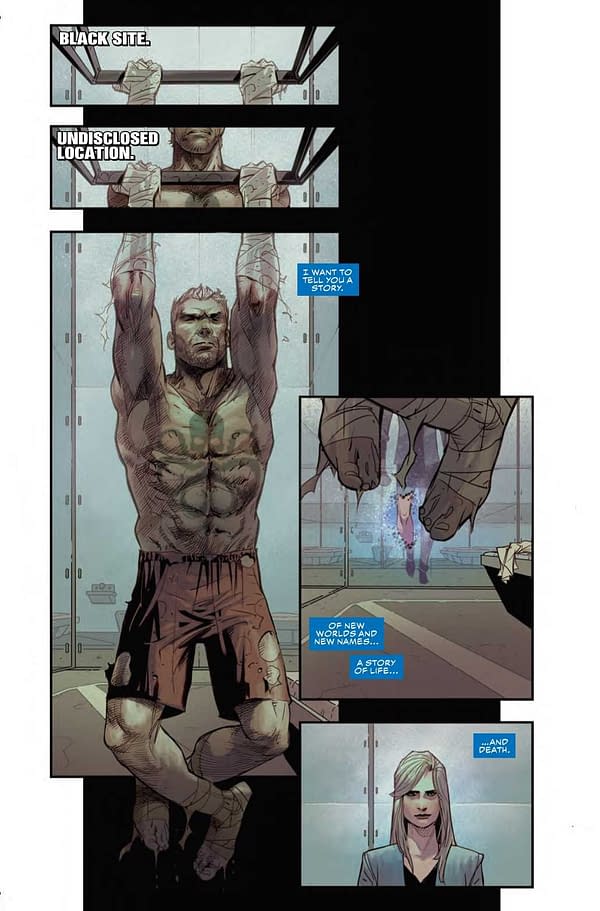 And Alexa reveals how she's gotten Steve released without a fight. She managed to buy him a presidential pardon. So to answer the question posed in the headline: no, Nazi Steve Rogers can't buy a presidential pardon from Donald Trump. That's fake news.
But someone else can buy him one as a gift.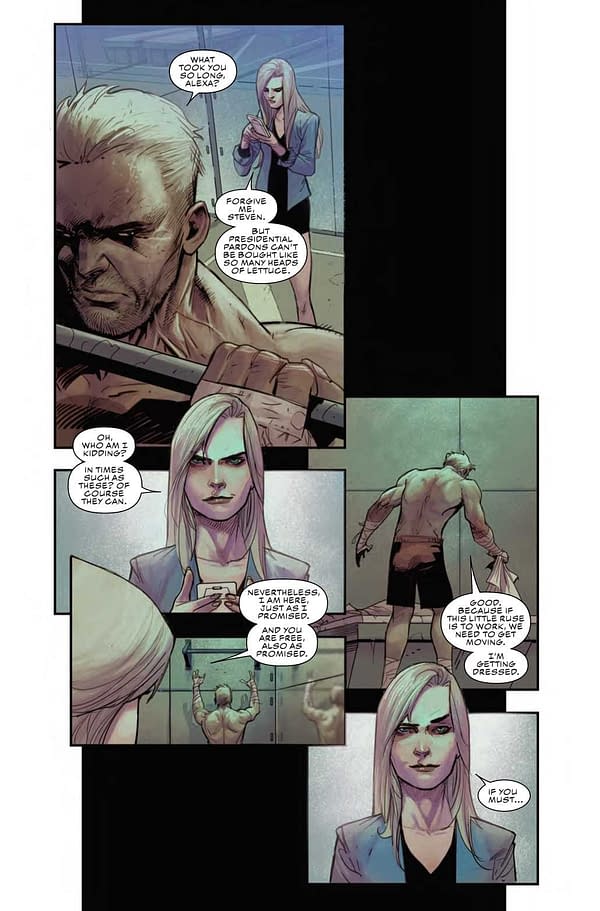 Looks like someone would prefer he didn't put those clothes back on. Hey, if people can find Ted Bundy sexy after watching his Netflix doc, who are you to judge Alexa Lukin's kinks? Besides, there were fine people on both sides of Secret Empire.
Captain America #8 hits stores next Wednesday.
Captain America #8
(W) Ta-Nehisi Coates (A) Adam Kubert (CA) Alex Ross
"CAPTAIN OF NOTHING" Continues!
Cap accused! Cap in custody! Cap – killer? As the Power Elite makes its play against the star-spangled Avenger, Captain America is in no position to fight back! Who stands with Cap?
Rated T+
In Shops: Feb 27, 2019
SRP: $3.99