The solicit for X-Men Blue #25 finally reveals the new team roster for X-Men Blue, which has been teased for a few months. With the original X-Men "lost in space," as the solicit reveals, a new team will take their place to take on an evil alliance of Emma Frost, Miss Sinister, and Bastion. That new roster, the cover appears to reveal, consists of Polaris, Xorn, Bloodstorm, Jimmy Hudson, Gazing Nightshade, and Daken.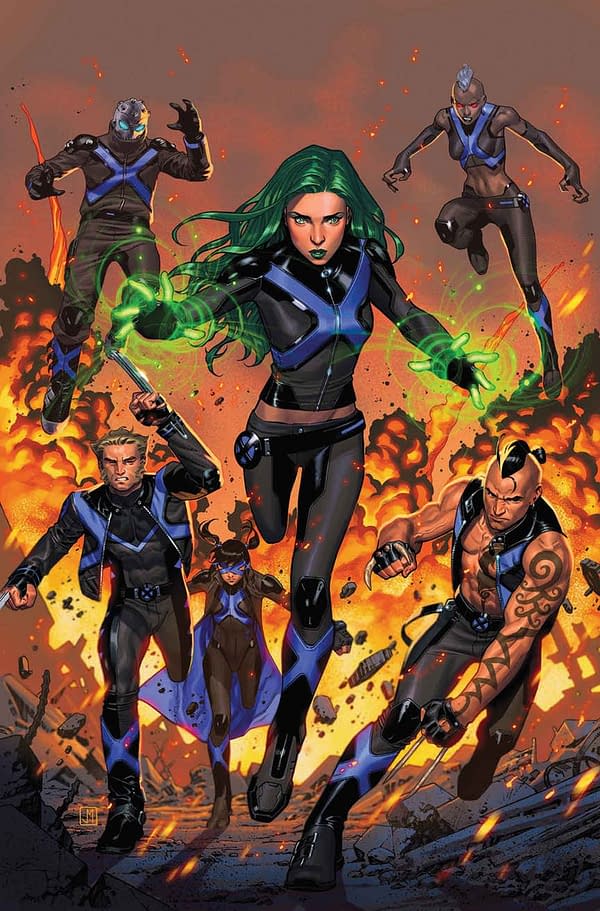 These additions will have serious ramifications for the X-Titles, totally throwing off the Wolverine balance. Previously, when X-Men Blue and X-Men Gold were the only core X-titles, each book had its own Wolverine: Jimmy Hudson in X-Men Blue, and Old Man Logan in X-Men Gold. When X-Men: Red joined as a third X-Book, that title added two Wolverines: All-New Wolverine and Honey Badger. Clearly, X-Men Blue has retaliated by adding Daken as their second Wolverine, putting X-Men Gold at a serious Wolverine disadvantage.
Can we expect an additional Wolverine to be added to X-Men Gold in the near future? We could suggest the returning regular Wolverine, but having the original Wolverine surely counts for more than just one Wolverine. He is, after all, able to appear in 37 Marvel books in a single month without breaking a sweat. Additionally, what will happen when X-Men Blue and X-Men Gold find out that X-Men Red might actually feature a third Wolverine: Jonathan, the actual pet Wolverine of All-New Wolverine and Honey Badger? It could set off a Wolverine arms race that destroys the entire comic book industry.
Hopefully, cooler heads will prevail before that happens, and the books can agree to a Wolverine proliferation treaty that limits and maybe even reduces the number of Wolverines in a given X-title.
Check out April's X-Men Blue solicits below:
X-MEN BLUE #25
CULLEN BUNN (W) • JORGE MOLINA (A/C)
VENOM 30TH VARIANT COVER BY TBA
Cry Havok Part 3
• MAGNETO comes face-to-face with HAVOK, with the fate of mutantkind hanging in the balance.
• EMMA FROST, MISS SINISTER and BASTION have formed an unholy alliance, and now is the time for them to unleash Project: Mothervine!
• With the Original Five lost in space, a NEW TEAM of X-Men must rise to take their place!
40 PGS./Rated T+ …$4.99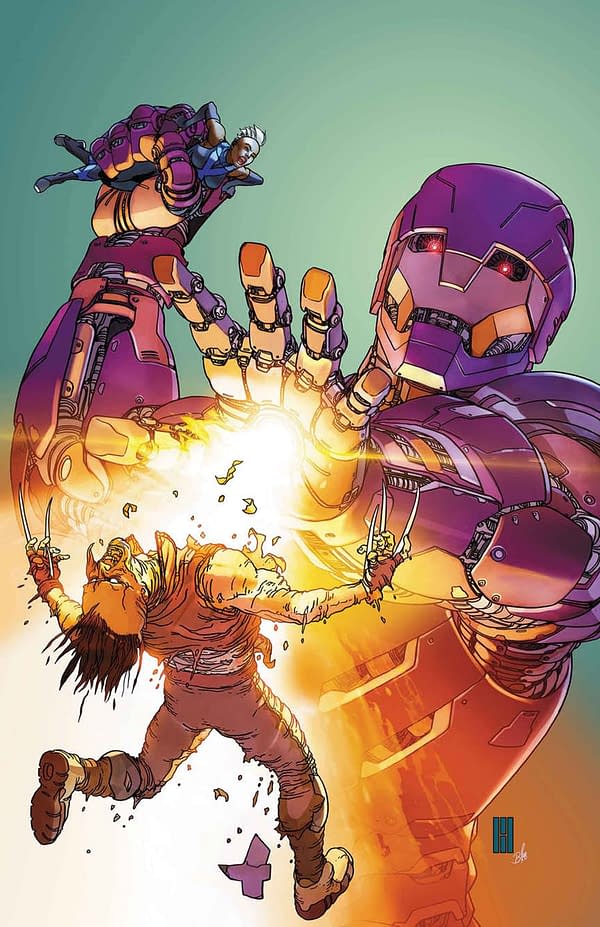 X-MEN BLUE #26
CULLEN BUNN (W) • R.B. SILVA (A)
Cover by Mike Choi
Cry Havok Part 4
• Project: Mothervine has been unleashed, and new mutants are emerging all over the world!
• Even though these new mutants cannot control their powers, MISS SINISTER can!
• A new team of X-MEN stand against the WHITE QUEEN, HAVOK, BASTION and MISS SINISTER!
32 PGS./Rated T+ …$3.99
Enjoyed this article? Share it!