Warning. Thar be spoilers ahead, arrrr.
For months, Valiant has been promoting its summer crossover event, Book of Death, as the gateway to future of the next decade of the Valiant Universe, promising fans and retailers that each issue would come complete with a future sequence introducing new characters, killing others, and revealing crucial changes yet to come.
Well, they've certainly kept their promise.
Today's Book of Death #1 by Robert Venditti, Robert Gill, and Doug Braithwaite is loaded with Easter eggs about where Valiant is headed next… and, from the looks of it, they have some massive upheavals in store.
Right off the bat, Valiant kept their promises. Not one, not two, but six (!) never-before-seen new characters make their first appearance here. I've circled them in green. Might this be the first most first appearances ever on a single page? It certainly is auspicious way to begin…
Much as they did with Divinity, who Valiant had been developing for years, Valiant has promised that several of these as-yet unnamed heroes (and villains?) will be of significant import in the months and years to come. How long have they been cooking up these six? Just who are they? Start guessing now…
We also see some already established Valiant regulars alongside the new characters. From left to right, villainous Dr. Silk, a hulking future incarnation of Bloodshot, the Eternal Warrior, Faith (HARBINGER), Gravedog (from the Imperium team), The Myth, the Vine's Commander Trill, Roku (from the current Ninjak series), and a ghostly inverted duo of the Doctors Mirage.
Looks like there will be a coming exodus from Earth, enabled by the giant race of sentient alien robots that first appeared alongside GIN-GR during last summer's Armor Hunters crossover event…but who is it they are transporting and to where?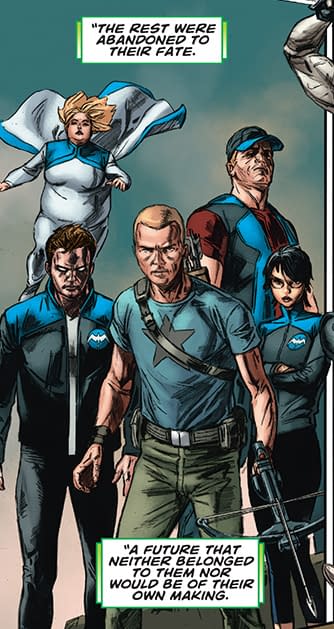 Will Archer & Armstrong's Obadiah Archer be leading a new incarnation of the Harbinger Renegades?
Bloodshot hunting dinosaurs…? Chances are next week's Book of Death: The Fall of Bloodshot special by Jeff Lemire and Doug Braithwaite will have more insights… Speaking of Divinity, there is a new series scheduled for April of next year and this might be a hint toward the premise… A world remade in Divinity's own image? A future event perhaps?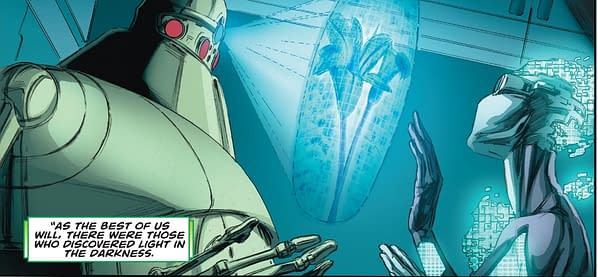 Evil robot romance! Sunlight on Snow, the poetically inclined killer mech of the Imperium series, seemingly courts Helix, a digitized alien robot (and last currently at-large member) of the Armor Hunters…
Earlier this month, we saw Aric of Dacia, aka X-O Manowar, wed his fellow Visigoth Saaana in the X-O Manowar #38 wedding special. Well, it looks Aric's Visigoth kingdom could soon have an heir as this shot reveals a child in X-O Manowar's future…
This could be potentially be major first appearance…if the mantle of X-O Manowar passes from father to child…
Look for a rapid expansion of the Project Rising Spirt's HARD Corps…and followed by a mass eradication… The death of the HARD Corps? But we don't see who defeated them or why…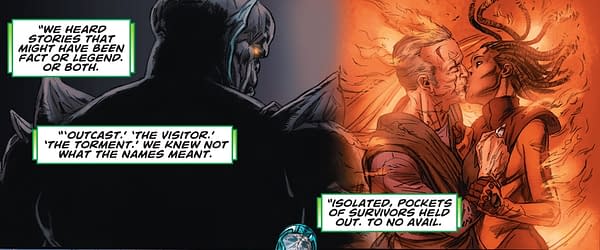 We know that Valiant has been protecting their trademark of the name Outcast for the past several years…and now we might know why. This appears to be the first on panel appearance of the Outcast, in a newly updated version of Norm Breyfogle's original hulking character design.
This will be one to watch… Developing…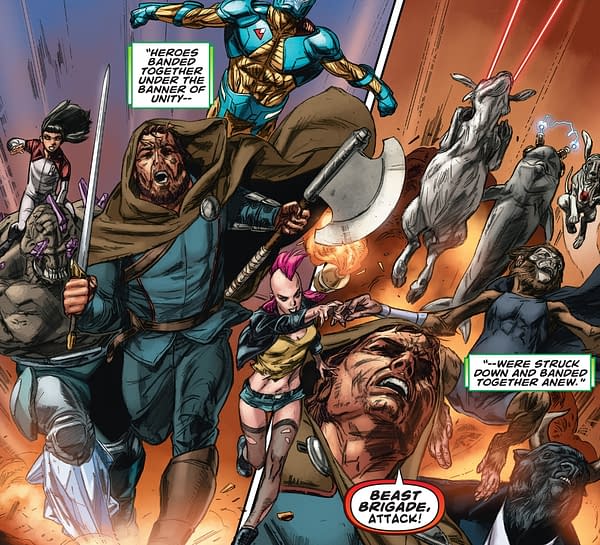 Two new superteams for the Valiant Universe — a new incarnation of Unity (featuring the Eternal Warrior, Quartz of the Armor Hunters, Punk Mambo, one of the Zygos Twins from Harbinger Wars, and X-O Manowar) — as well as the first appearance of the Beat Brigade, an all-new animal team led by the Goat from Quantum and Woody (we hope!)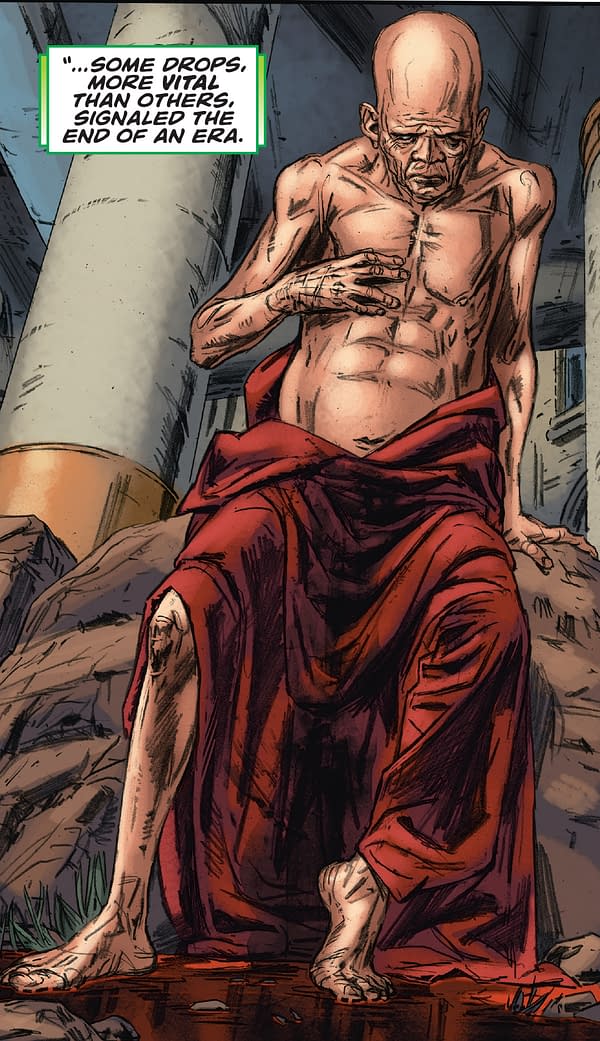 The Bleeding Monk, a central figure in Harbinger and the Valiant Universe…bleeding no more…
A prominently placed dead man and a mysterious suit of armor…like X-O Manowar's, but with Ninjak's color scheme…? More Armor Hunters in Valiant's future perhaps? Or something different entirely?
[PAGE FOURTEEN]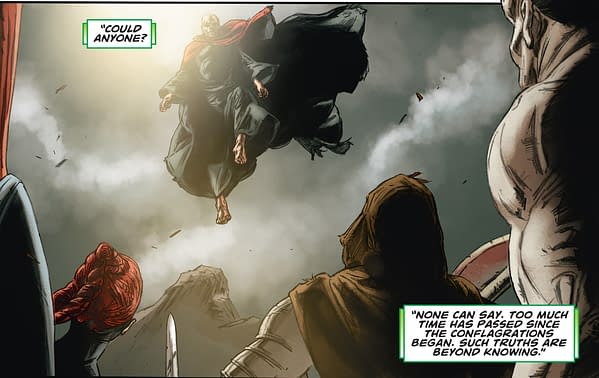 And there…the first appearance of the central figure behind the events of Book of Death and the catalyst for all of the future events portrayed therein. The character isn't named during the course of the issue, but he would appear to be a kind of Anti-Geomancer…
Looks like Valiant has a new planet-level threat on its hands…
The 40-page first issue of Book of Death #1 is on stands today.
Enjoyed this article? Share it!