New Miracleman Is Published Today. Kind Of.
A long time ago Miller & Sons published Captain Marvel reprints in Britain. Then, as a result of the DC Vs Fawcett trial, the source of those reprints vanished. So Mick Anglo was hired to create a lookey-likey strip, Marvelman, which was successful in the fifties but mostly forgotten since. Until it was revived for Warrior Magazine in the eighties by Alan Moore, Garry Leach and Alan Davis. It won every award going, but infighting and lawsuits from Marvel Comics doomed it.
That run was reprinted and continued by Eclipse Comics as Miracleman, a company that eventually closed over bankruptcy and lawsuits.
The company was bought by Todd McFarlane who began to use the Miracleman character in his comics, until a series of lawsuits between McFarane and previous-Miracleman writer Neil Gaiman pointed out that Eclipse did not own the rights to Miracleman.or Marvelman.
Marvel Comics then approached everyone who might have a stake and original creator Mick Anglo and spent millions on lawyers and creator payments in securing the rights.
They first printed reprints from the fifties, then reprinted the eighties series. They were to have published the Miracleman series with new work from Neil Gaiman and Mark Buckingham… but those issues have now been delayed. Again.
But for those denied the right to buy something with Miracleman's name on it, today sees the publication on Amazon of the first in a new series of novels, beginning with Miracleman: Dawn Of The Age Of Heroes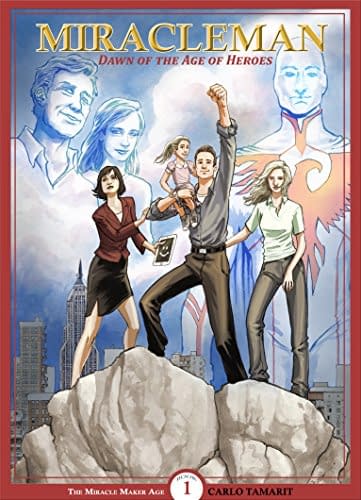 You can read a first chapter here.
It's a superhero novel has nothing to do with the existing Marvelman/Miracleman. When I asked the author, Carlo Tamarit, if he had any concerns about the naming, he told me "nope!"
Looks like the lawyers may need to get in touch again. It's not like lawyers aren't familiar with the name "Miracleman" after all…