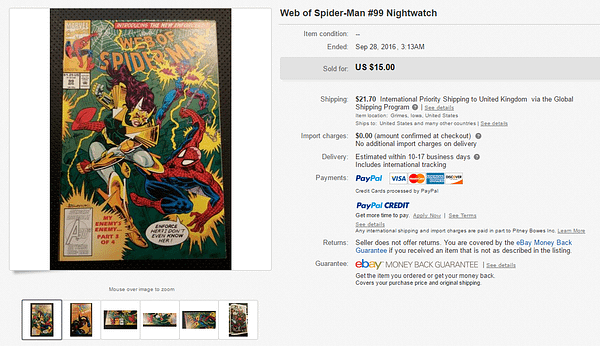 Sold yesterday on eBay, Web Of Spider-Man #99, for $15. The first appearance of Nightwatch in costume, that days ago was hidden in the quarterboxes.
Then I wrote an article. Which was followed up by some folk.

So the inevitable happened. Although there have been some good Buy It Now opportunities for the character's first non-costume appearance and for Nightwatch #1.
The truth is that there a lot of these comics in the market that used to be in the quarter bins. And now are being dragged up and put on walls.
On eBay, there were no sales of Nightwatch between August 17th and September 26th. Since then there have been around 70.
There was one sale of Web Of Spider-Man #99 on August 3rd, then on September 12th. But since September 26th, there have been 39.
Copies at cover price are being ripped from the market. And the prices are rising.
Enjoyed this article? Share it!