Jason Borelli writes,
Recently, I got my badges for the upcoming New York Comic Con. Normally, it would be a single badge, but ReedPop sold each day's admission separately. I bought all four, and I didn't get a discount for that. I'll have to remember to bring the correct badge each day. That sounds easy, but I have a tendency of forgetting simple things like that.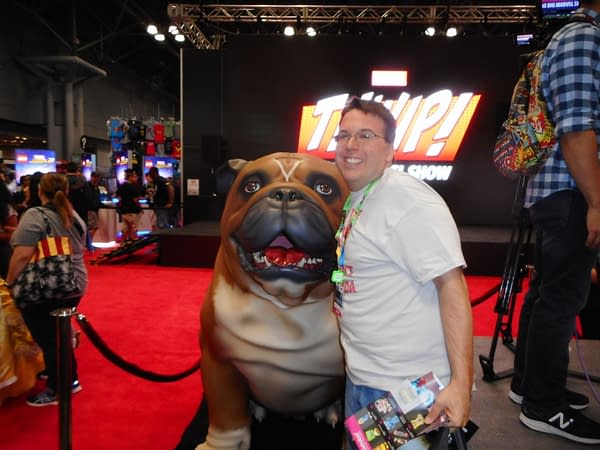 The weird thing that I didn't mind. I've been going to NYCC since it started in 2006. Before then, there was no major conventions based in Manhattan since I had started to go to them. There were some decent shows, but nothing along the lines of the larger shows I'd read about. In the span of five years (1999-2003, I flew out to Chicago and San Diego twice apiece for their big shows (Wizard World and Comic-Con International, respectively). Even when NYCC debuted and would become more of an "event," I would fly out to a show and have an adventure. I have flown by myself ten times in my life. Each of those trips was  centered on comic cons. I don't know what that says about me. I did tourist stuff, but the conventions were at the center.
Over time, NYCC grew larger, eventually moving from February to the weekend before Columbus Day in October. In 2014, ReedPop held Special Edition, a convention on a smaller scale dedicated primarily to comic books. That weekend, I spent an hour on line to buy admission for that year's NYCC. The following year, I spent four hours impatiently waiting for admission at the second (and final) Special Edition. I got admission, but it was a real grind for me.
For the following two years I conducted interviews and covered panels for Bleeding Cool. Looking back, I feel like I pulled my weight. I knew that I'd have to work, but I got to meet interesting people, such as Paul Cornell about writing a Doctor Who miniseries for Titan Comics; mangaka Yūsei Matsui, creator of Assassination Classroom; and artist Kristen Cumings, who worked with jelly beans to create a portrait of Wonder Woman. I covered panels, including two dedicated to Archer (for the "Dreamland" and "Danger Island" seasons), and one for a book that framed Die Hard as a traditional Christmas tale. However, I managed to find ways to frazzle myself. Here's the one I feel the least embarrassed to admit: wrapping up an interview, looking down at my phone, and realizing that I had not recorded the interview. Eventually, I managed to write an article based on the notes I took, but I needed a few of my colleagues to talk me off the ledge that day.
Here is my question: is there such a thing as a perfect comic book convention anymore? I used to think of Comic-Con as "Geek Mecca," where all fans had to make at least one pilgrimage to San Diego in their lives. But my last trip there was 2009. I'd like to return one day, but it gets tougher each year, and the show has been straying away from its roots. It's not a big deal if I can't get admission when that is offered; that's nothing compared to flight and hotel costs. I have a friend who thinks of going there as a "bucket list" item. Unlike me, it would be tougher for her to hash out plans, since she's married with a son. While they are geeks like myself (the jury is out on their kid), it might prove to be difficult. Besides, I figure that you can visit San Diego the other 360 days of the year and still have a good time. The zoo is excellent, you wouldn't have to think about smog or earthquakes that much, and Tijuana is practically next door.
It's an interesting paradox . . . the larger the show, the more bothersome it can be, even if you have more appealing options. One of Yogi Berra's many quotes covers the situation: "No one goes there nowadays, it's too crowded." While smaller shows might not offer as many options, they could be less stressful. This year, I had to choose between two shows happening on the same weekend in Times Square: Liberty City Anime Con (once again, I'm not certain if I've ever heard that nickname used for New York) and Flame Con. Since I'm currently working and didn't feel like taking Friday off, I decided to do the two-day gay-friendly Flame Con. Sadly, I did not have that much fun . . . .though it had more to do with me making one wrong choice after another that weekend, as opposed to my tastes being mostly vanilla. I'm all for a show geared towards the LGBTQ community . . . and like other "specialty" shows I've attended recently, such as Black Comic Book Festival, Women In Comics Con, and Jewish Comic Con, it wasn't bent on excluding anyone in their targeted demographic. Now, the part after I left Flame Con, when a rando followed me halfway to the train, shouting about how Jesus died for me? That was beyond anyone's control. He saw my t-shirt and told me that I could have Green Lantern powers in heaven.
Why do I go to conventions? Because I like getting sketches. If I can't get those free, or if artists are charging too much, I hit up other artists. I've wound up meeting a lot of people whose work I never would have seen otherwise. I go to conventions for the panels. I might get shut out of some of those, but I manage to enjoy the ones I attend. I got to see "Mayhem of the Music Meister" debut at Comic-Con 2009. I got to hear Kevin Conroy relate a story on breaking out his Batman voice for 9/11 first responders. For the most part, I go for the experience. Sometimes, I get caught off-guard in a good way . . . like finding Garden State Comic Fest boarding up two ice rinks for their show, and the third getting used by cosplayers for summer skating. Or finding some semblance of normalcy five days after Election Day 2016 at Jewish Comic Con. The shock was still in my system that day, but I had a unique experience at a Brooklyn synagogue of all places.
My general recommendation: if you can go to a show, go to a show. If there's one specializing in something you like, go for it. I haven't had a big adventure in years (by plane or car), but I've discovered some interesting shows for all tastes. Maybe your perfect con is at a library, as opposed to a large convention center. Sometimes, the best con is one where you aren't leaking money and/or sanity.
Enjoyed this article? Share it!