No Punisher Ongoing Series in November – Cancelled With #16?
Matthew Rosenberg arrived on The Punisher comic book with much fanfare, a couple of years ago, as part of Marvel Legacy relaunch and he stayed with the series when the book got a brand new #1 a year ago – though the intended artist for the series seemed to be subject to Schroedinger's gaze.
Last month we had this October solicitation for Punisher #16.
PUNISHER #16
(W) Matthew Rosenberg (A) Szymon Kudranski (CA) Greg Smallwood
ZEMO DARK THIRTY!
• New York City is under siege as the new Thunderbolts, Black Widow's squad, mayor Fisk's personal V.I.G.I.L. soldiers, and everyone in between get caught in the crossfire, but it all comes down to two men.
• Punisher.
• Zemo.
Parental Advisory In Shops: Oct 02, 2019 SRP: $3.99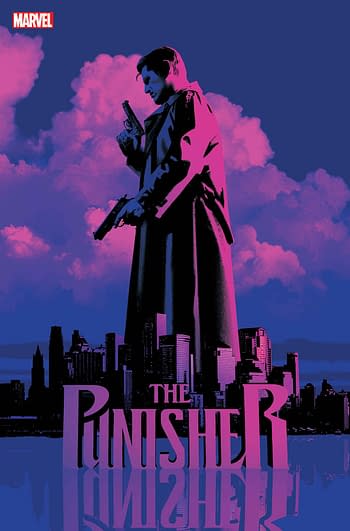 But in November, while there is the final issue of Punisher Kill Krew, a new Garth Ennis and Jacen Burrows' Punisher MAX series from the Crossed team and even a Punisher 2099 one-shot. And Rosenberg is busy writing Annihilation and Star Wars. But of Punisher #17, there is no sign.
No comment from Marvel or Matthew Rosenberg on whether or not that was the stealth cancellation of the series, but the Punisher Vol 3 listing only goes up to #15.
With Bagalia in chaos and Zemo's back against the wall, Frank has never been in more danger! How do you stop a criminal mastermind with an entire nation at his beck and call? Desperate times call for desperate measures on all sides. Baron Zemo's plans are revealed to be even more sinister than believed. As Frank and Zemo's war extends beyond Bagalia, the stakes get higher and the clock is ticking. What lines will Frank cross to stop Zemo?

COLLECTING: THE PUNISHER 11-15
Could there be room for one more?