When we last looked at DC Big Books and saw the Art Of Jim Lee Vol 2 hardcover, it was scheduled for this November. It has now been delayed a further ten months to September 2021. While the Hercules Unbound hardcover planned for December, has been rescheduled for June 2021. And previously reported Time Warp Doomsday has slipped from October 2020 to June 2021 too. Black Adam: The Dark Age Deluxe Edition planned for November is now looking at June 2021 too. While Batman: The Golden Age Omnibus Vol. 9 which should have been out this April is now lined up for June 2021 with this new cover.
While Wonder Woman Golden Age Omnibus Vol. 5 Hardcover planned for November will now be out in April 2021. Here are a few that we didn't know about though: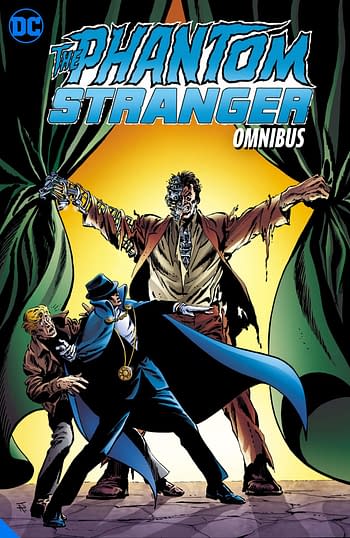 Phantom Stranger Omnibus Hardcover – June 22, 2021
First introduced in 1952, the Phantom Stranger stands decades later as one of DC's most enigmatic characters, a supernatural hero whose origins have remained shrouded in mystery! This omnibus collects the Phantom Stranger's earliest adventures in the 1950s, his late-1960s revival, and early 1980s stories in the pages of The Saga of the Swamp Thing. Through it all, the Phantom Stranger has remained one of DC's most unique characters, navigating the weird, scary side of the DC Universe!
Collects The Phantom Stranger #1-6 (1952), The Phantom Stranger #1-41 (1969), stories from The Saga of the Swamp Thing #1-13, Who's Who: The Definitive Directory of the DC Universe #18, The Brave and the Bold #89, #98, #145, Showcase #80, Justice League of America #103, House of Secrets #150, DC Super-Stars #18, Secret Origins #10 and DC Comics Presents #25, and #72.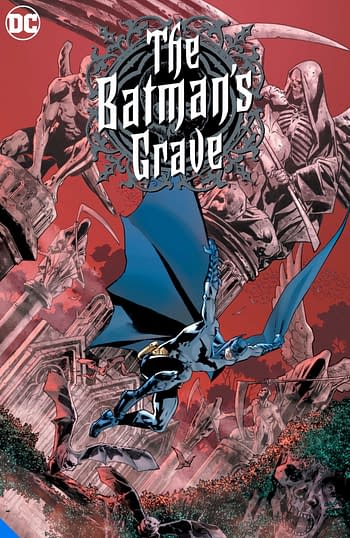 The Batman's Grave: The Complete Collection Hardcover – 23 Feb. 2021
The World's Greatest Detective must try to inhabit the mind of a murder victim to solve a case–without filling the empty grave next to those of his parents. Can Batman imagine the life of a corpse with a half-eaten face without dying himself?A man was murdered, and the Batman is in his head–and he knows how it happened. All he has to do now is survive his own deduction. Warren Ellis and Bryan Hitch, one of the most legendary creative partnerships of the modern age, reunite in this tale about life, death and the questions most are too afraid to ask. Collects The Batman's Grave #1-12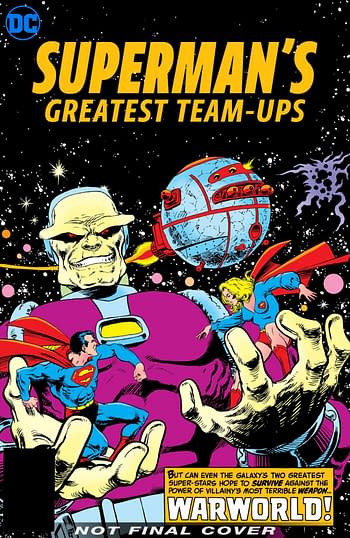 Superman's Greatest Team-Ups Hardcover – 9 Mar. 2021
In these team-up tales, the Man of Tomorrow faces evil with the help of heroes including Wonder Woman, Aquaman, Mister Miracle, Batgirl, Black Canary, the Flash, and even Santa Claus. Includes an early appearance by the galaxy-conquering villain known as Mongul. Collects DC Comics Presents #5, 9-12, 14, 19, 28, 30, 35, 38, 39, 45, 50, 58, 63, 67, 71 and 97.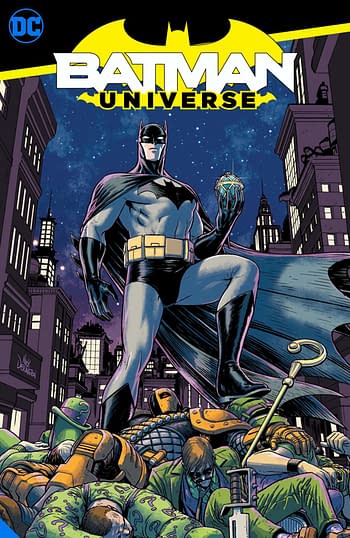 Batman: Universe Paperback – 23 Mar. 2021
In this original story written by Brian Michael Bendis, Batman is pushed to his limit as he sets off in search of an item with the potential to destroy the universe as we know it! Batman isn't the only one looking for this item though. It's a race to the finish line with the fate of the universe hanging in the balance!The Riddler has stolen a priceless jeweled egg, and Batman is on his trail, chasing him from Gotham to Gorilla City and points beyond. But when Batman catches up with the crook, he realizes something is wrong with his old foe. The egg is possessed of some strange power that is scrambling Riddler's brain. The clue to what this is may lie in who hired Riddler to steal the egg: Vandal Savage. What does the immortal mastermind want with it? Batman's quest is like a tour of the DC Universe, spanning space and even time. Guest stars include Green Lantern, Green Arrow, Deathstroke, Jonah Hex, and more! Brian Michael Bendis (Action Comics, Young Justice, Pearl) and Nick Derington (Doom Patrol) weave a tale that leads the Dark Knight on a wild-goose chase across the DC Universe, tracking down a mysterious artifact that contains the literal key to humanity's survival! This collects Batman: Universe #1-6.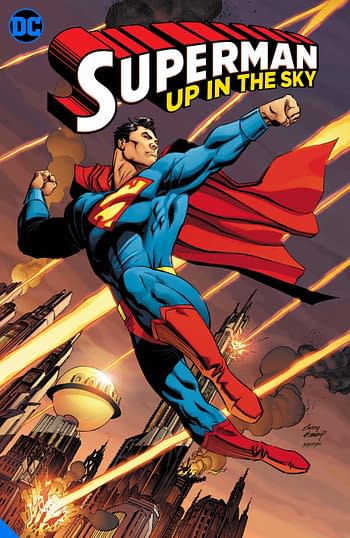 Superman: Up in the Sky Paperback – 20 April 2021
Aliens have kidnapped a young Earth girl from Metropolis, taking her off-planet. Superman goes in pursuit of them, but with each stop along the path, the mystery of who the aliens are deepens, and the Man of Steel is faced with a new task. Is he getting closer to rescuing the girl, or further away? And who is protecting Metropolis in his absence? This galaxy-spanning question poses a moral dilemma for Superman: How much is one life worth compared to the millions back on his adopted planet? How far will he go, what foes will he face, to find the answer? Acclaimed writer Tom King (Batman, Mister Miracle, Heroes in Crisis) teams up with legendary artist Andy Kubert (Flashpoint, Batman: The Dark Knight III: Master Race) to spin an all-new, original tale that defines Superman for a new generation of readers!
Earth One Box Set (Earth One Set) Paperback – 9 Mar. 2021
In DC's "Earth One" series, the publisher's most iconic heroes are given brand-new origin stories from the comic book industry's top creators–blending familiar elements with new twists, all recontextualized for the modern era. This box set collects Batman: Earth One Vol. 1, Wonder Woman: Earth One Vol. 1, and Superman: Earth One Vol. 1. Batman: Earth One, from the Doomsday Clock team of Geoff Johns and Gary Frank, presents an all-new take on Batman's origin, with a fallible, vulnerable, and angry Bruce Wayne embarking on his crimefighting mission. Wonder Woman: Earth One, from comic book superstars Grant Morrison and Yanick Paquette, recreates Diana of Themyscira's mythology in a thoroughly modern but still timelessepic. Superman: Earth One, written by Babylon 5 creator J. Michael Straczynskiand illustrated by acclaimed artist Shane Davis, started the "Earth One" line, with an unexpected and provocative perspective on Clark Kent's transformation into Superman and his first year as The Man of Steel.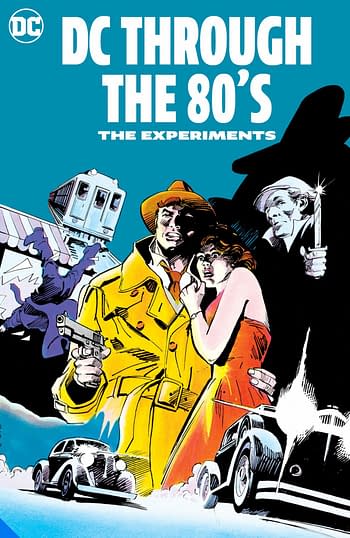 DC Through the 80s: The Experiments Hardcover – 25 May 2021 504 pages.
For the first time, DC offers a retrospective of the 1980s, a monumental decade that introduced some of DC's all-time bestselling titles.
The 1980s were a period of great achievement and transition for DC Comics, one that introduced some of DC's all-time bestselling titles including Watchmen and The Dark Knight Returns. For the first time, DC offers a retrospective of this monumental decade in one collected edition. Collects Secret Origins #48, Swamp Thing #40, The Sandman #8, Doom Patrol #25, Warlord #48 and 55, The Legion of Super-Heroes #298, Nathaniel Dusk #1, Infinity, Inc. #14, The New Teen Titans #16, The Best of DC: Blue Ribbon Digest #58, Watchmen #1, Camelot 3000 #1, Batman: The Dark Knight Returns #2, Angel Love #1, and The History of the DC Universe #1-2.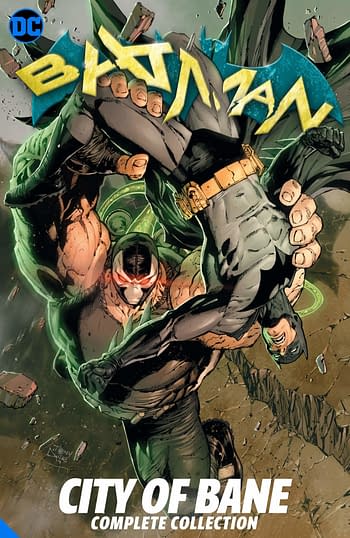 Batman: City of Bane: The Complete Collection Paperback – December 15, 2020 336 pages
The complete collection of Batman: City of Bane from Eisner Award winner Tom King and Mikel Janín! Batman faces his most personal and epic showdowns! The Caped Crusader had a sinking suspicion there was someone lurking in the shadows plotting against him. There has been an unseen hand orchestrating these events. And while the true villain has yet to reveal himself, his minions are starting to step forward and break the Bat down once and for all — beginning with Thomas Wayne, the Batman from the Flashpoint universe! Just when the bad guys thought they had it made with Bane in control, Batman is back in Gotham and ready to remind them what justice feels like…and how it hurts when it hits you in the face. But is the Dark Knight Detective ready to take on the foe who broke him worse than any other that came before? Tread lightly, Batman, because not only do the lives of your son and trusted friends hang in the balance, but your entire home could collapse. Batman and his allies have a choice: let Bane stay in power and guarantee the city's survival, or risk everything to break free! Collects Batman issues #75-85.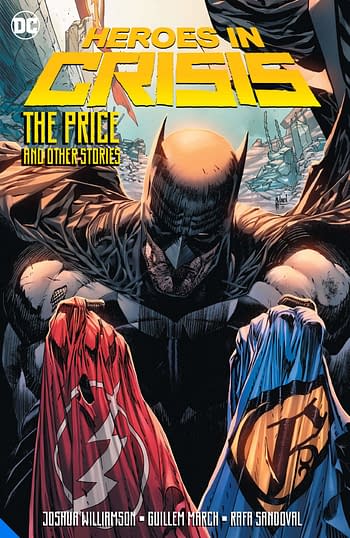 Heroes in Crisis: The Price and Other Tales Paperback – January 12, 2021 248 pages
Batman and the Flash speed into this tale that ties into HEROES IN CRISIS! With Gotham Girl missing, it will take Batman and the Flash to find where she's gone! And to find out if she plays a role in the horrifying events at Sanctuary. With so much already lost…will Batman and Flash lose each other too? They'll have to face off against a demon from the past while confronting their inner demons–and neither of the same ever again! And Batman and the Flash aren't the only ones who have lost sidekicks…after the death of his former sidekick, Arsenal, Green Arrow is forced to take a hard look at himself and his methods. Collects Batman #64-65, The Flash #64-65, Green Arrow #45, #48-50, and The Flash Annual (Rebirth) #2!
Batman: The Joker War Hardcover – 9 Feb. 2021 176 pages
This is it: The Clown Prince of Crime battles the Dark Knight Detective head-to-head for the last time. And one way or another, this will be the final chapter of their age-long conflict.
The Clown Prince of Crime and the Dark Knight Detective go head-to-head for the last time. The Joker has never wanted to win before, he's never wanted his battle with Batman to end, but now his motivation has shifted. As The Joker's plan to assemble an army materializes, the only person who can save Batman from the brink of true madness is Harley Quinn. And while all this is happening, the villains of Gotham City are waiting out the carnage Joker has unleashed–and Catwoman assembles an army of her own! Collects Batman #95-100.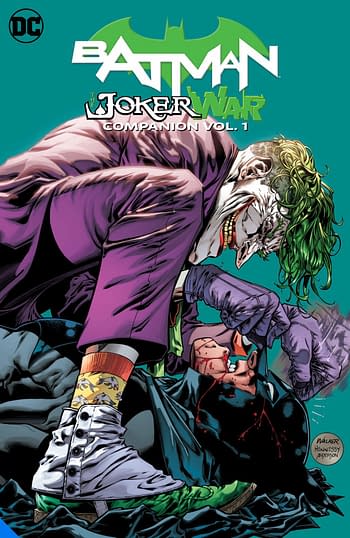 Batman: The Joker War Companion Vol. 1 Hardcover – 23 Feb. 2021
A must-have for all collectors and fans of The Joker and Batman saga, The Joker War Companion Vol. 1 features the intensity, madness, and chaos of the warfare that couldn't be contained in one book! It was always going to come to this. Uncover the inner workings of the Joker War that was waged. Find out how the Clown Prince of Crime used everything and stopped at nothing to push the Dark Knight to the edge of existence. Marking the first appearances of new characters like Punchline, the Designer, Underbroker, and Clownhunter–find out the devastating impact this warfare had on Batman and Gotham City. Collects Nightwing #70-73, Batgirl #47-48, Detective Comics #1022-1024
Enjoyed this article? Share it!