The Plot Against Static Shock? Steve Geppi Joins Wayne Brady and Run DMC on Michael Davis' Black Panel, Friday, San Diego Comic-Con
Tomorrow at San Diego Comic-Con, the very-much-alive and occasional Bleeding Cool contributor Michael Davis will be hosting his long-running Black Panel in its regular slot at San Diego Comic-Con.
Guests this year cross the comics industry, and include Diamond Comic Distributor CEO and owner Steve Geppi, the original Black Panther ongoing writer, Don McGregor, comedian Wayne Brady and collaborator with Davis on multi-media project Level Next, and hip-hop artist-turned-comics writer Darryl McDaniels of RunDMC.
And its title, The Plot Against Static Shock looks to revisit Michael Davis' repeated allegations that the character he co-created, Static Shock, one of DC's most successfully published black characters, and one that headlined a successful cartoon, has been sidelined at the publisher, even as his popularity is maintained. And it looks like he may have some big names to back him up.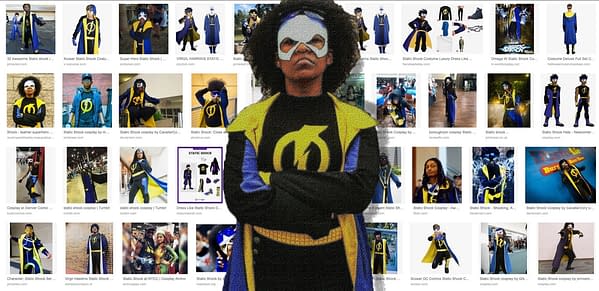 The 2019 Black Panel

The Plot Against Static Shock: Are some banned Black creators deliberately set up by publishers? Yeah, it's like that, and that's the way, uh-huh uh-huh, I like it. I know you were expecting RUN DMC but got KC & The Sunshine Band instead. Well, Don McGregor(writer, Black Panther), Steve Geppi (owns Baltimore—yep, the entire city), and Greg Resse (journalist) love that song and are part of this year's panel. Wayne Brady(everything), Bill Duke (director and runner of red lights), and Lakita Garth-Wright (writer, media consultant) will join them. Also joining the panel will be Darryl McDaniels, better known as DMC. It's like that, and that's the way it is. Look for some big surprises. Any spokesperson who makes a Michael Davis announcement and isn't Michael Davis is lying.

Friday July 19, 2019 10:00am – 11:30am
And he is teasing the panel with an open letter to Randall L. Stephenson, the CEO of AT&T, the current owners of Warner Bros/DC Comics, headlined Static on the line is a good thing. It reads;
Randall L. Stephenson
Chief Executive Officer
AT&T
CC: John Stankey
Chief Executive Officer
Warner Media
Dear Mr. Stephenson,
My name is Michael Davis. I'm sure you know me as I have been a loyal AT&T phone customer for many years.
I know what you're thinking. You think I'm a bit off my rocker. How ON EARTH could you know me just because I'm an AT&T phone customer?
That's just silly.
You know me because I have my home, cell phone as well as my Internet and cable with AT&T.
I'm told you have a sense of humor and I hope my opening gave you a chuckle. What the remainder of this letter holds is far from funny.
I'm sure you're aware when AT&T purchased Time Warner, it became the owner of DC Comics. DC Comics holds some media rights to Static aka Static Shock through an arrangement with the copyright owner and content creator Milestone Media a company I co-founded.
Full disclosure:
DC Comics and I have history. Once I was a welcomed creator; however, the last two decades have seen me banned, literally blacklisted.
Long story short; I said the right thing to the wrong person.
At a DC Comics marketing meeting, I voiced my opinion regarding DC's head of marketing approach to branding Milestone. He insisted we make the books 'authentic and powerful.'
Translation; Pimps ho's drugs and profanity.
He was as qualified to give his opinion about Black America as I was offering mine on fiber optics. Thus, began a visible sustained campaign against me the goal, remove me from Milestone.
It worked.
DC Comics used its influence to TRY and block my career multiple timesboth within their infrastructure and outside.
1993: Released from my DC and Milestone contract at a crucial point in negotiations with Motown Records DC sent a fraudulent letter stating I was still under contract to them.
That was not only untrue but nearly cost me the position of President & Chief Executive Officer Motown Animation and Filmworks.
2001: Two DC Comics employees signed testimonies claiming I called DC Comics racist at DC's booth during San Diego Comic-Con.
Warner Bros. Animation contracted me to pursue merchandising deals; I was very successful in doing so. The 'racist' episode resulted in all Static pending sales I obtained ending.
My evidence against each violation was undeniable.
Motown's Chairman Clarence Avant was livid at the attempt to end before it began my role at Motown. I was successful in persuading him not to contact Richard Parsons fearing the kickback would have hurt in some fashion Milestone.
Concerning the malicious, claim I'd yelled in public that DC was racist that was proven another falsehood. Once it was clear to all, there was no way to make that stick DC's legal counsel asked me what I wanted. I replied; "Nothing. Just reinstate the deal."
DC Comics refused. Makes one pause and ask why does it not?
Please don't take my word for any of this-the paperwork is readily available at DC. These are just two examples of transgressions committed against me and is by far not the worse.
The latest occurred just a few months ago. However, I feel two examples should suffice because this narrative isn't about me.
I am not looking to be made whole by bringing this to your attention. I tell you this as a counter to what may come back from DC. This article is about property now under your control the aforementioned Static Shock.
I am no longer a part of Milestone, and they have nothing to do with this letter. I am representing myself and the millions of fans of Static Shock waiting for his return.
Simply Googling Static Shock will enlighten you to the sheer power and reach of the much-beloved character. There are thousands of fan clubs and fan films. Static is a favorite choice of new and seasoned cosplayers from child to adult.
Here's the kicker-the vast majority of the fans of Static were born after the series had run its course both on television and the comics. In other words, its sheer word of mouth behind the enormous appeal of Virgil Hawkins, aka Static.
AT&T is the nation's second-largest advertiser imagine spending no advertising dollars but seeing the demand for your product grow year after year.
That, in a nutshell, is the essence of Static Shock.
"AT&T gives you more for your thing, More entertainment, Internet, and unlimited plans. More for your thing. Yeah, that's our thing."
The Your Thing national campaign from AT&T and BBDO focused on the uniqueness of its customers' request for things that mattered not just words spoken in support of a product. How significant AT&T's support of the Black community is evident to me by your doings with Believe Chicago.
I don't point out AT&T's investment in the African American community, both financial and social, to suck up I'm not that guy if I was, I believe I'd still have a home at DC. No-I point out your involvement because I feel there's a chance, albeit a slim one my plea and the pleas of millions of fans will not be lost in the abundance of requests received by a corporation the size and scope of yours.
Put bluntly Static is a national treasure among millions of fans, both Black and white. However, among Black kids, he's more much much more. As a Black man who grew up with so little Black representation in media and almost none in the superhero space, so few I had to create my own it saddens me beyond measure that today is just as bleak as yesterday.
Ignoring the impact of Static makes little sense financially. However, ignoring Static's prominence in the Black community is corporate callousness at its highest level, in my opinion.
History aside, I nevertheless consider DC's universe the best in the industry, and the vast majority of those employed there are among the elite in comics.
Dan Didio and Jim Lee are remarkable people who are real fans of the medium. Before they joined DC, I was in business with Dan at ABC-TV and Jim at Image Comics. Nothing but good came from those creative arrangements.
Whatever goodwill between us vanished when they went to DC. I believe DC's former head made it clear I was not welcome. When he left the company, I was sure the 'ban' would disappear.
I was wrong
There are companies on the net as I write this selling Static Shock merchandise as if they had licensed them legally from DC and Milestone and they have not. They do so openly with no worry of being caught, let alone punished by one of the world's most powerful corporations.
If that doesn't underscore the banking power of Static, then nothing will.
Static Shock generates millions of bootleg dollars while Black kids continue to make their own Static Shock content because Warner Bros. and DC Comics will not.
A fantastic example of fan love and loyalty is David Kirkman's film Static. For $3000.00 he put together an impressive piece of work. On y
Sir, I'm thoroughly and painfully aware of legal agreements that supposedly make impossible resolutions to what seems a simple fix.
My response is so what?
Static's impact can do wonders with boys and girls of color who see little to strengthen identity put much to weaken it. A president who often speaks of the first Black president as unintelligent and lazy. A country returning to a time when if Black merely waiting for a friend at Starbucks can get you arrested.
An America where a Black man simply saying 'lower Alabama' can get you thrown out of a Hilton Hotel and threatened with arrest. Protesting to the police the Hilton's prejudicial actions can get you killed. So, the thing to do was leave the hotel humiliated rather than face that possibility.
That happened to a guy I know.
Static is more important than a contract more significant than any agreement meant for enterprise commerce and even revenue. A beloved Black character not just kept alive by word of mouth but flourishing alone is a goldmine for AT&T if it makes a billion dollars or not a dime.
Agreements are vital I'm just saying exceptions made for the greater good I would argue keep us dare I say civilized. I'm currently breaking an agreement preventing me from discussing the very matters this article covers doing so for the greater good.
That "agreement" is a damning smoking gun evidence of a decision made with malice. What did I do to justify a sustained policy of exclusion?
My contributions to the company were never in question; they are stellar. So stellar are my doings at DC it begs the question is Static Shock being held back because of a personal dislike of Michael Davis?
I've been labeled troublemaker, among other things. That's true-I'm trouble when approached like I'm a child talked to like I'm stupid.
I'm far from stupid. Can't say the same for the person who sent a fraudulent letter with false information in a bid to stop me from becoming President & CEO of Motown Animation & Filmworks.
That's Stupid.
Having two employees lie to try and frame you?
That's Criminal.
I said Milestone is capable of exploiting Static with or without DC's involvement, but I hope it is with DC that the next stage of Static happens. DC does the best books in the industry, and the power of AT&T and Time Warner's reach is awe-inspiring.
The knock, on Black content, is diversity doesn't sell. That usually comes from those who don't sell diversity because they can't.
Milestone's Reggie Hudlin Derek Dingle and Milestone's inventor Denys Cowan can sell diversity. They have done so all their professional lives.
Static has a worldwide following ignored by DC and Warner Bros. With help from AT&T Warner Bros. and DC Comics I believe Static will do the kind of numbers as a movie to rival or even surpass Black Panther.
Lastly, I leave you with this.
I have history with AT&T also. Your company are sponsors of my forum the Black Panel. I've also been invited to participate in various AT&T art shows at AT&T corporate in New Jersey.
Speaking of art, AT&T has one of the most celebrated art collections in the world.
Among the acquisitions are paintings by William T. Williams, underscoring AT&T's dedication to Black America. Mr. Williams was the first Black artist inducted into The Janson History of Art.
When that moment happened, he refused. He refused because he felt Janson should acknowledge other Black artists that came before him.
Janson did just that they included other notable African American artists.
The Janson History of Art did that regardless of the time and money it took to accomplish this. Janson is the world leader in art history publications, and to do so was a massive undertaking.
However, it was the right thing to do.
There's a DC Comics connection to Mr. Williams. The painting used to represent his work is called Batman. Just so happens, Batman is my favorite superhero, I was obsessed with the 60's TV show.
So much so it drove me to love drawing Batman, which kept me inside and helped keep me alive. My sister and grandmother both died violent deaths that could have easily been me and almost was.
My love of drawing Batman turned into loving art that led to working at Mr. Williams studio. I was working in the studio of a world-renowned artist at a very young age.
I was 10.
He had me 'work' in his studio to keep me safe.
William T. Williams is my mentor my hero and my cousin. Batman was named with me in mind. So, a DC Comics character is featured in the most influential art history book in the world because of me.
I needed heroes to help me stay alive and when real ones were not available, I found them in comics. I'd like to work with DC again but if it will help get Static to the next level, I'll sign an agreement stating I won't use the letters D or C for the rest of my life.
That's ridiculous I know.
Not as ridiculous as ignoring the almost 800,000 views David Kirkman's Static Fan Film has in only weeks on YouTube fueled by just word of mouth. Now think about that number with the power of AT&T Warner Bros. DC Comics and Milestone all operating in concert.
Please consider taking a moment and examine what may be possible.
"AT&T gives you more for your thing, More entertainment, Internet, and unlimited plans. More for your thing. Yeah, that's our thing."
All the millions of Static Shock fans ask is for you to do your thing.
Michael Davis PhD
Los Angeles CA
July 2019