Once upon a time, Monica Rambeau was Captain Marvel and led the Avengers. Then she was Photon, Pulsar and Spectrum, she could never settle on a replacement name. Nowadays she's as likely to be called just Monica Rambeau than Spectrum. Just as when she led NextWave.
Now she's back with the Avengers. Her power set, the ability to turn herself into electromagnetic energy, made her one of the most powerful Avengers but in recent years she had become permanently powered up and able to do god-like stuff.
As of today's Avengers: No Road Home #10, a number of characters get a new status quo. Rocket Racoon is tidying up his nest ahead of the final days. Conan The Barbarian is just where we said he'd be. And Hercules and the Olympians are shaping up to be the new Eternals in a year's time.
And Monica Rambeau? Looking like she might be settling down…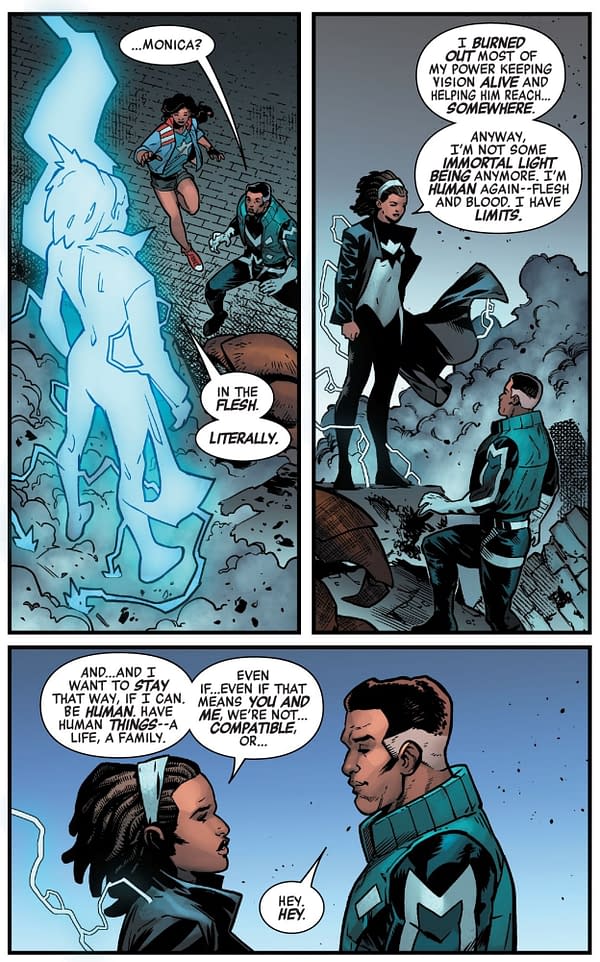 …in more ways than one. With Monica appearing as a small child in the Captain Marvel movie set in the nineties, there's potential for her to reappear in Avengers Endgame, or subsequent films. So, for Marvel Comics, maybe it's time to make her a little more grounded…
While Conan?
A little less grounded.
AVENGERS NO ROAD HOME #10 (OF 10)
(W) Al Ewing, Jim Zub, Mark Waid (A) Sean Izaakse (CA) Yasmin Putri
THE ALL-NEW WEEKLY AVENGERS FINALE!
The extra-sized finale! Can anything stop Nyx from remaking the cosmos in her image? And will an Avenger die in the attempt?
LEGACY #718
Rated T+In Shops: Apr 17, 2019
SRP: $4.99
Nobody died… unlike, it seems, every other Marvel title this week.
Enjoyed this article? Share it!