Preview the Summer's Biggest Intercompany Crossover as Archie Meets Batman '66
Archie has released an early preview of their upcoming crossover with DC Comics, Archie Meets Batman '66. The premise of the story: one of Batman's battles with mentally ill criminals in Gotham City somehow spills over into Riverdale, and Batman and Robin find themselves facing off against… Mr. Lodge?
ARCHIE MEETS BATMAN '66 #1
Two iconic comic book characters meet up for the FIRST TIME in this historic crossover mini-series! A battle in Gotham City extends its reach into Riverdale—with Mr. Lodge becoming enemy #1 of the dynamic duo! Now it's up to Veronica to recruit some help and place a call… to the Batcave!

Script: Jeff Parker, Michael Moreci
Art: Dan Parent, J. Bone, Kelly Fitzpatrick, Jack Morelli
Cover: Michael Allred with Laura Allred
Variant Covers: Derek Charm (B), Francesco Francavilla (C), Sandy Jarrell with Kelly Fitzpatrick (D), Dan Parent with J. Bone and Rosario "Tito" Peña (E), Ty Templeton (F)
On Sale Date: 7/18
32-page, full color comic
$3.99 U.S.
The comic promises "the first meeting" of two iconic comic book characters, but did Archie blow it already? The final order cutoff for the book is Monday, June 25th, and in their excitement to get people to pre-order it before then, Archie has released a pre-order comic that undercuts its own crossover, putting both Batman and Archie in a comic available for free on the web, right here in this clickbait news article!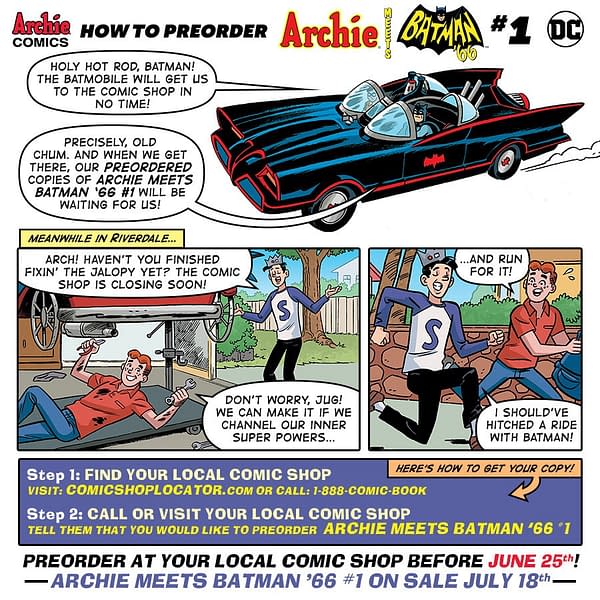 Don't worry, though. Technically, the characters don't actually "meet" in the preorder comic, so it looks like Archie's milestone remains intact. Except… now you're going to see it in the preview below. Curse you, internet! Check out the preview below: