Tom Huxley writes;
It was the dead of night as Sangster entered the office. He calmly searched the vacant desk, taking in all he could find. Conventional stationary. A pot plant. Shipping invoices for a company specialising in fishing equipment; all perfectly above board. And, much to his surprise, a comic book: specifically, the thirty-third issue of Prophet.
This could only surprise Sangster as this was not his own desk; indeed this was not his office at all. Sangster was here investigating the disappearance of Bethany Browne, a local businesswoman who had been seeking to close up shop after meeting film actor heartthrob Jason Caine and falling into a whirlwind romance with him.
Seemed like a real rags to riches tale. But not one that to Sangster's knowledge involved comic books about time travellers and space aliens.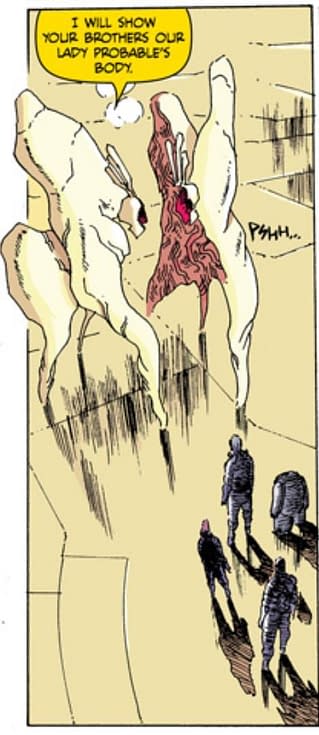 Convinced this unusual item might present a clue to the lady's whereabouts, Sangster began to read. The first thing he picked up on was that it was all based on a Rob Liefeld creation. This piece of knowledge took Frank all the way back to his childhood, and the last time any of his peers would read comic books. He and the other kids would laugh at the crazy proportions of Liefeld's drawings, and the hackneyed plots that came with them, but in reality the crazy ideas and bombastic action were one of Frank's guilty pleasures of the time. Whereas today his biggest guilty pleasure was breaking into other people's offices.
The artwork here, by contrast, was stark, minimalist; the storytelling slow and considered, the colours muted and dull. Far more fitting for Sangster's present state of mind, though a small part of him yearned for the chance of a small escape. And while he found little escape in the style, the substance of the work provided a different kind of escape, with big ideas, fantastic alien designs and grand architecture.
While Sangster was unfamiliar with the universe of this Prophet character, there was enough information in the book that he could understand most of it, although it took him some time to absorb it all in. A lot of stilted language and scientific concepts for a private detective who never went to college. Some of the advanced toilet humour lost on him as a result. But enough dramatic action toward the end to keep him engaged – even if some unclear storytelling meant he couldn't tell what was going on some of the time.
As he reached the end of the story, Sangster realised he had stumbled across exactly what he was looking for, a big clue to Bethany Browne's whereabouts: Dion-Neien, the woman soldier who splits in two. Did this mean that Ms Browne was leading some kind of double life?
Sangster didn't have long to ponder this apparent revelation as beyond the open door to the office, he could hear a loud, agitated voice…
As told by Tom Huxley. Prophet #33 is out from tomorroe by writer Brandon Graham and artist Giannis Milonogiannis. Thanks to Image Comics for the advance look.
Enjoyed this article? Share it!