Pulitzer Issues No Prize For Editorial Cartooning, Rejects Finalists
Tthe following tweet from the Pulitzer Prize committee, posted yesterday, stated that "No prize was awarded in Editorial Cartooning".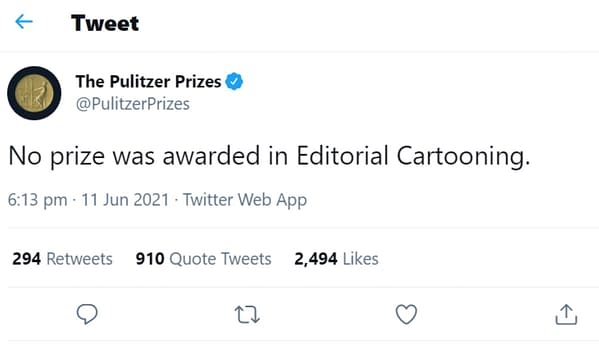 But no, it appears that Stan Lee's estate will not be suing over this one, as I initially expected when I read it. And was expecting something like this.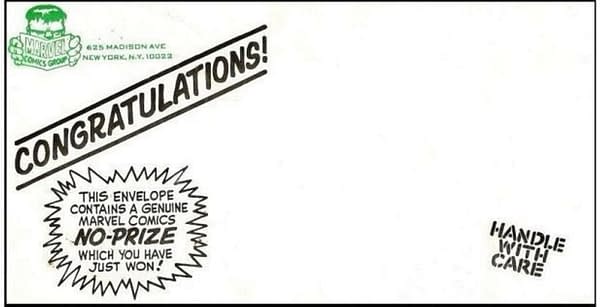 Basically, the Pulitzer Prize states that no editorial cartoonist was worthy of the prize this year. And certainly none of the finalists.
In response, The Association of American Editorial Cartoonists issues the following statement.
The Association of American Editorial Cartoonists strongly disagrees with the decision by the Pulitzer Board to award no Pulitzer Prize in Editorial Cartooning in 2021. We are mystified by the pointed rejection of talented Finalists as well as the many other artists who have been creating powerful work in these most eventful and challenging of times.

The medium of editorial cartooning has been evolving for many years now, yet the Pulitzer board remains extremely traditional and narrow-minded in its tastes, apparently uncomfortable with contemporary trends in opinion cartooning and comic art. Last year the board discarded the jurors' choices and selected its own winner; this year represents a new low in this trend of insularity and institutional hubris.

It is notable that the three Finalists chosen for 2021 were of Jewish, Latinx, and Native American backgrounds, yet this is the first time in 48 years that the board has chosen not to issue an award. No woman has won in twenty years, and there has been only one female Finalist during those two decades.

As this has been a tremendously difficult time economically for our profession, the AAEC would like to request a return of the entry fees for those who submitted. We would also urge radical structural reform of the award to evaluate modern opinion cartoons by 21st century standards.

Jen Sorensen
President of the AAEC

AAEC Board of Directors
Kevin Siers
Liza Donnelly
Ed Hall
Tim Campbell
Gretchen Koch
Monte Wolverton
And hey, I didn't even get a call, despite this humdinger…