This has been a pretty great week for Dan Barnett: His other Black Crown comic, Eve Stranger, exploded with its full potential and is suddenly in my top 10 books of 2019, and Punks Not Dead: London Calling wraps up its latest story-line by sending the entire cast of characters straight to hell.
And most of them don't seem to mind.
[rwp_box_recap id="0"]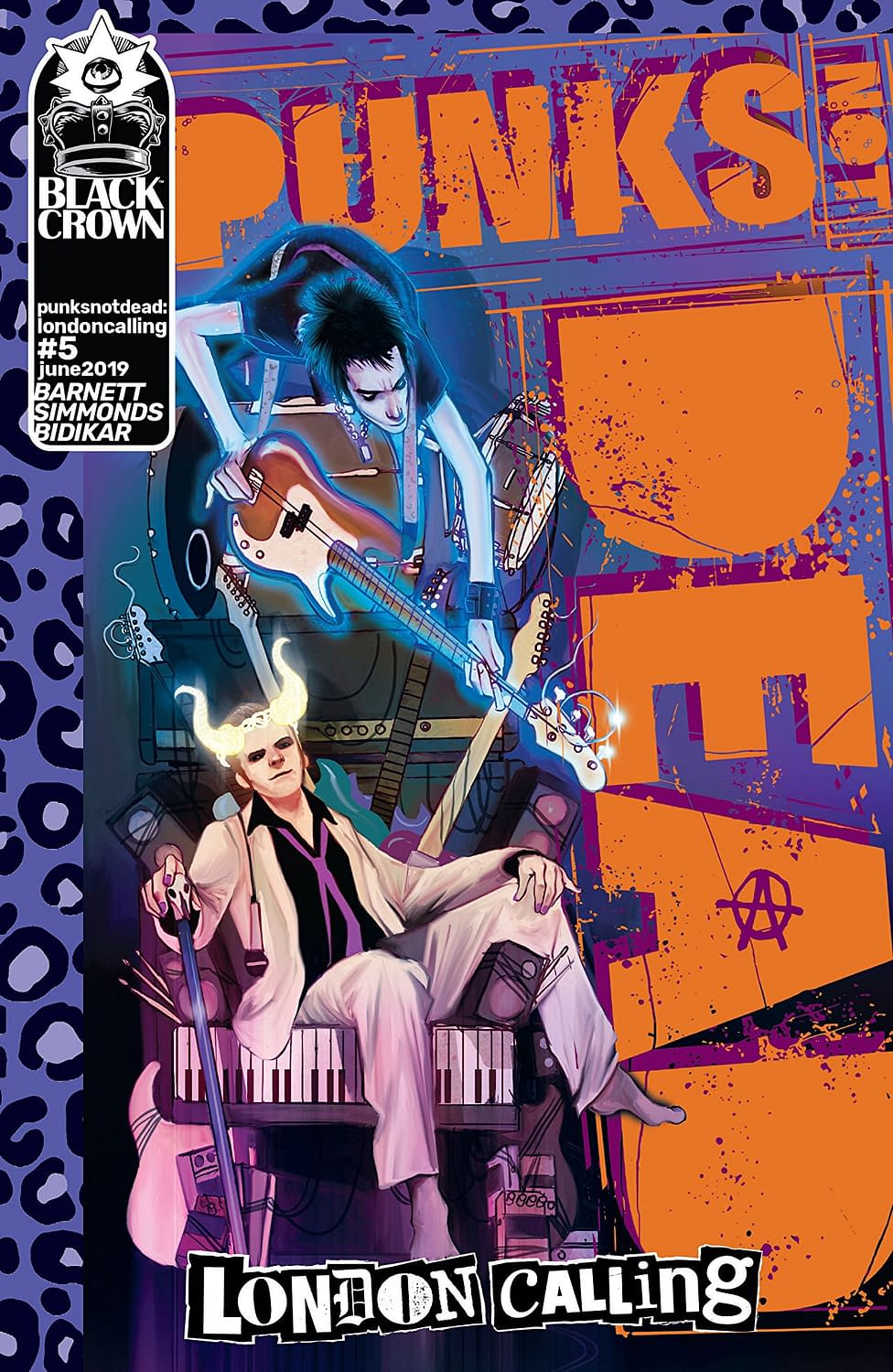 Need a refresher? I got you, boo:
Feargal "Fergie" Ferguson is the son of Julie, a human woman, and Billy, who is actually the old testament demon Beleth. Because of his unique parentage, Fergie has started to manifest powers. He's also just a bit on the troubled side, so this could be problematic.
Fergie is also "haunted" by what appears to be the ghost of Sid Vicious, who tends to get Fergie into more trouble than not.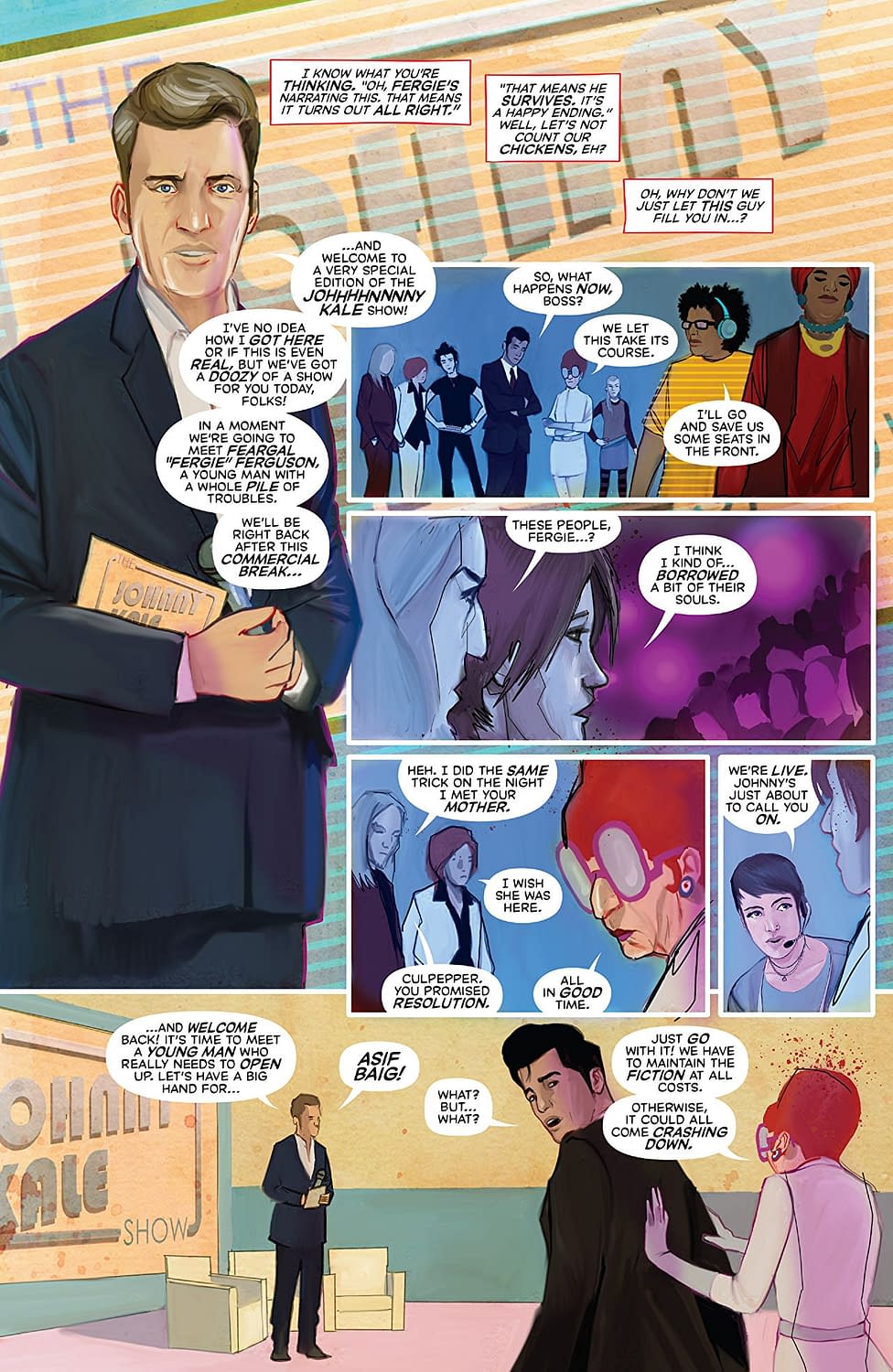 Fergie and Sid decide to boot off to London town to try and track down Billy, but there are two factions trying to chase them down. The first is an army of deadly, shape-shifting magpie creatures. The second is Dorothy Culpepper, ageing super-spy for the Department for Extra-Usual affairs, who has been trying to stop Fergie from meeting up with his dad.
Now, we're all caught up, and let's just say it's end of the world time. Billy thinks Julie's dead, and she's close to it, but not quite- so he's going to use Fergie's powers to destroy everything.
Dorothy's assistant, Asif, is infused with the power of an ancient spirit, and tries to summon that energy to battle Billy. Sid tries to stop Billy. Dorothy tries, Everyone tries.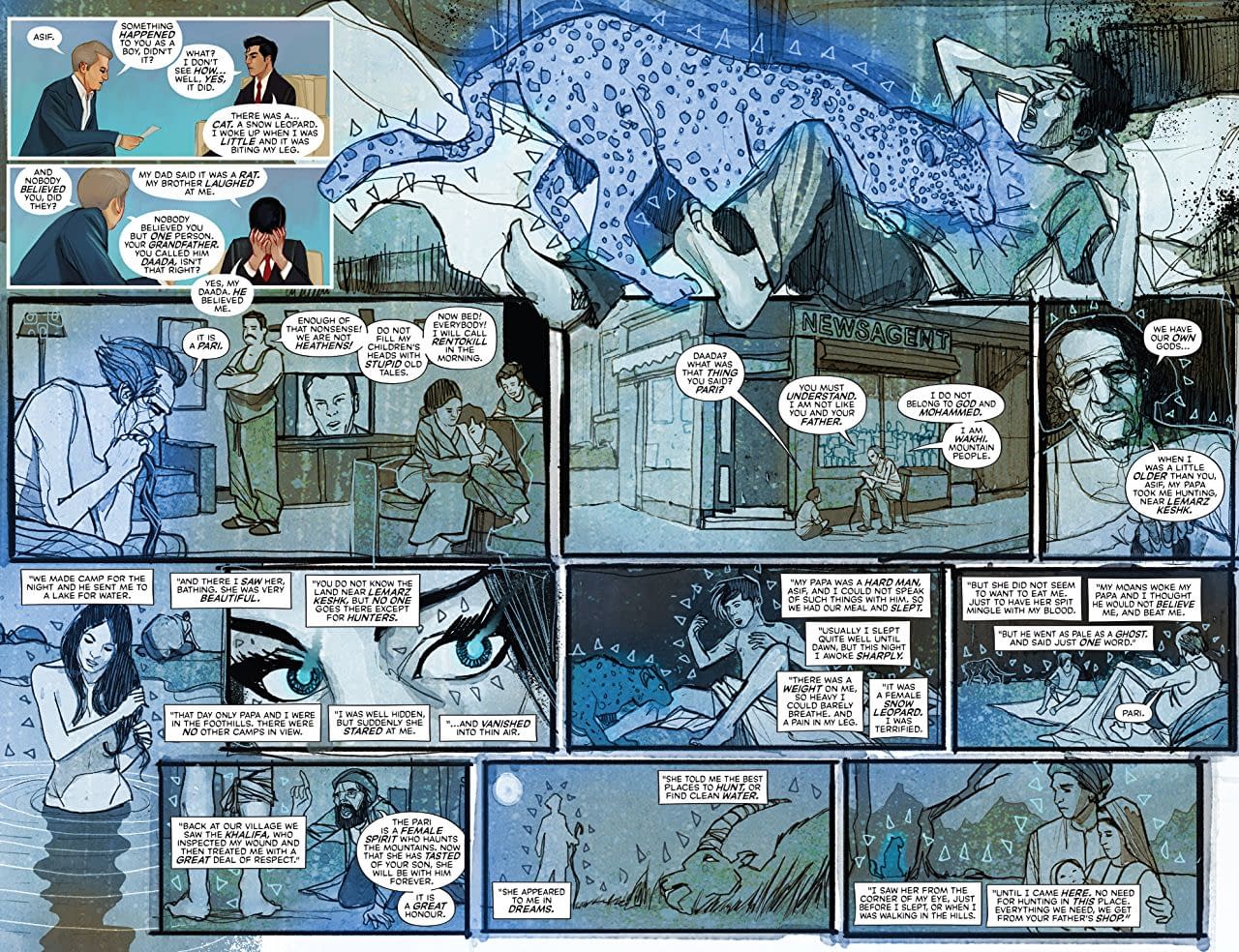 But nothing works, and the whole crew ends up in hell. But hell's not so bad. It's kind of a party place, with lots of beer.
The writing in issue 5 of Punks Not Dead: London Calling takes us all over the place, from a Jerry Springer type talk show to another dimension. There's some amazing character work, and the conclusion of the series feels genuine to the title.
There's also a bit of music theory at play here, with Fergie realizing that music, when it gets in your soul, is about feeling lost, and getting found. Sid's true role in the universe is unveiled, too, and it's pretty great.
Martin Simmonds' art is top notch, as always, with some of the most colorfully chaotic panels I've seen in comics in a long time. There's a reason you don't see color flatting credits in comics that often, but I imagine Simmonds kept Dee Cunniffe busier than hell with this title.
Is Punks Not Dead: London Calling for everyone? Absolutely not. But for those of us that love offbeat comics like Shade the Changing Man, or old Doom Patrol, this should be right up your alley.
SUMMARY: Script: David Barnett; Art: Martin Simmonds; Flats: Dee Cunniffe; Letters: Aditya Bidikar; Editor: Shelly Bond; Publisher: Black Crown/ IDW Publishing; Release Date: June 26, 2019; Cover Price: $3.99; 33 Pages; Rated 15+ for profanity
Enjoyed this article? Share it!