A Quick & Easy Guide To Consent in Oni Press' September 2020 Solicits
Well, that seems well-timed, doesn't it? A Quick & Easy Guide To Consent by Isabella Rotman is a new graphic self-help guide to consensual relationships, sexual and otherwise. And its in a comic form too. Also from Oni Press in September, Jonathan Hill's Odessa and Caitlin Rose Boyle's Frankie And The Creepy Cute Critters graphic novels… take a look.
A QUICK & EASY GUIDE TO CONSENT TP (MR)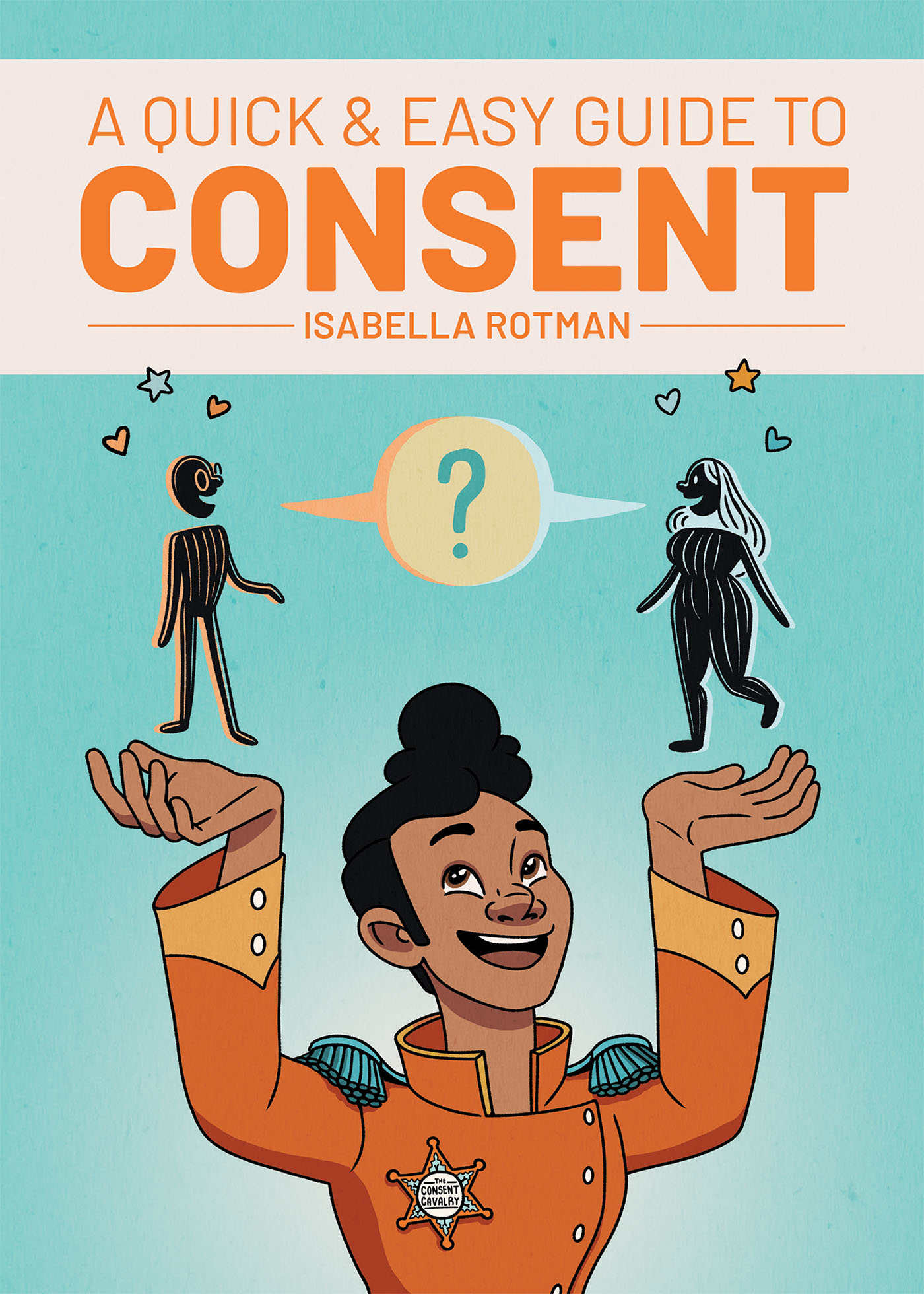 JUL201304
(W) Isabella Rotman (A/CA) Isabella Rotman
"A quick, easy and important educational comic guide to giving and receiving consent in sex, relationships, and other physical contact.How do you tell someone you want to do stuff with them? How do you ask if they want to do stuff with you? How do you know what stuff you want to do with each other? Enter: Sargeant Yes Means Yes from the Consent Cavalry, a beacon of clarity in a fuzzy minefield of questions. Sarge drops in on a diverse range of folks deciding whether to engage in sexual activity in this short and fun comic guide to communicating what you want, don't want, and how you want it!
With wit and charm, Sarge also includes tips on what affirmative consent looks like, advocating for what you want, and setting boundaries that honor your comfort and safety. The result is a positive resource illustrating how easy it really is to respect each other's bodies and desires."
In Shops: Oct 28, 2020
SRP: $7.99
ODESSA GN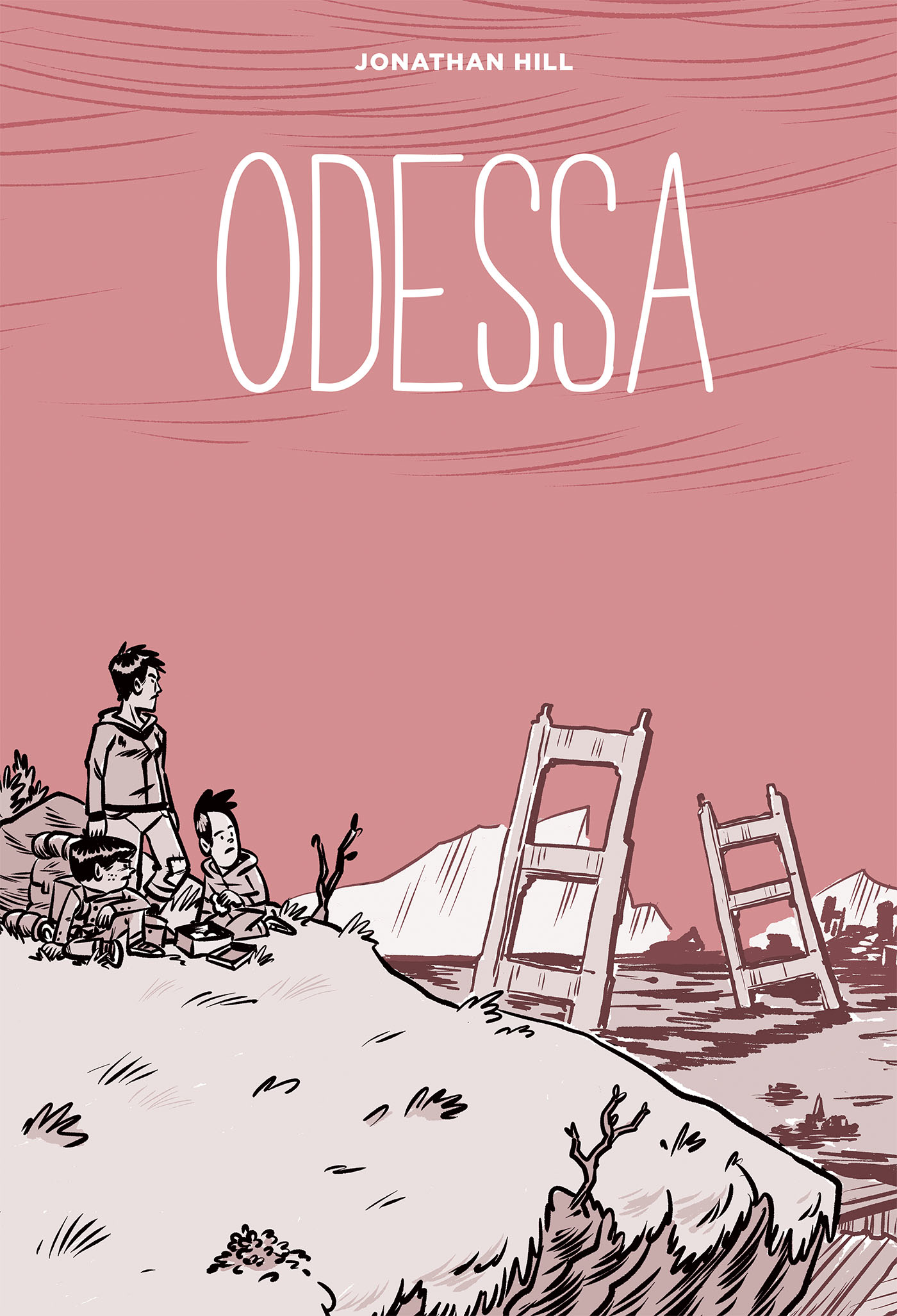 JUL201302
(W) Jonathan Hill (A/CA) Jonathan Hill
"Eight years ago an earthquake-the Big One-hit along the Cascadia fault line, toppling cities and changing landscapes all up and down the west coast of the United States. Life as we know it changed forever. But for Vietnamese American Virginia Crane, life changed shortly after the earthquake, when her mother left and never came back.Ginny has gotten used to a life without her mother, helping her father take care of her two younger brothers, Wes and Harry. But when a mysterious package arrives for her eighteenth birthday, her life is shaken up yet again. For the first time, Ginny wants something more than to survive. And it might be a selfish desire, but she's determined to find out what happened to her mother-even if it means leaving her family behind. "
In Shops: Nov 04, 2020
SRP: $19.99
FRANKIE & THE CREEPY CUTE CRITTERS HC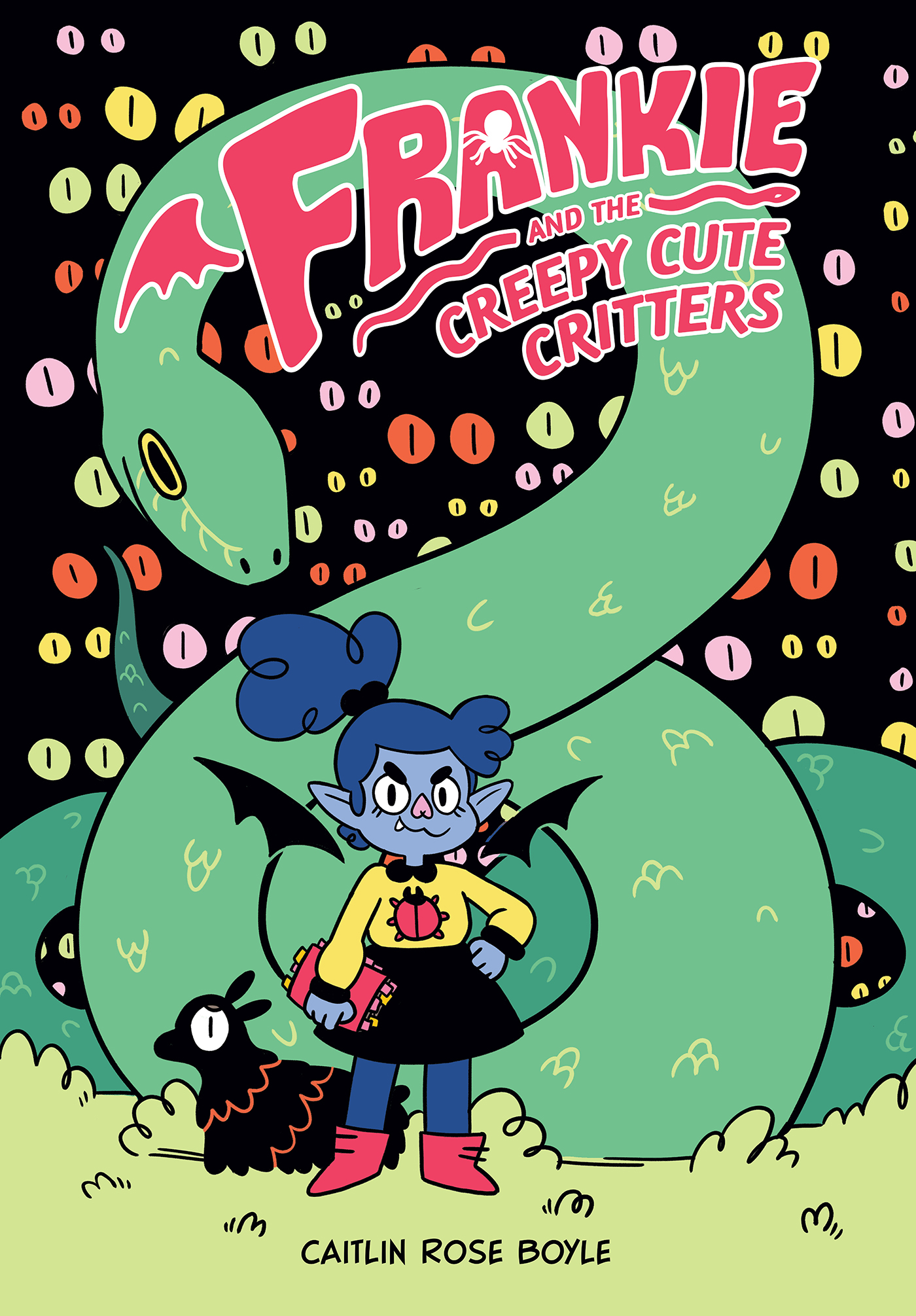 JUL201303
(W) Caitlin Rose Boyle (A/CA) Caitlin Rose Boyle
Frankie Fairy loves to learn about creepy crawly critters in her own backyard! Now that she's at a new school, she's excited to learn even more about them! Instead, she learns that the other fairy kids in class think she's the creepy one. Is Frankie really that scary? And if she is-is that really a bad thing? Maybe her creepy crawly friends can help her figure it out!
In Shops: Oct 07, 2020
SRP: $12.99BACKTRACK TP VOL 01 (MR)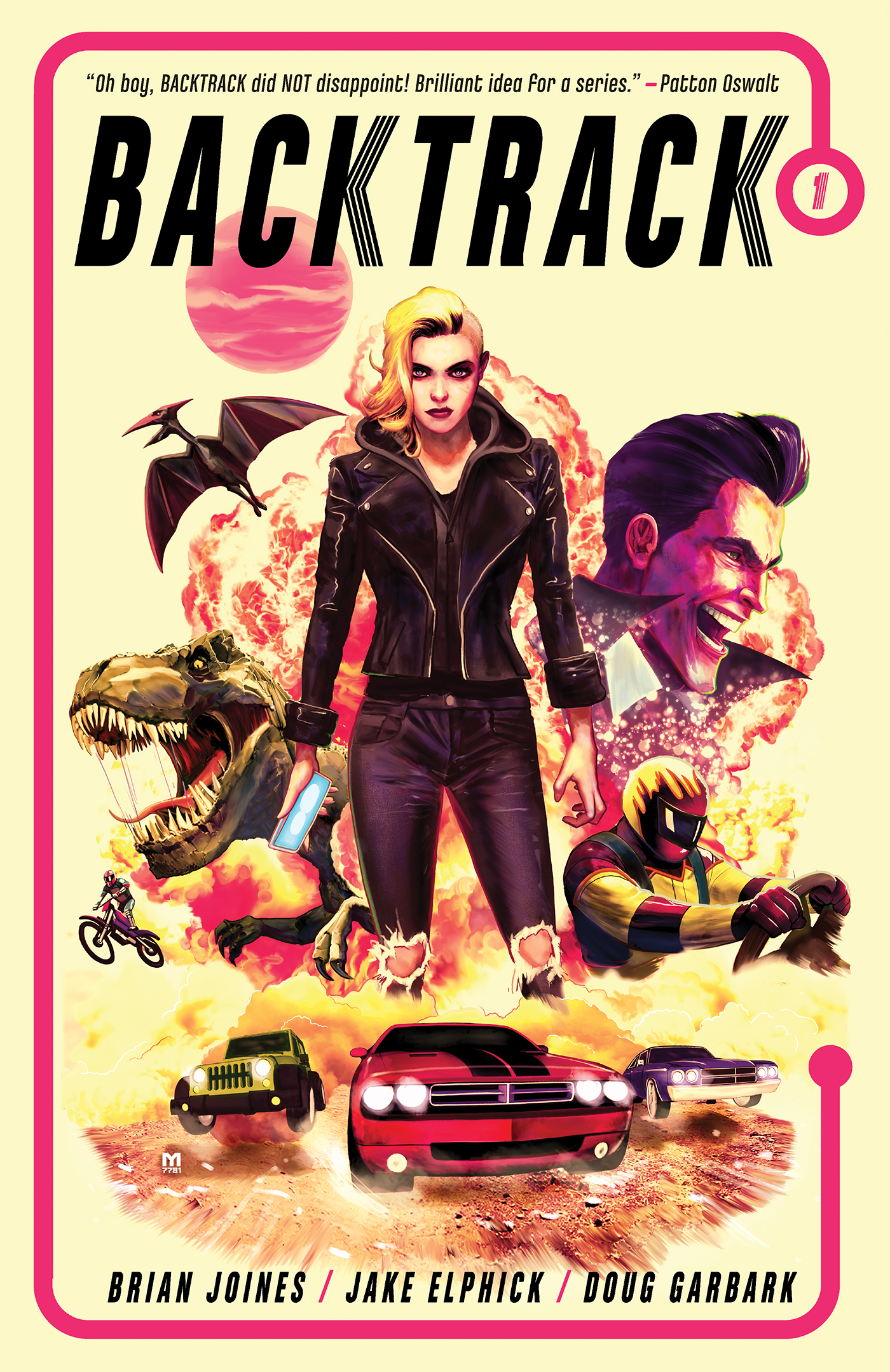 JUL201305
(W) Brian Joines (A) Jake Elphick
"If you had a chance to fix a mistake from your past, would you take it? Alyson Levy would.
Â
Guilt weighs heavy on former criminal ""wheelman"" Alyson, who led an illicit life that left her shattered. Enter Casper Quellex, an eccentric businessman who offers her the break of a lifetime: a massive cross-country car race that grants the winner an opportunity to correct a single mistake in their life. But here's the catch–each leg covers a different period in history. Just like that, Alyson and the other drivers find themselves in a gut-wrenching race through time contending with medieval warriors, dinosaurs, and natural disasters where they quickly learn that they must band together to form any chance for survival. But for an opportunity to change history, Alyson will drive from the Big Bang to the death knell of the universe."
In Shops: Nov 04, 2020
SRP: $19.99
View All Items In This Series
BACKTRACK #6 (MR)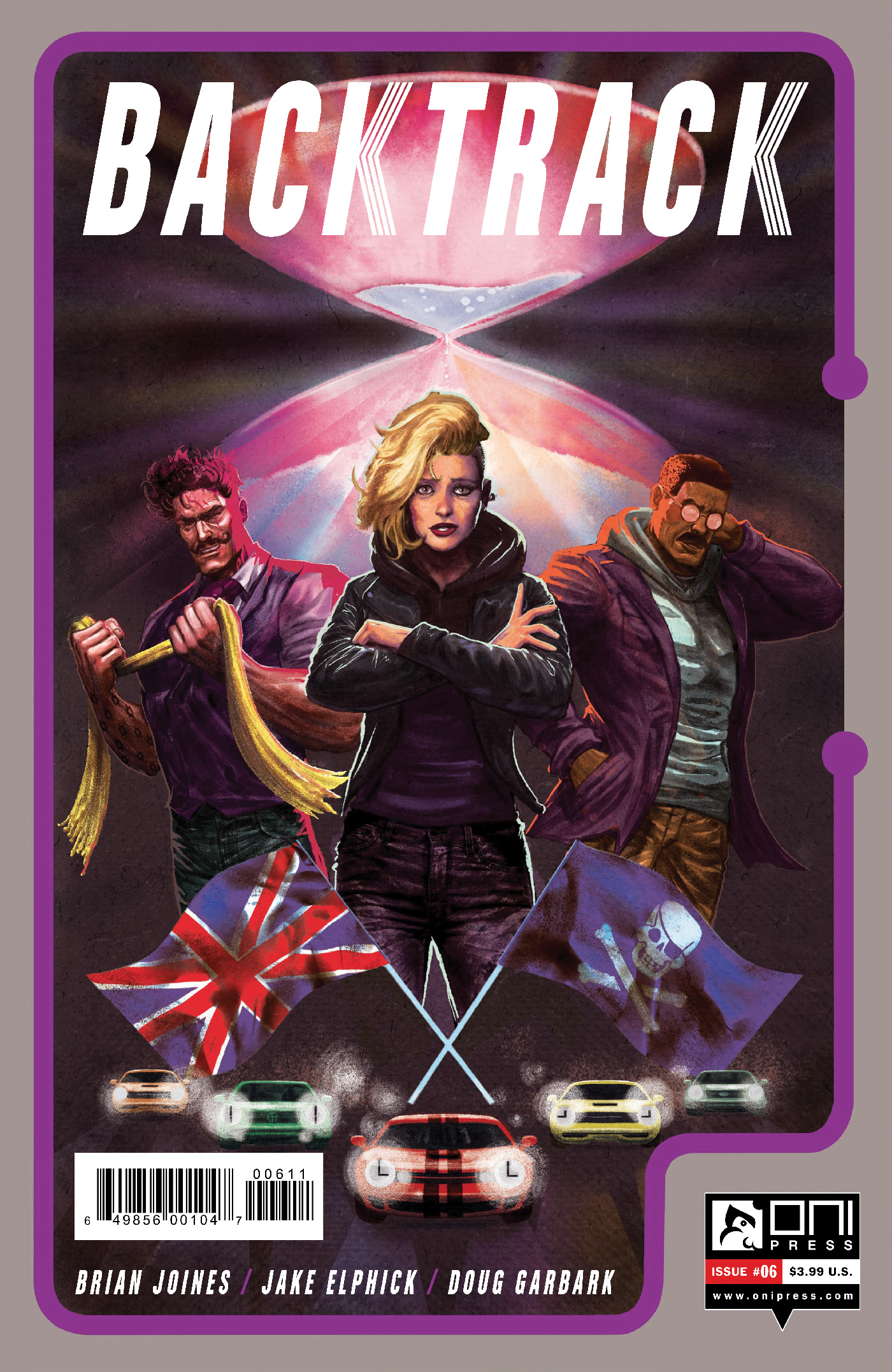 JUL201306
(W) Brian Joines (A) Jake Elphick (CA) Marco D'Alfonso
Wynn puts herself in the crosshairs of the French and Indian War in an attempt to change the past, Charles makes a deal with the devil, and Alyson reveals her true involvement in her brother's death.
In Shops: Sep 02, 2020
SRP: $3.99
View All Items In This Series
SPACE BATTLE LUNCHTIME TP VOL 03 A DISH BEST SERVED COLD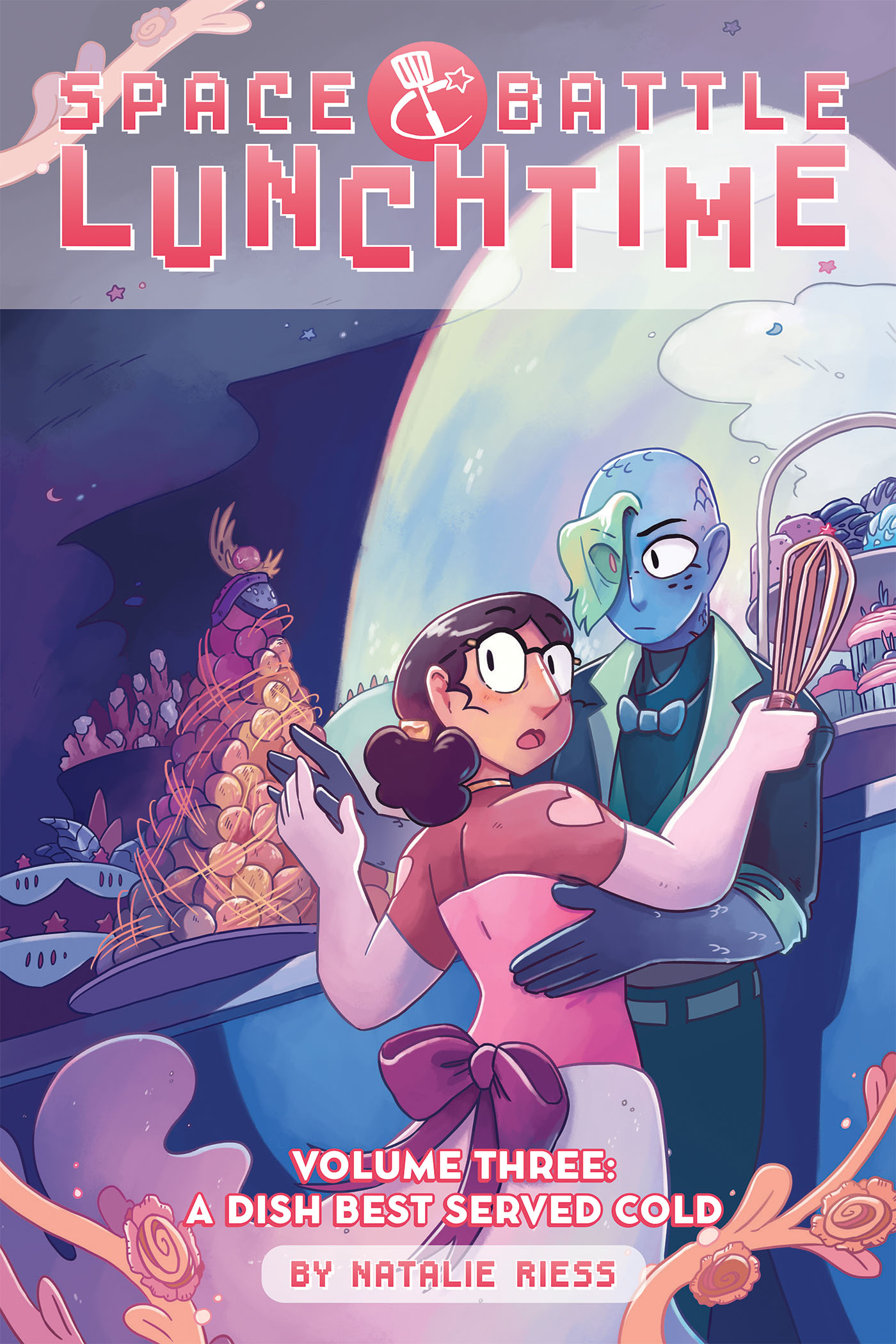 JUL201307
(W) Natalie Riess (A/CA) Natalie Riess
"Peony may have come in second place on the mega popular cooking show Space Battle Lunchtime, but with a girlfriend and a royal catering gig for a space empress, she's on top of the world! Until she finds out her old rival, Melonhead, is catering the same event. But that's a picnic-she's dealt with Melonhead before. What she hasn't dealt with is her girlfriend Neptunia's mysterious past, which comes to a head when Nep's sister turns out to be the empress's bodyguard. And what Peony absolutely can't deal with is an attempt on the empress's life-especially when she's the prime suspect!All this cutthroat culinary sabotage was supposed to be over when Space Battle Lunchtime ended… but in the competitive world of catering, there's always someone ready to stab you in the back."
In Shops: Oct 14, 2020
SRP: $14.99
View All Items In This Series
GUDETAMA TRICKY EGG CARD G AME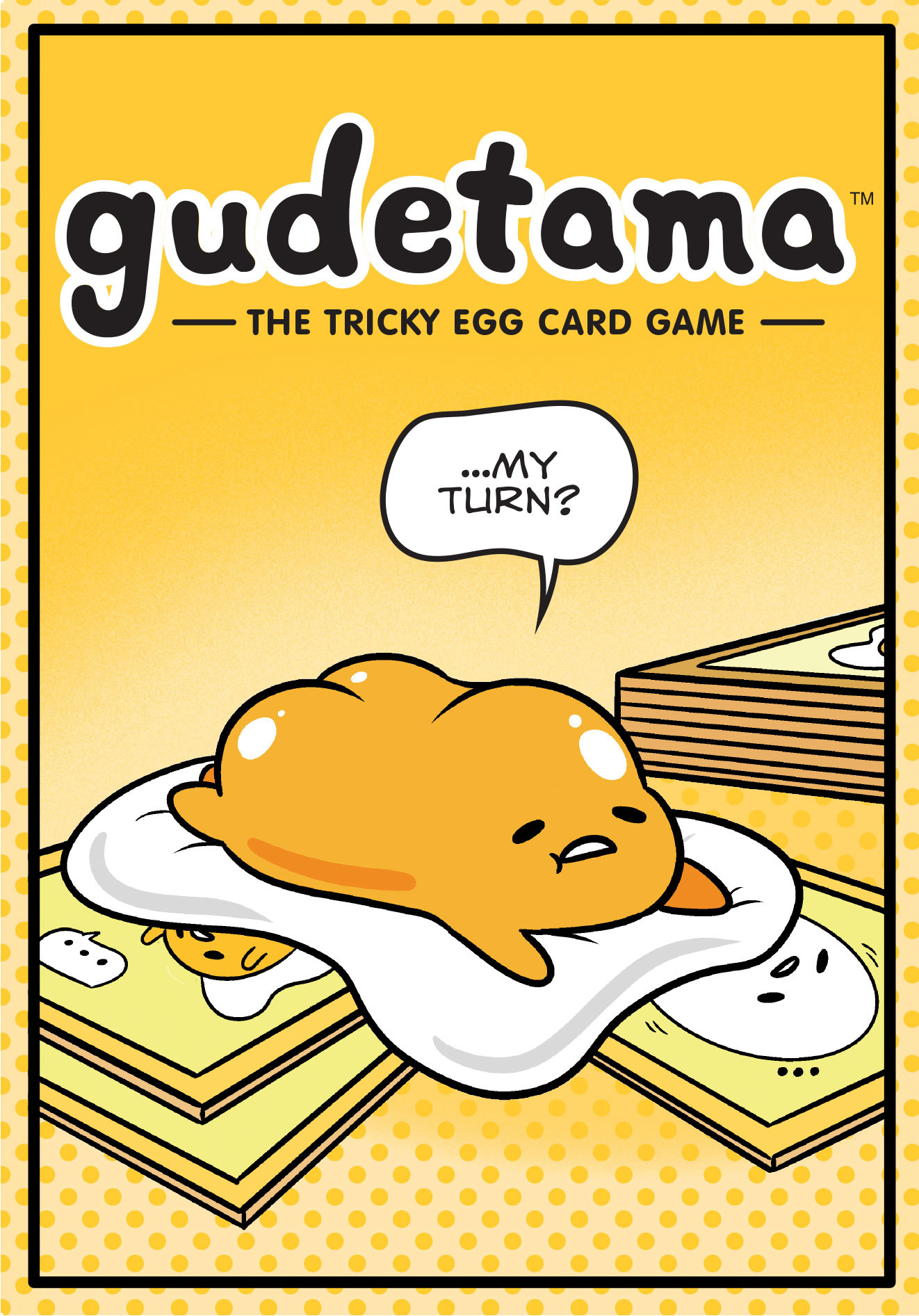 JUL201310
Gudetama: The Lazy Egg Card Game is a trick taking game for 2 – 7 players where the goal is NOT to win the final trick – the winner of the final trick will score points equal to their card that won the trick (you do not want points). The game is played over the course of several rounds where each round consists of 7 tricks.
In Shops: Aug 12, 2020
SRP: $14.99GUDETAMA SURVIVING THE HOLIDAYS HC (MR)
JUL201311
(W) Wook Jin Clark (A/CA) Wook Jin Clark
"Inspired by the worldwide hit Sanrio character and animated series star!The holidays are tough! Between trying to find the perfect (affordable!) gift for your eccentric aunt, to reconciling this year's failed New Year's resolutions, to surviving air travel during the busiest time of year…we could all use a little help.
Thankfully, Gudetama, the apathetic egg, is here to help guide us navigate these treacherous times…even if you're a bit lazy! "
In Shops: Nov 04, 2020
SRP: $9.99
DRYAD TP VOL 01 (MR)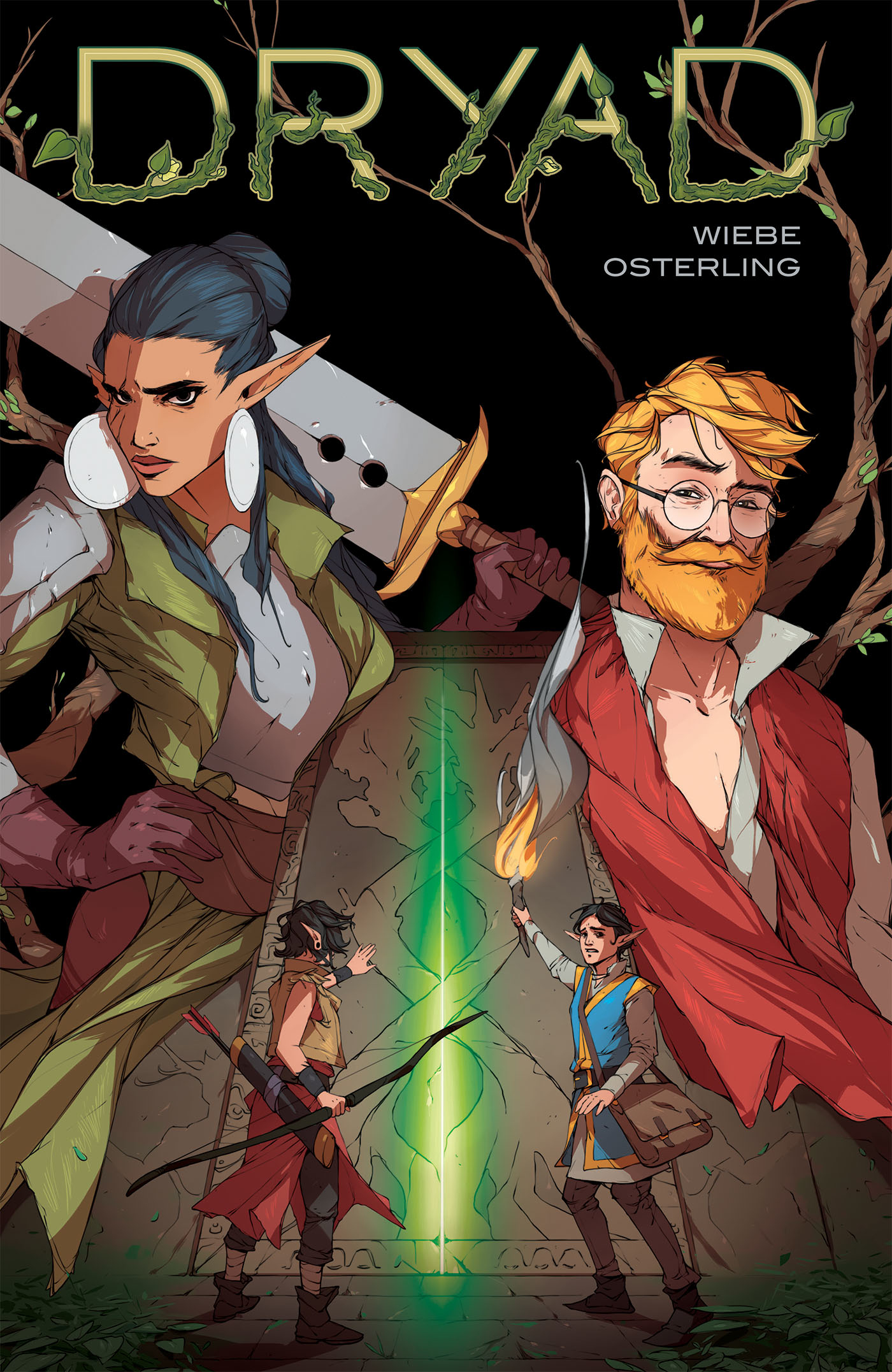 JUL201313
(W) Kurtis J. Wiebe (A) Justin Osterling
The Glass family has spent thirteen years hiding peacefully in the sleepy forest settlement of Frostbrook where Morgan and Yale planted roots and raised their twins, Griffon and Rana. But secrets never stay hidden, and the Glass's find themselves the target of an unearthly attack on Frostbrook. Now on the run from Muse Corp., they must flee to the massive city of Silver's Bay to hide in plain sight. Rana and Griffon find themselves uprooted and answering for their parents' mistakes. But, they'll soon find that the past has a way of finding you, no matter where you run.
In Shops: Nov 18, 2020
SRP: $19.99
View All Items In This Series
INVADER ZIM BEST OF WORLD DOMINATION TP (RES)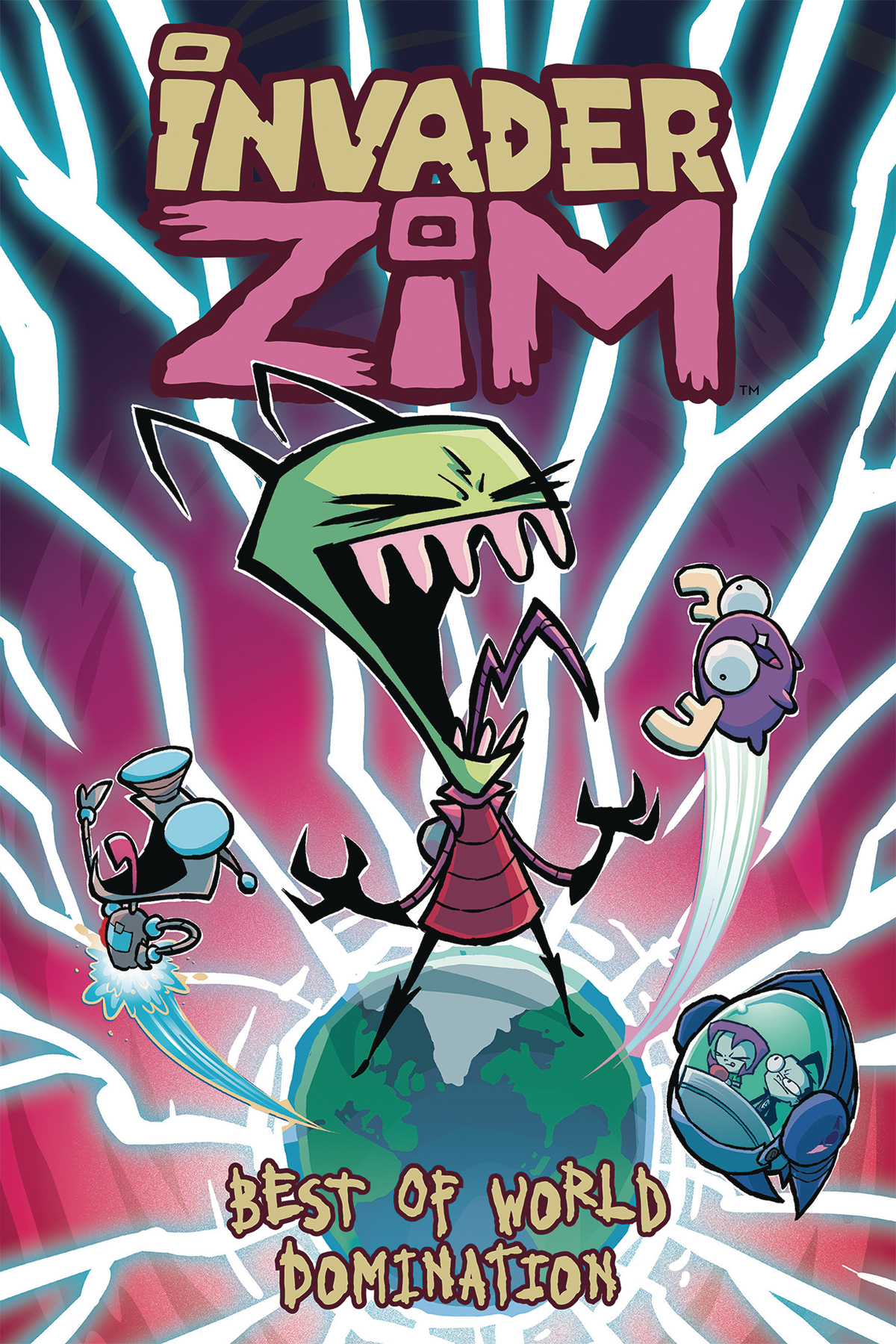 JUL201314
(W) Jhonen Vasquez, Eric Trueheart (A) Fred Stresing (A/CA) Warren Wucinich
WORLD DOMINATION. That's the goal for ZIM, the Irken invader stationed on Earth. But even an Irken as talented, beloved, and humble as ZIM occasionally has trouble getting his plans off the ground. It's those stupid humans. And especially the stupidest human of all, Dib.Explore four hysterical stories of ZIM's greatest plots to take over the world. Whether he's disguising himself as a hot new artiste, making double-crossing deals with pants aliens, or getting too distracted by TV to unleash his greatest and most terrifying creation, ZIM always has a plan. And it's definitely not his fault if it goes wrong.
In Shops: Oct 07, 2020
SRP: $9.99
RICK AND MORTY HC BOOK 05 DLX ED (MR)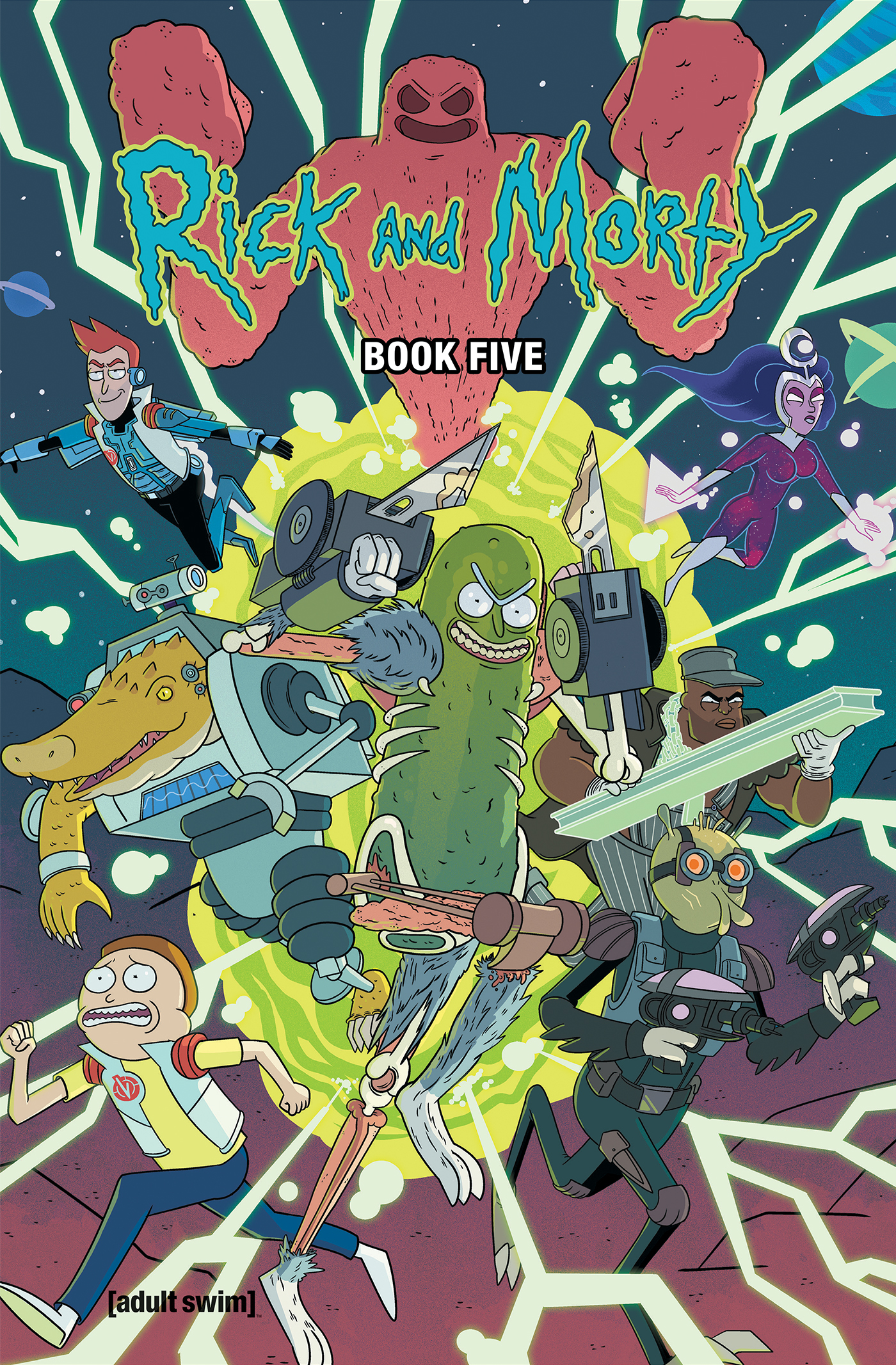 JUL201315
(W) Kyle Starks, Magdalene Visaggio, Tini Howard, Pamela Ribon, J. Torres, Delilah Dawson, Daniel M Lavery (A) Kyle Starks, CJ Cannon, Marc Ellerby, Erica Hayes
The smash-hit comic book series based on Dan Harmon and Justin Roiland's hilarious [adult swim] animated show RICK AND MORTY is available in its fifth deluxe hardcover collection!Watch as Summer discovers doomed romance! Learn the tragic secrets of Krombopulous Michael! Check out some really cool dinosaurs! This volume features Eisner-nominated writers Kyle Starks (Sexcastle, Assassination Nation) and Magdalene Visaggio (Kim & Kim, Vagrant Queen), in collaboration with artist CJ Cannon and Marc Ellerby, plus guest writers Tini Howard (Thanos, Euthanauts, Pamela Ribon (Moana, Ralph Breaks the Internet).
This special edition collects issues #31-35 of the main series, as well as the first four oversized issues of Rick and Morty Presents, starring The Vindicators, Sleepy Gary, Krombopulous Michael, and PICKLE RICK!It also includes a brand-new introduction from writer Magdalene Visaggio and a cover gallery featuring EVERY cover from all issues!Â
In Shops: Oct 28, 2020
SRP: $49.99