By Michele Brittany, a West Coast Bleeding Cool Correspondent Clockwork Couture, a Burbank-based steampunk shop, hosted "a steampunk extravaganza of comics and literature" as well as holiday craft faire last Saturday afternoon. There were several vendors were set up outside of the shop under canopy umbrellas selling jewelry, artwork, clothing accessories that would be welcomed to any steampunk enthusiast. However, my initial attention was focused on the handful of comic book writers and novelists congregated upstairs above the clothier. You may remember my coverage of the steampunk scene and panel at last year's Comikaze, but if not, then I'll readily admit that I am fascinated by the genre. In part it is because to me, the clothing symbolizes a sensibility I admire. However, I am not as familiar with the steampunk literary output, so I figured this would be a good opportunity to explore this facet of a genre that has been prospering in the popular culture scene. I reconnected with Madeleine Holly-Rosing, the creator/writer of the six-issue Boston Metaphysical Society, a comic book story I've been following since I met Holly-Rosing at one of the comic cons here in Southern California a couple of years ago. Her series follows an ex-Pinkerton detective and his spirit photographer as they battle the paranormal in 1880s Boston, which is a hotbed of political, ethnic, and spiritual unrest.
I recognized another con regular, Elizabeth Watasin, who wrote the graphic novel Charm School and the Dark Victorian series. I picked up Risen, the first novel of the series which is set in a mechanized 1880 London. The reader follows main characters Jim Dastard and Artifice as they seek out an evil re-animator. Art's past is a mystery to her, but as the story progressives, bits and pieces of her former life come to light. I also picked up Sundark, a penny dreadful tale about Elle Black and is set in the same universe as Watasin's Dark Victorian Series.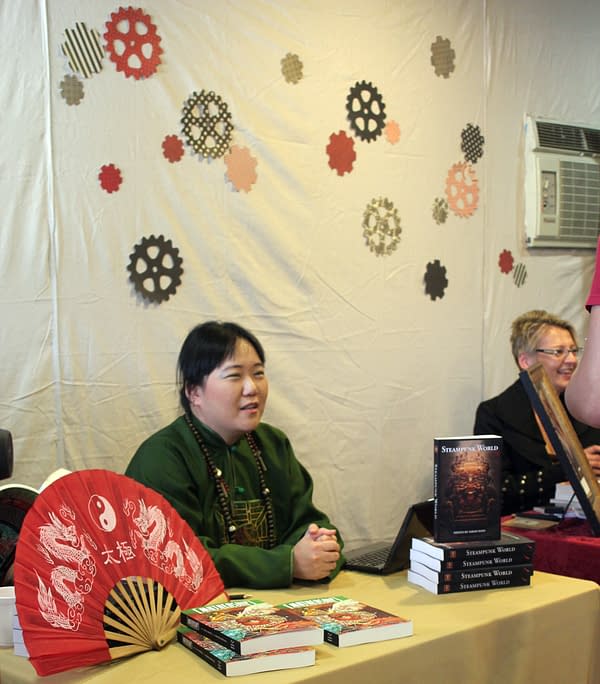 I have been finding that steampunk stories are often set in late 19th century East Coast America or London, England. However, I met Jaymee Goh, a graduate student at University of California, Riverside whose interest and writing explores steampunk and speculative fiction in postcolonial societies of the Far East. Her short story "Hidden Strength" is about Heong and San Yan, a young couple who learn the value of each other after a tragic event. The essay is part of the recently released anthology Steampunk World edited by Sarah Hans and is a collection of steampunk essays about citizens outside of America and England.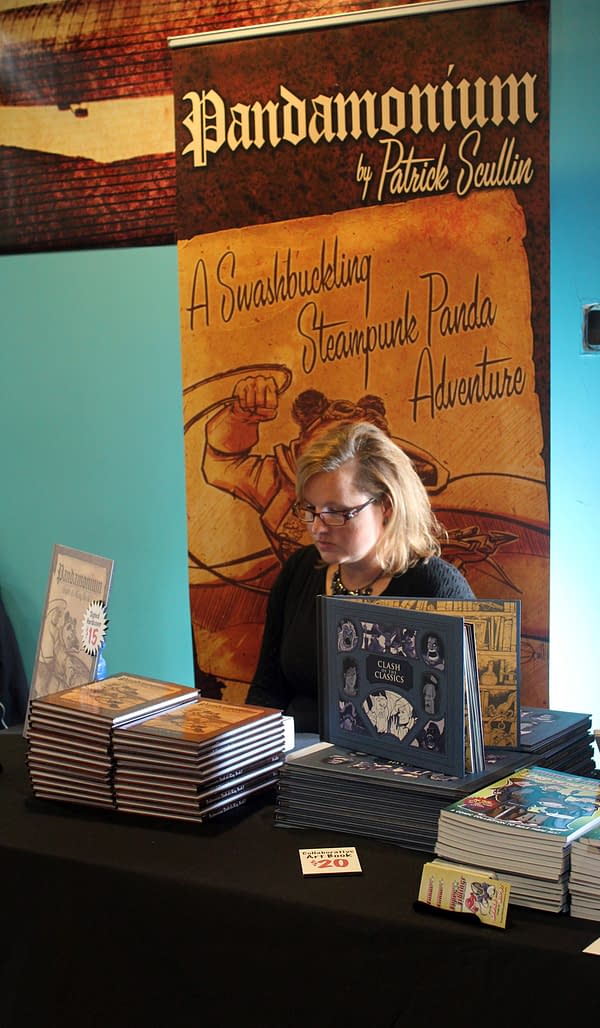 This next writer took a decidedly anthropomorphic angle with his Pandamonium: Death of a King Book 1 that was published earlier this month and was the result of a successful KickStarter this past spring. The young adult story written and illustrated by Patrick Scullin sets up the multi-volume story of grizzlies and polar bears and a young female pirate that turns out to be the long-lost princess of a kingdom that has been run by a tyrannical king. There are nods to English historical figures such as King Richard, King John, and from folklore, Robin Hood of Nottingham. There's even an unethical Sheriff! It was a fun and quick read and I can easily see that young readers would enjoy the adventure aspects.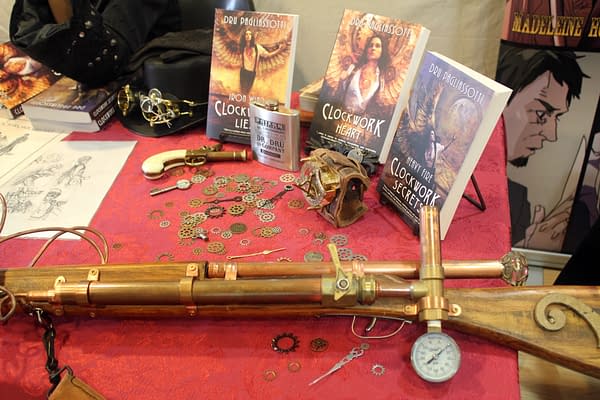 Lastly, I met Dru Pagliassotti who wrote The Clockwork Heart trilogy. Taya, the main protagonist, is a courier who uses mechanized Icarus wings to deliver messages around the city of Ondinium. Pagliassotti explores a tri-level caste society in this steampunk fantasy that blends with murder mystery and political intrigue. It also has a dose of romance. Pagliassotti's writing was featured in The Year's Best Fantasy & Horror (21st edition) as one of the best fantasy writers in 2009.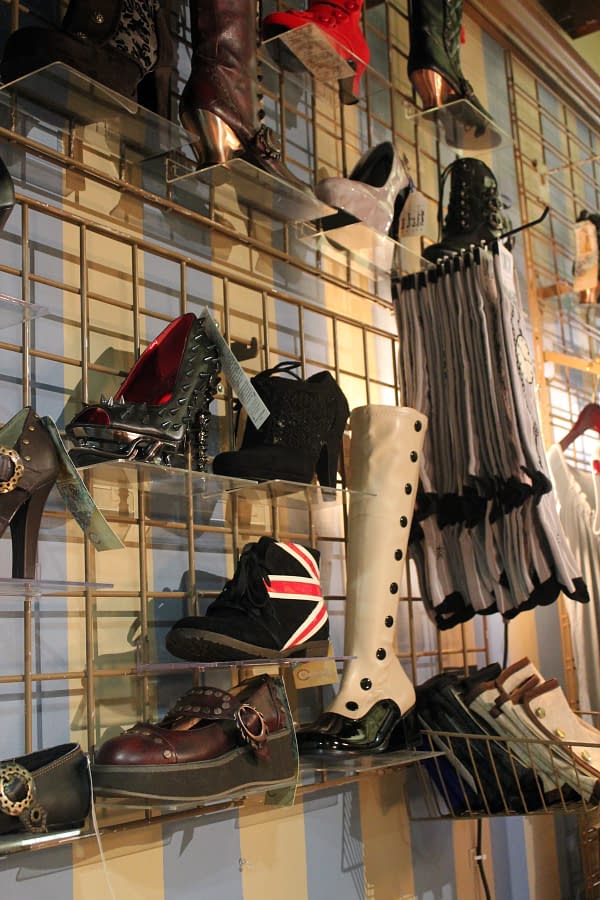 After meeting all of the writers, I headed back downstairs to Clockwork Couture and perused all of the clothing and accessories the shop had to offer. There was actually quite a lot if a person takes into account their website offers custom made clothing! Add to this, all the vendors rounded out a decent presentation of the steampunk genre. Although a small affair, there seemed to be a reasonable amount of foot traffic throughout the afternoon. In the aftermath of the event, I have enjoyed reading Goh and Scullin's stories and I am anxious to start reading the novels.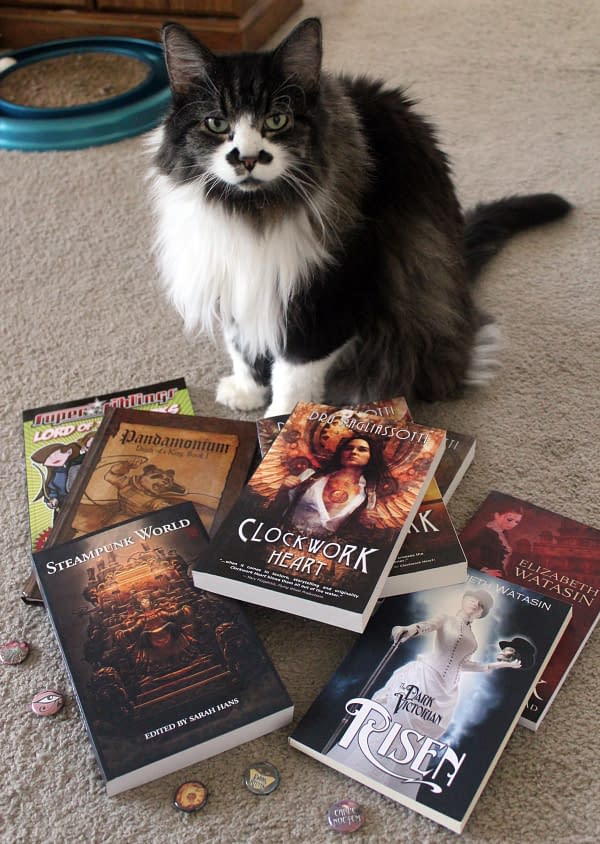 All photographs are courtesy of Michele Brittany.
Michele Brittany is an independent popular culture scholar and semi-professional photographer and editor of James Bond and Popular Culture: Essays on the Influence of the Fictional Superspy (McFarland & Company). She regularly posts reviews and analysis on the spy/espionage genre on her blog, Spyfi & Superspies and can be followed at Twitter @mcbrittany2014.
Enjoyed this article? Share it!