Advance Review: Which Is The Witch? Harrow County Courts Unease, Plus Preview
Harrow County is coming soon from Dark Horse, arriving May 13th. It's one of those books that might get overlooked if you have a full pull-list or have already ticked your boxes on horror comics for awhile. But it's also a book that should turn out to be a critical darling, and no, that doesn't mean it's serious and dull but significant in some way. In comics it's harder to be a critical darling without a story being entertaining than it is in film, thankfully. Harrow County is a very interesting book because it has a total package of appealing features which makes it stand out from other books that have one or two desirable features but not all of them at once. It's a story that obscures the lines between protagonist and antagonist and also relentlessly builds both a sense of wonder and unease.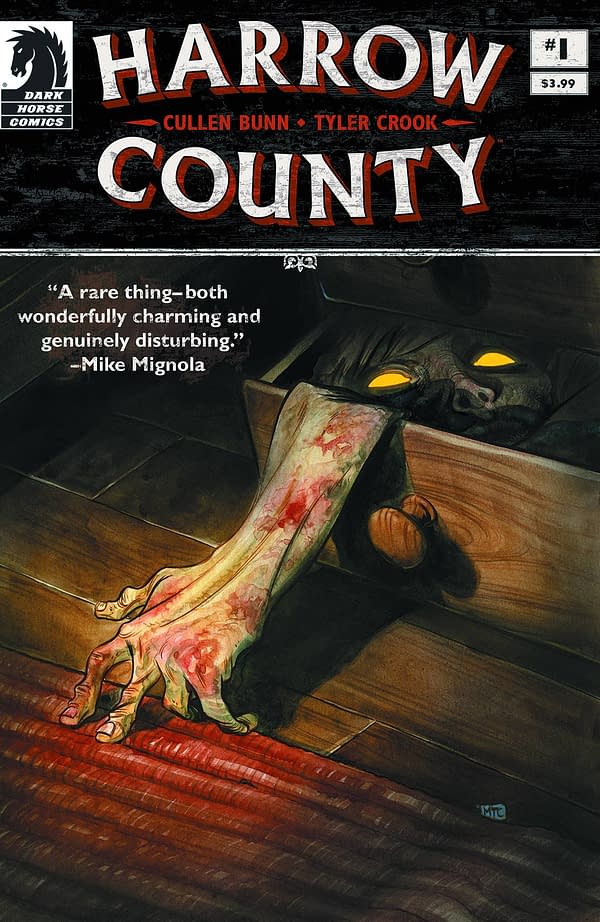 Well, first let me tell you about the creative team on Harrow County. It's written by Cullen Bunn, a man who's work doesn't really need an introduction. He's excelling at horror and suspense these days, as well as showing diverse skills in many genres. In short, he's a strong storyteller and one of his trademarks seems to be an edginess, a tension that other writers can't muster. He's joined by artist Tyler Crook. This review could easily turn into the "Tyler Crook Show", but I'll try to reign in my enthusiasm. If you are someone who has ever seen an etching by William Blake or a pencil drawing or poster by Toulouse-Lautrec and thought the linework and colors were compelling, then Crook will have you locked in by the end of the first page. What he's doing with lines and watercolor mixed with lines on color is so perfectly suggestive of a period piece but also fresh and lively that it amazes me. I didn't know those two qualities could go together so well until I read the first couple issues of Harrow County.
The plot of the comic follows a region, Harrow County, and the events there, past and present, tied to a witch's life, death, and legacy, or so it seems so far. The residents of the county, distrusting this young woman who was either a child of nature or a sinister being (or both since ambiguity is one of the excellent traits of the comic) executed her, and she put a curse on them, the terms of which haven't been fully understood but are quite concerning. Jump to the "present day" of the rural life of the county some years later as a young girl, Emmy, grows up on her father's farm, gathering books from a traveling library to read, and communing with a rather lavishly beautiful natural world. But strange things are beginning to happen to her–as if the veil between the occult and the everyday are growing thin. She's a happy soul, quite kind, but what if she's more than that? It's a theme that comics like Constantine have done well and many films haven't managed as well, the idea that an anti-Christ like figure might be quite winning and lovely and the curse they carry is no fault of their own. Now, I'm not saying that's where Harrow County is heading for sure, but it's one of the themes at play early in the comic. [Exclusive cover reveal of Issue #4]
Two other features of the comic have really won me over as a reader. Firstly, the opening issue is extra long to help set up the narrative and draw the reader in, which was a smart move. Because this is a different place and time than readers may be familiar with, and we also need to feel we know the community before things get really heated, a longer introduction is a good idea. But there's also a novelistic quality to this story even as it balances out its episodes. As an English lit person, it reminded me of a story by Nathaniel Hawthorne or Washington Irving. It has that "witchcraft in a sequestered location" feel that they are both known for, but the other similarity is pacing. Like these stories, Harrow County is unhurried, and that's part of the delight in detail as we meet otherworldly creatures, and also the uncertainty of where things are headed that make for tension.
Secondly, and lastly, the collaboration between Bunn and Crook is designed in such a way that your loyalties and perceptions are torn between understanding the local residents' fear of the witch and her curse and feeling like Emmy has absolutely nothing to apologize for and certainly doesn't deserve to be watched and hounded in case she's somehow part of the curse. When the local folk, as a group, begin to feel like an ugly enemy toward freedom and proponents of unfair violence, that's when Bunn and Crook have done their job establishing doubt. The only thing you won't doubt about Harrow County is that it is a world waking up into an occult presence that seems infused into the very landscape and how the people in that landscape react to it will determine their fate.
It's a beautifully illustrated page-turner of a story from what I've seen so far, so make some space in your reading list for Harrow County.
Here's a preview of what you have to look forward to:
Harrow County #1 arrives May 13th from Dark Horse Comics and is currently listed in Previews with item code: MAR150088