Posted in: BC Network, FX, Recent Updates, Trailer, TV | Tagged: always sunny, bleeding cool, cable, Charlie, Charlie Day, comedy, danny devito, dee, dennis, frank, fx, FXX, Glenn Howerton, it's always sunny, It's Always Sunny In Philadelphia, Kaitlin Olson, mac, Paddy's Pub, philadelphia, rob mcelhenney, season 13, sitcom, streaming, television, trailer, tv
---
'It's Always Sunny in Philadelphia' Season 13 Trailer: Welcome Back… Dennis?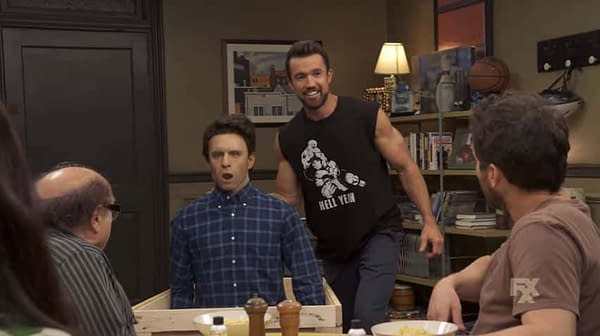 After weeks of teasers, fans of FXX''s It's Always Sunny in Philadelphia finally got their first full look at the show's upcoming 13th season. While the official trailer is clearly Glenn Howerton-free, the crew from Paddy's Pub doesn't appear to be dialing back on the tastelessness, vulgarity, and righteous depravity that viewers have grown to love and expect as they head into their season premiere on Wednesday, September 5th.
So before you go deep diving into the trailer, two things to keep in mind: yes, that was Mindy Kaling (Champions) you see in one of the scenes; and Mac's (Rob McElhenney) "in-case-of-no-Dennis-break-glass" emergency back-up plan disturbs us in ways Anthony Hopkins's Magic never could (look it up):
The Gang Returns… mostly…. in the 13th season of the FXX original comedy series It's Always Sunny In Philadelphia. Mac (Rob McElhenney), Charlie (Charlie Day), Dee (Kaitlin Olson) and Frank (Danny DeVito) return to their duplicitous, scheming ways at Paddy's Pub, while Dennis (Glenn Howerton) takes on the new role of father in North Dakota.

Even without Dennis Reynolds, the Gang has its hands full as Charlie hopes to have a child with The Waitress, Mac sets out to understand his newfound sexuality, Dee takes feminism to new heights, and Frank goes to great lengths for the Gang to experience the greatest moment in Philadelphia sports history – an Eagles Super Bowl victory.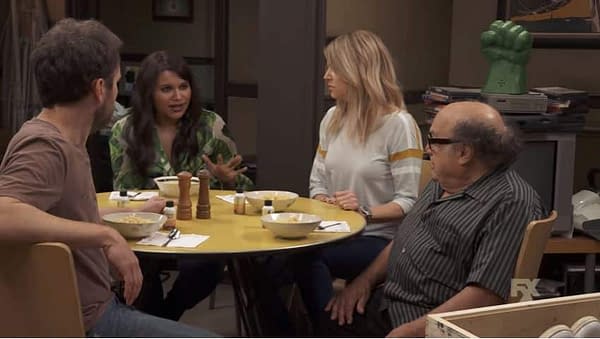 Taking the stage at this summer's Television Critics Association (TCA) press event, Sunny cast members Charlie Day, Danny DeVito, Rob McElhenney, and Kaitlin Olson addressed the "massive" outpouring of support from LGBTQ viewers to McElhenney's Mac coming out as gay in season 12 – but not before an interesting presentation from the group: a table read of season 13 episode 'Mac Finds His Pride', followed by a sneak preview of the episode.
In the scene, Mac and an unnamed female partner perform a rain-soaked, choreographed dance number in Mac's father Luther's (Gregory Scott Cummins) prison as a way of Mac coming out to his dad in a very sincere, intimate way.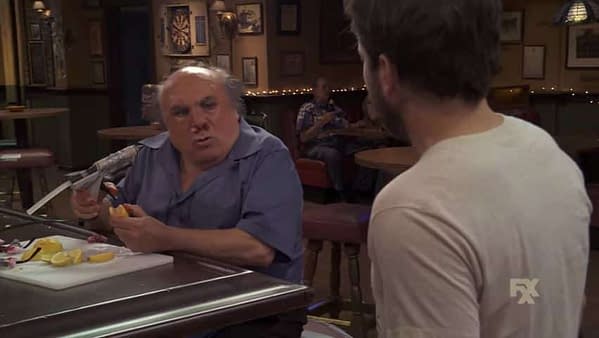 Here's a look at some of the highlights from the post-screening Q&A:
● When asked about the upcoming "Pride" episode, McElhenney joked, "It's season 13, so we've gotta do something." Following up, he revealed that Mac's storyline "slowly evolved over time" and that fan response has been largely positive: "They told me how moved they were by it and how important it was to be represented." Day added, "We wanted to try something, for lack of a better term, heartwarming." For DeVito, the reaction hit a personal note: "I was really moved by it. It was cool to see that. And inspiring."
● With the new season set to premiere next month on FXX, McElhenney confirmed that Howerton will appear in most of the season's episodes: "We went through all sorts of ideas before we knew that Glenn was coming back. He's in pretty much every episode." Day followed up by saying, "He's in the majority of them."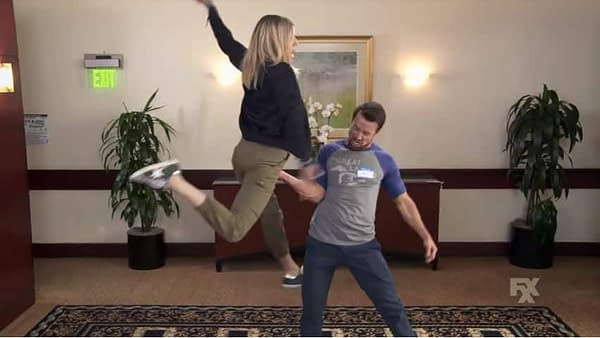 ● According to McElhenney, Mac will finish transitioning from "Fat Mac" to being back in shape.
● Day praised the how much more experimental the show continues to be, alluding to new upcoming episode "experiments" that would include an all-female remake of a previous episode (possible for season 14); and Dennis being portrayed in one episode by a sex doll.
● McElhenney said it took about 50 takes to shoot the dance number.
---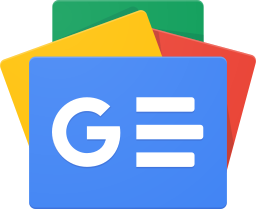 Stay up-to-date and support the site by following Bleeding Cool on Google News today!