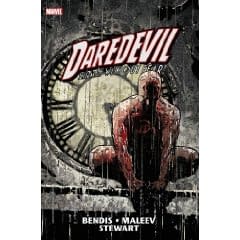 Yesterday, Amazon stopped selling directly almost all graphic novel distributed by Diamond Book Distributors, on the back of a price glitches expectations raised and dashed simultaneously.
This included books published by Marvel, Image, Dark Horse, IDW, Avatar and Dynamite.
Diamond sources inform me that they believe this is a precautionary measure on Amazon's part, while they dealt with fallout issues over the glitch, rather than explained by any conspiratorial reasons.
This didn't stop a number of publishers making their displeasure known to the distributor, but it seems to have come as much of a surprise to Diamond as it did to the publishers in question.
Anecdotally, Amazon Marketplace activity was way up. I have a few books listed on the site, and find I sell around one a month. In the last few days, I have sold five. Also, for new comic day, a number of retailers have told me they have received increased correspondence regarding the availability of newly published trade paperback and hardcover collections – though this is not a universal experience.
Diamond sources expect the "Buy Button" to return to Amazon pages soon however, and I expect to update this article when that happens.
In related news, I can confirm that, despite the large numbers of Omnibus-style $50+ volumes ordered through Amazon links on Bleeding Cool articles, Amazon have charged for very few of midnight last night. It is likely that supply dried up before the first article I wrote saw publication.
Ultimates Omnibus Ordered: 1121 Shipped: 0
Wolverine Omnibus, Ordered: 741 Shipped: 0
The Complete Invincible Library, Ordered: 668 Shipped: 0
Daredevil by Bendis & Maleev Omnibus, Ordered: 571 Shipped: 2
Madman Gargantua Ordered:Â 504 Shipped:-
The Death of Captain America Omnibus Ordered: 477 Shipped: 0
Secret Wars Omnibus Ordered: 439 Shipped: 1
Iron Man Omnibus Ordered:Â 392 Shipped: 0
Golden Age Marvel Comics Omnibus Ordered: 277 Shipped: 1
Amazing Fantasy Omnibus Ordered: 197 Shipped: 0
Howard The Duck Omnibus Ordered: 185 Shipped: 0
Enjoyed this article? Share it!