Archie Comics Reboot: Company Will Relaunch Superhero Line With Digital Subscription Model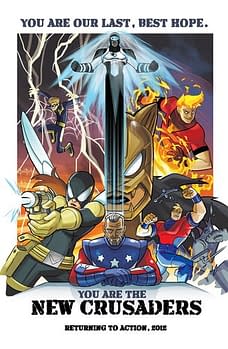 In another NYCC warm-up announcement, Jon Goldwater, co-chief executive of Archie, told the New York Times that the company will revive its stable of superhero characters using a digital subscription model which will offer a mix of both new and classic material:
Besides the possibility of reaching an audience beyond the comic book stores, there was a second advantage to this digital model. "Financially, it makes sense," Mr. Goldwater said. "We are not going to have any print costs. To be a slave to printing prices when you're starting a new venture is a tremendous concern."
The premise of the digital series, written by Ian Flynn and illustrated by Ben Bates, begins with the heroes largely in retirement in a suburb called the Red Circle. Their enemies find and dispatch the heroes, forcing the next generation, who will be overseen by The Shield, to save the day, thus paving the way for The New Crusaders, the title of the series.

Tonally, the stories will be similar to "The Incredibles," Mr. Goldwater said. "They are not going to be water-downed superheroes, but they are not going to be dark either."
Like most superhero lines, the characters have gone through numerous revivals, most recently when DC Comics licensed them in 2008.