For those who know Asheville, North Carolina, these points will be patently obvious, but for those who might not, Asheville is a hub for many arts scenes down South, including a vast array of handicrafts and things relating to painting, drawing, and illustration. There are plenty of illustrators who make their homes in the surrounding hills and mountains of Western North Carolina (up against the Smoky Mountains and several state parks), and many poets and writers as well. It's easy to see why people gravitate to Asheville–it's incredibly scenic and has plenty of opportunities for spending some quiet time in the outdoors. But the city itself is also full of charming, preserved architecture from the late 19th and early 20th centuries, and the shops and restaurants cater to eclectic tastes. Comics and illustration go hand in hand in Asheville, but they also find a place in a kind of holistic appreciation of the arts, and so that's why I say that Asheville is a sweet spot for comics folks. Here are a few of my favorite places that I paid a flying visit to just before Christmas… Malaprops Bookstore in Downtown Asheville is the indiest of independent bookstores, and yet it's large and serves the local community very well, complete with a coffee shop that will make you journey for miles around in itself. Malaprops has a number of virtues, including a constant stream of local writer events and reading groups, but comics have always had a strong representation there as far as I can tell. The graphic novel section there is mid-sized but it is exceptionally well-chosen with an eye toward spanning genres and styles, and constant attention to detailed staff picks means you can always find something new to try based on your interests. There are often signed Neil Gaiman books (for cover price) and Charles Vess has made appearances here in the past. You can find some real gems. One thing that's very helpful is that they divide their books into genres like fiction vs. nonfiction, but also based on stand-alone graphic novels or series. Their behind-the-counter-displays are also lavish, and every time I've visited there have been some comics folks represented there. It's where I found Alan Moore: Storyteller by Gary Spencer Millidge, and this time, spot the Moore, Grant Morrison, and Gaiman. Triple play. I couldn't even use the facilities without forensic evidence of Malaprops as a comics waystation for enthusiasts… If you're in, say, a 90 mile radius and don't visit at least once a month, you're missing out. Keep an eye on their events listings here, too.
But there's also another place with a very different atmosphere to keep an eye on in Asheville if you are comics-inclined, and that's the secondhand bookstore Downtown Book and News. It's hard to convey just how casual and appealing Downtown is. It's stuffed with paperbacks of every variety, has antiquarian book displays, educational books, science-fiction books; you name it and it's there. I always check out the graphic novel section because here you're not paying cover price and things that are out of print may turn up. But this time, I examined the place a little more carefully and was mighty impressed with their huge array of locally produced comic 'zines and also their periodical comics displayed on a magazine rack. Peter Bagge, Adrian Tomine, Evan Dorkin, the Hernandez Brothers. Can you really ask for more? Downtown has a great sense of how to include underground and indie comics in their inventory and looks like they are here to stay, too.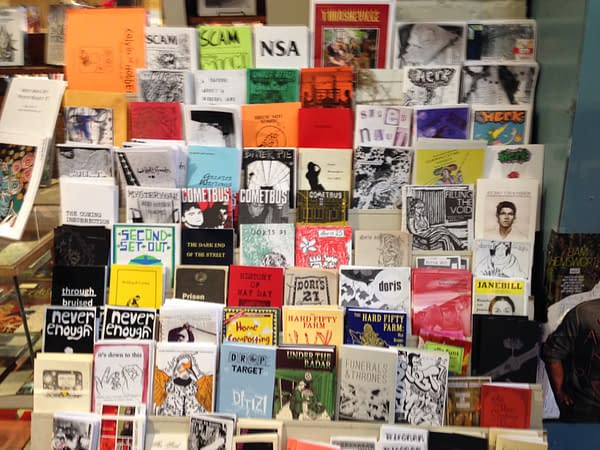 Those are the 'zines. Here are a few of their periodical comics publications that I honestly have a hard time finding even in New York City. Big ups to Downtown Books for that. But comics people are often genre fiction readers, too, and there is so much at a reasonable second-hand price here that it's a big draw. I don't expect that everyone feels the same way about t-shirts that I do. If they did, there would probably be fighting in the streets over cool t-shirts on a regular basis, but for me, it's kind of the holy grail to find a comic-art or modern art style t-shirt without writing on it that isn't commonly to be found in major chain stores. I want something different. Threadless is the main oasis for finding artist-designed t-shirts, and I'm very grateful for that, but consider this: in Asheville you can walk into Gallery M.I.A (right next to Downtown Books), look at their museum-like display of locally-designed t-shirts (that changes often), pick the design you want, then custom print it onto the color and size shirt you want in a matter of minutes. It's that simple. And the prices are not extreme by any means. That is a boutique experience for the artistically-inclined or t-shirt obsessed like myself.
M.I.A partners with Spiritex to produce sustainable textiles, too. But here's a little bonus: you can engage with MIA online and order things through them. There's plenty to recommend Threadless, but if you want to support a local business with a great ethos, check out MIA too.
I was lucky enough to get to ramble through these fine establishments just before Christmas, and though there was plenty of holiday shopping going on, I can attest these places are never empty. Locals and tourists are in the know and appreciate the spectrum they offer for geek culture. But now you know too, and hope you can pay a visit. If you do, tell them you heard about them on Bleeding Cool.
[UPDATE: More local businesses that celebrate comics and geek culture in the Asheville area]
Though I wasn't able to visit every geek hub in the Asheville area on my short visit, here are two more you should really check out if you're able to. Firstly, there's the dedicated comic shop Comic Envy located just outside of town. From what I've heard they have excellent back issues as well as new stock and graphic novels, and are very kid friendly.

Comic Envy describe their mission:
At Comic Envy, we like to focus on the good things in life – the nerdy things! We carry a huge range of new and old comic book, toys, t-shirts and apparel, and more. We have a huge selection of supplies to keep yourt comic books safe – boxes, bags, boards, display cases and more!

We welcome customers from all walks of life, especially kids. Our children's section is constantly growing and changing, we like to have something new for every visit! Our store is bright and fun, with something interesting to look at around every corner.

Then there's another gallery drawing inspiration from pop and comic culture, Studio ZaPow! with rotating artist group shows that focus on illustration and pop culture art. Not only do they have an online gallery you can peruse, but a weekly podcast. Artists can join and become members of the gallery as a "brick and mortar convention or art fair" and benefit from the collective environment.
Studio ZaPow! says:
The vast diversity that is found among the art galleries here in Asheville is one of the many reasons to come and visit this unique town. Each gallery offers a different flavor. We are the Asheville art gallery for fun, whimsical, quirky and even geek art. We are the Asheville gallery that appeals to art aficionados as well as the average Joe. Stop by and see what we're all about. Hannah Means-Shannon is EIC at Bleeding Cool, and is @hannahmenzies on Twitter. She's a North Carolinian, by the way, and jealous that many of her family members live near Asheville.
Enjoyed this article? Share it!