You know what one of the perks of being owned by a comic book publisher is? Well, that they constantly forget to tell us what they are up to, leading us to having to search the internet.
Such as their retail side Comics Cavalcade having Avatar Press's solicits for July 2018. Without, like, telling us. It does my head in, it really does.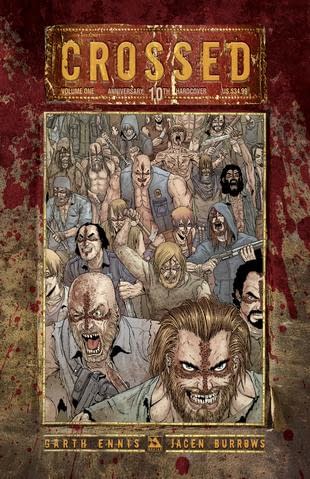 Anyway, in July 2018, it appears that Avatar Press has an anniversary of a certain franchise to celebrate.
CROSSED Vol 1 Tenth Anniversary Hardcover $34.99
Writer: Garth Ennis
Cover & Art: Jacen Burrows
MR, Color, 240 pages, HC
Celebrating a decade of insanity and the launch of several new Crossed projects, we unleash a special 10th Anniversary Edition of Vol 1 Hardcover, in a very limited, one printing, edition! Crossed is Ennis' horrifically visceral exploration of the pure evil that humans are truly capable of indulging and it all begins in this Volume 1. This gut-wrenching vision is brought to vivid life by his partner in crime Jacen Burrows. Imagine, for a moment, the worst crimes against humanity. Picture the cruelest affronts to decency. Conjure your darkest nightmares… and then realize it could all be so much worse. When civilization crumbles in one terrifying moment; when people are gleefully breaking into unthinkable acts of violence all around you; when everyone you love has died screaming in agony: What do you do? There is no help. There is no hope. There is no escape. There are only the Crossed. And only 1000 copies available! Jul-31-2018
UBER: INVASION #14 $3.99
Writer: Kieron Gillen
Covers and Art: Daniel Gete
MR, Color, 32 pages, bi-monthly
The stunning might of Sieglinde and Battleship Zero is put to the test versus an enemy they will never see coming – the US Zephyr forces! Available with Regular, Wraparound, War Crimes, Propaganda, and Blitzkrieg by series artist Daniel Gete, and a limited VIP Premium cover by Gabriel Andrade. Jul-31-2018
Enjoyed this article? Share it!