BAT Cons 2014 – Long Beach Comic Expo Adventures Plus Photogalleries
By B. Alex Thompson Convention season is in full swing now, so it's full speed ahead! This time we go into the Long Beach Comic Expo experience! This is show #4 for 2014. I've been going to the Long Beach Comic-Expo for the past four years as a visitor, but last year was the first time I had a table (shared with Jannelle Juarez & Joe Hernandez). That went well enough that I decided to give both shows a shot for 2014.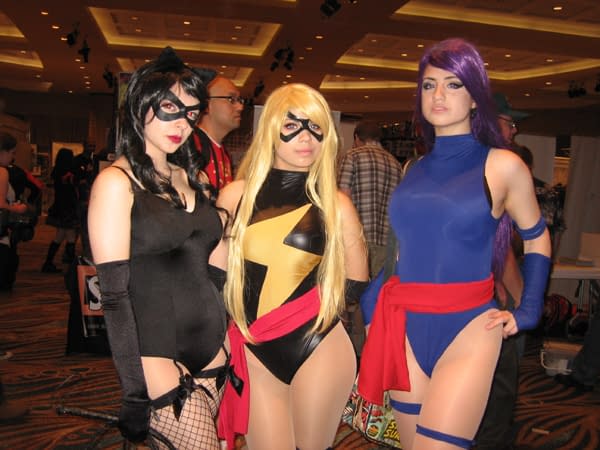 I knew LBCC had two shows, but I always ended up at the Fall one. For whatever reason I never could find the time to attend the Spring show. I kinda expected the Expo to be the same size and in the same place as the Con, but that wasn't the case.
But that's getting ahead of things a bit. Let's start from the beginning…
FRIDAY
Since Long Beach is only an hour drive from the house, I decided to set up early. I was surprised that the unloading dock from last year wasn't available so I parked (having to pay, even as an exhibiter) and went to check things out. From there I discovered why the unloading dock wasn't available- because the expo was being held in the upstairs section of the convention center (some other event was using the main hall). That seemed a bit weird to me. After making the trek up the stairs I wondered how many people would get lost and give up trying to find the expo.
After getting my badges (at least that part was easy), I had to make the not so fun trek back down in the blazing hot sun to the parking garage, grab all my stuff from the car, and make my way all the way back up to the show floor. Again, NOT FUN.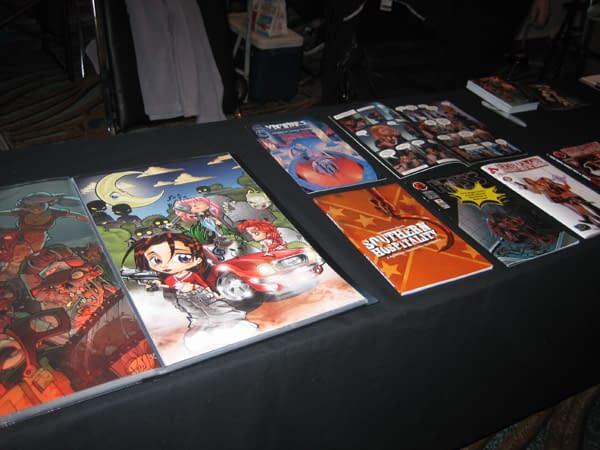 This was the first time I had prints to showcase, so an upside of setting up was discovering the table had room for all the books in addition to the prints binder. VERY COOL!
Another downside was the small aisle behind the creators (the back-to-back space). I realized that if I set up my standing banners and wire shelves it would make things difficult for my neighbors and me to move around, not to mention potential claustrophobia status for everyone. To be a good neighbor, I decided against setting up my banners.
With set up finished, I shut the studio down and made my way home.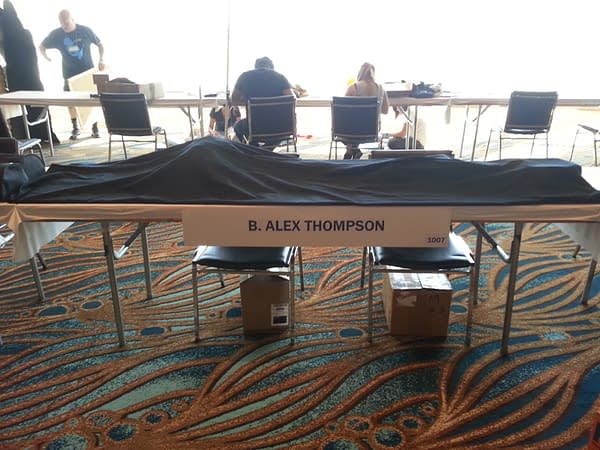 SATURDAY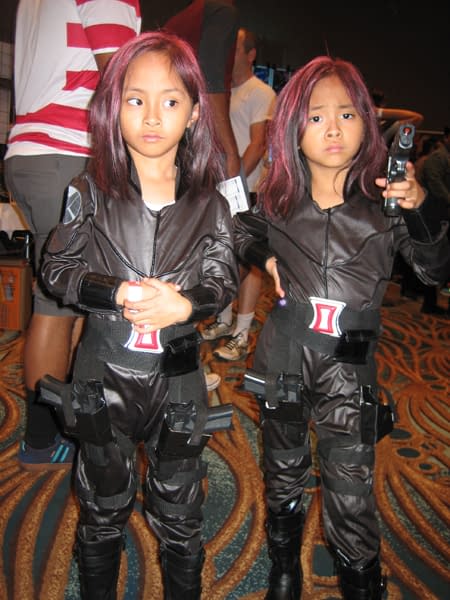 Day one started off well as I discovered that my friends and fellow convention circuit goers Chris & Chrissy Callahan (RoboChuck) were behind me at a slight angle. Their placement was in a row that was pretty much far off the beaten path, but we all remained hopeful that traffic would make it to them (it didn't, but more on that later).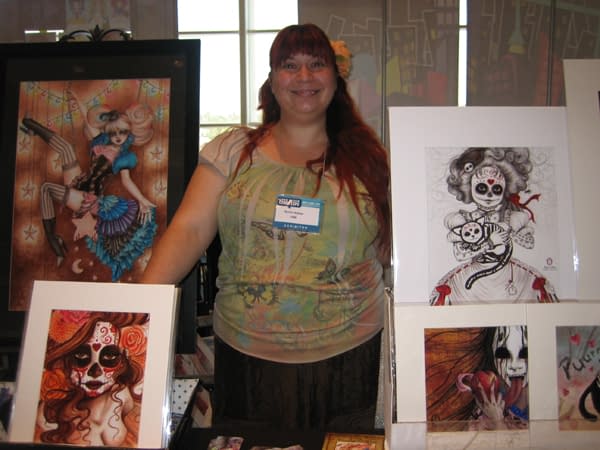 Settling in, I met my neighbors Gavin Andazola (The Stone Legacy) and Rachel Walker (Edge of the World Art) who became great people for conversation in the slow moments of the show day.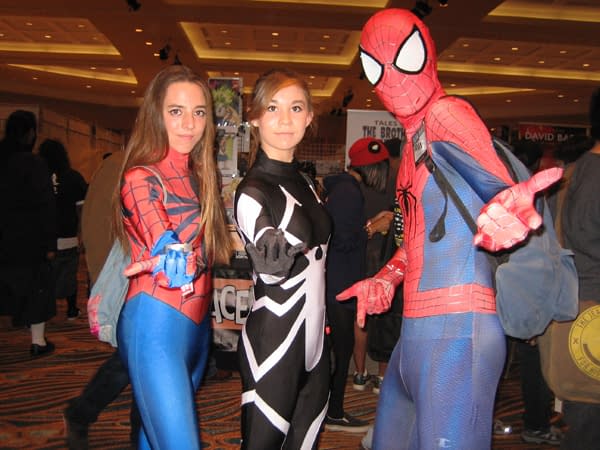 For a smaller show, traffic was actually pretty decent for a first day. Many postcard flyers were passed out and a few sales were made. The lull periods weren't too terrible as my myriad of neighbors beside and behind me were awesome to converse with (although many of my neighbors used their standing banners anyway, I was glad I didn't to become the hub of the socializing circle).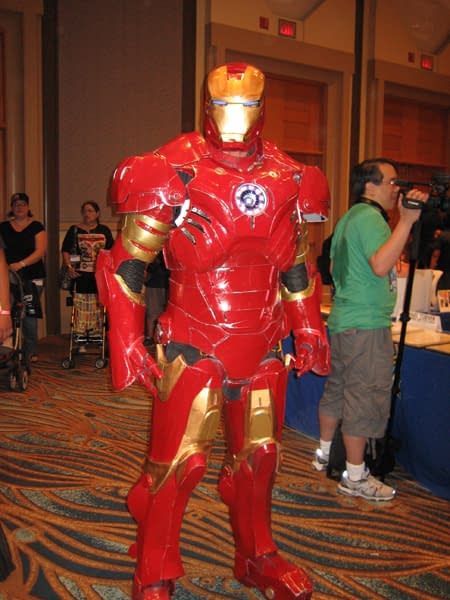 There were a lot of cool cosplayers out, some I met at previous shows (and it's always great to see familiar faces at these events). All in all, Saturday didn't do gangbuster numbers, but it was good from a promotional stand to get the word out. The last day of the show usually brings the last minute sales, so we were all curious to what Sunday would bring.
SUNDAY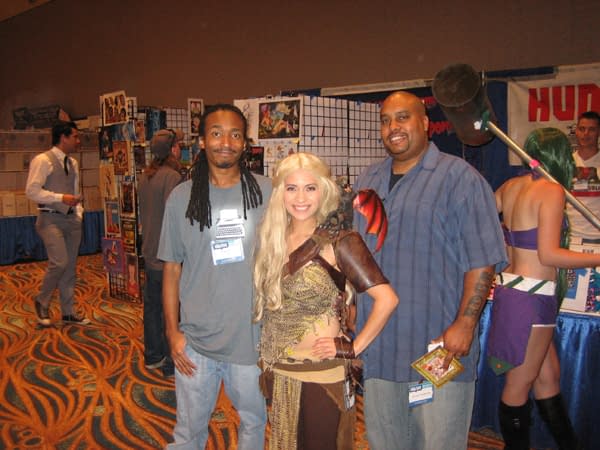 Sunday my brother Bryan came to the show with us. While Denise held the table down, he and I were able to check out the show itself. We saw more cosplayers, bought more discount TPBs, and we ran into good friends like Allen Carter, Neo Edmund, Jannelle & Joe. We also met cool new friends like Terence Anthony, Tracy PrincessTrek, Geek Outlaw, and Robert Tomoguchi.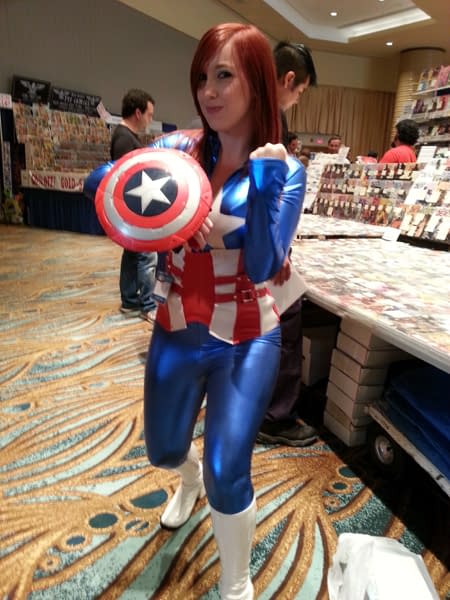 By the end of the day we made enough sales to justify the show experience. We were among the lucky ones as there were some creators in pretty unfortunate places like Chris and Terence in the back row (I later learned that LBCE made up for that problematic placement).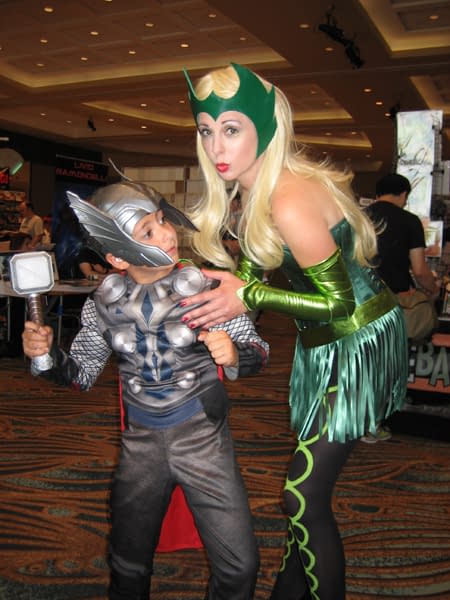 Though the show was smaller than expected, it was a good enough experience that I am interested in exhibiting at LBCE next year. Hopefully they secure a bigger space for the next Expo and in a location easier to haul all of your set up stuff!
Thanks for reading my convention experience with the Long Beach Comic Expo. Come back soon when I present my upcoming experience with the Amazing Las Vegas Comic Con!
Los Angeles born and Midwest raised, B. Alex Thompson is a comic book writer, screenwriter, and letterer who has done work for Alias Enterprises, Approbation Comics, Arcana Studios, Lion Forge Comics, and Graphic Planet. Thompson is mostly known for his experimental humor/horror title Chaos Campus: Sorority Girls vs. Zombies which has over twenty-five issues released and more in the works. Discover more via www.AlexThompsonWriter.com and Tweet him directly @ApproBAT