Are Walt and Jesse Ready to Call Saul Again? Bryan Cranston, Aaron Paul, and Vince Gilligan Think So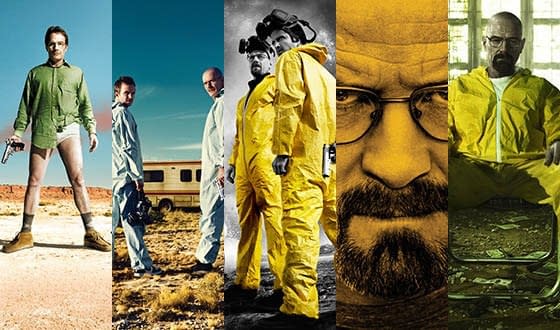 If you're a spinoff series, one of your biggest concerns is how to differentiate yourself from the original series while still remaining faithful to the spirit and vibe of the original series. If you're AMC's Better Call Saul and your original series is Breaking Bad, the pressure increases tenfold — but over the course of three season, the Vince Gilligan–Peter Gould prequel/mini-sequel series has carved out its own identity in the Breaking Bad universe.
That doesn't mean Better Call Saul has ignored where it came from; but instead of going for obvious ratings and social media boosts, the series has picked its Breaking Bad connections wisely. Since Jimmy McGill's (Bob Odenkirk) transformation into "Saul Goodman" is complete by the time we first meet him on Breaking Bad, it's clear that our criminal lawyer has a backstory that would be ripe for gust appearances. We've seen Giancarlo Esposito's Gus, Mark Margolis' Hector, Laura Fraser's Lydia, and Kyle Bornheimer's Ken so far, with Gilligan and Gould teasing more familiar faces in the future.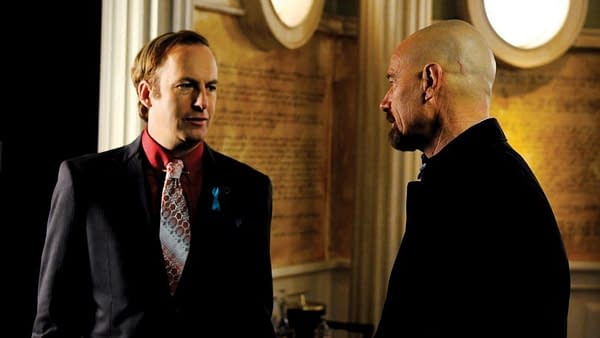 But let's be real, okay? The two biggest names that keep getting brought up by fans may be the most obvious — but they're also two that could work without having to suspend our brains when it comes to believability: Walter White (Bryan Cranston) and Jesse Pinkman (Aaron Paul). In fact, Paul's Jesse could even play a part in the "mini-sequel" scenes with Jimmy's post-Breaking Bad finale identity "Gene").
So when Entertainment Weekly reunited the cast of Breaking Bad for its 10th anniversary, Cranston, Paul and Gilligan were asked about the possibility of White/Pinkman story arc for Better Call Saul — and guess what? Cranston, Paul, Gilligan and Gould are giving the idea a major thumbs-up — and while they all agree there needs to be a good enough reason for them to appear, it feels like this might be happening much more sooner than later.
https://www.youtube.com/watch?v=aDKXzng3Hi0
For Paul, it's his faith in Gilligan's creative hand that would bring him back to the role:
"My attitude towards it is the same I had from when Better Call Saul first started: if Vince decided to put Jesse in Better Call Saul, it's going to be for a reason, and that reason's going to be very satisfying for me. I trust in Vince. I don't think he would just do that to satisfy the fans. It would have a purpose, and whether or not he decides to find that purpose or searches for the purpose, I don't know. But if he does find that purpose, I'm happy to jump on board."
Cranston not only agrees with Paul, he has a "couple of ideas" of his own on how Walt and Jesse could be used:
"If he asked, I would just say yes. [Vince] takes such meticulous care of his characters and the story, and he changed our lives. 'Yes' is the answer. Even if it's just a brush-by. A quick little something. We've come to know people who we've seen before but we don't know that we've seen them before, because we were in the store and we just passed by them. Or we might even have a word or two. 'Oh no, please go ahead.' 'Thank you for holding the door.' And then five years later, you would never remember that. So something as minuscule as that could be very interesting in the fabric of the whole thing. We have those kind of encounters every day, and I think that would be fun for the audience — and the most honest."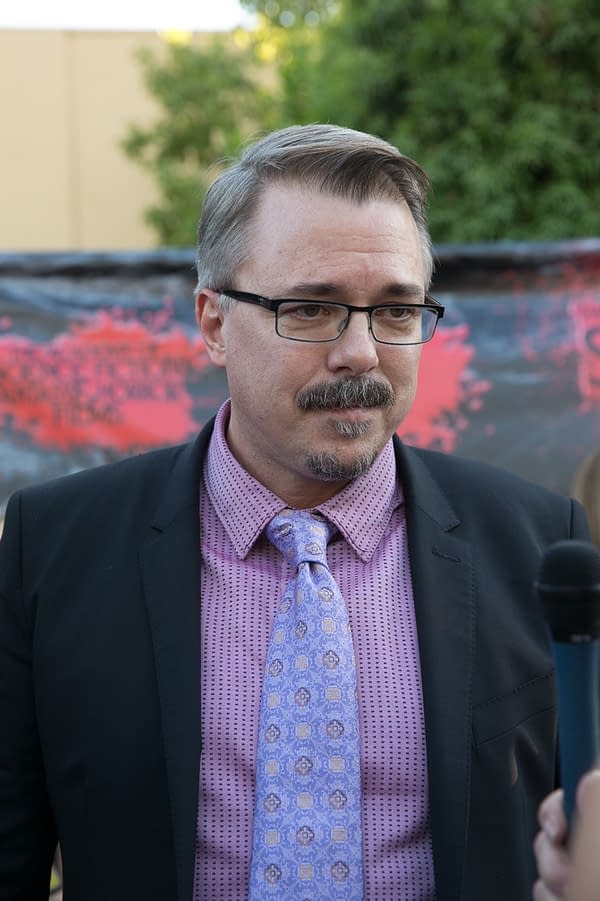 For his part, Gilligan can't see it not happening — particularly because it looks like everyone wants it: "I desperately want to see both of them on Better Call Saul. Peter wants it, the writers do, the actors do." But with the anticipation and expectation that's built up over the past three seasons, Gilligan nows that their appearance has to be more than just a phone call or walking across the street:
"[I]t wouldn't feel as satisfying if it was just a cameo or an Alfred Hitchcock walkthrough," he says. "I think we've waited long enough. We damn well better have a good reason for them to show up. I just hope we figure it out because I've got to hear, 'Yeah, bitch!' one more time."
AMC's Better Call Saul returns for a fourth season on August 6th, 2018 — so perhaps we'll find out more during Breaking Bad and Better Call Saul's panels at this year's San Diego Comic-Con on July 19th.