Bill Sienkiewicz And Frank Miller's Wonder Woman: Bondage
Bill Sienkiewicz And Frank Miller's Wonder Woman: Bondage
---
DC Comics never saw this image. Neither Bill Sienkiewicz nor Frank Miller intended it to go public. But when it was sold, despite assurances that it wouldn't go online, somewhere along the line, it got sold to someone who didn't know about that requirement. And it was recently spotted by DC Women Kicking Ass, though the above visual is a higher res version.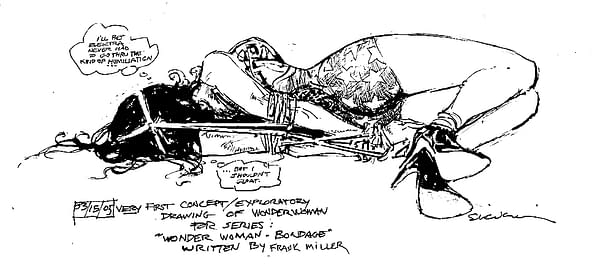 But what was Wonder Woman: Bondage? Bill Sienkiewicz agreed to provide a little context now it was out in the open. He told me
Frank and I were jazzed about working together again. We were up for doing another series and churning the waters on on some old DC character, as he'd done with Dark Knight.

Wonder Woman seemed like a pretty good choice. She been simultaneously revered and handled poorly in some incarnations. To me she's always been a '"symbol" more than a character that has been well-utilized in a story context. The most interesting stuff was the earliest – and felt the ripest for revisiting.

The fact that her creator William Marston also created the precursor to the lie detector and was into bondage lent a weird kinky vibe and made the idea of mucking with her and her origin a potentially fun trip.

The image was done by me to visually test the water, so to speak and my own comfort level, if not everyone else's, about how far it could be pushed. I did some others that were far more extreme, no one has seen those, this one was relatively tame by comparison. Still it was perhaps a bit over the top, but I think Frank and I invited that. So was the idea for the series in very basic broad stroke discussions between Frank and I , with some input from then-DC editor Bob Schreck. The piece was never intended to be seen by anyone else, but of course , someone bought the original , and despite assurances from everyone who had seen the piece that they would not pass it along ( I should have known better, it was too provocative NOT to make the rounds)… ah well, so it goes.

But as for actually doing the series – who knows?
I think… we probably do know, Bill.
---
---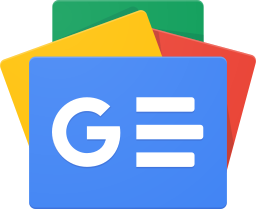 Stay up-to-date and support the site by following Bleeding Cool on Google News today!