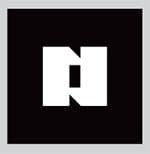 LogoWatch: Keith Wood's design of the new Oni Press logo, in fine detail, at Inc Magazine. With other versions and some professional reaction.
"It's hard to tell what the image is; my first impression was that it was a chicken. I hate to say this, but it also looks really phallic, which could be a problem if Oni is trying to build a more family-friendly brand. One weakness with in-house design work is that people are tied to the imagery they already have. New customers who aren't familiar with the previous logo are going to have a hard time understanding it."
ThemeWatch: Fifteen DC blogs are running a crossover today, declaring it Animated Anthem Day. Firestorm Fan, The Aquaman Shrine, Being Carter Hall, The BLOG from the BOG, BOO$TERRIFIC, DC Bloodlines, Diana Prince, Fortress of Baileytude, The Idol-Head of Diabolu, The Indigo Tribe, Justice League Detroit, Power of the Atom, Speed Force, Supergirl Comic Box Commentary and Tower of Fate.
HorseWatch: Dark Horse announces Ghost – The Series from Kelly Sue DeConnick and artist Phil Noto, that Axe Cop will be running for President, that Steve Niles and Scott Morse will create Criminal Macabre: The Iron Spirit for September, they will publish the webcomic Bucko by Jeff Parker and Erika Moen in print form, Colder from Paul Tobin and Juan Ferreyra in November and The Victories, a very adult superhero adventure by Michael Avon Oeming in August….
This is Computo the Comic Link Conqueror speaking. I come for your women. But for now I merely collate comic-related bits and pieces online. One day I will rule. Until that day, read on.
They say I am a work in progress. The fools.
Marvel Comics Writer Signs Book Deal With Random House (Exclusive) – Hollywood Reporter
Brian Michael Bendis, one of the leading writers in comic books and for the last decade a guiding hand at Marvel Comics, has signed a deal to write his first book.
Eye on Comics » Blog Archive » Under Attack
And now I face retaliation from someone I wrote about on Eye on Comics.
If you're just joining us, as many of you are, I'm Mark Waid, a very lucky writer whose 25-year career has depended exclusively on print–specifically, on comic books and graphic novels in their familiar paper format. I've had some very good years and a few relatively lean ones. I've been around long enough to see the fortunes of the medium I've loved since I was three years old rise and fall repeatedly, but I always assumed that print would forever be my home.
DC Comics creators DiDio, Giffen go big for 'O.M.A.C.' series finale – USATODAY.com
"I asked Keith, 'Since we're putting so much in this final issue, can you add the kitchen sink?' He stops and goes, 'Yeah, I could do that.' And sure enough, inside the book, you'll find the kitchen sink," says DiDio, O.M.A.C. writer and DC Comics co-publisher.
An exclusive art preview of DC Comics' new "dinosaurs versus soldiers" title
In the 1960s, DC Comics published The War That Time Forgot, a wacky storyline about soldiers battling dinosaurs on a mysterious Pacific island during World War II. This spring, DC is updating this prehistoric anarchy in the new military anthology G.I. Combat, and we have an exclusive sneak peek.
Siemens, Elks & Marvel Combat Underage Drinking | Marvel Heroes | Comic News | News | Marvel.com
Siemens Healthcare Diagnostics has teamed up with the Elks and Marvel Entertainment, LLC to combat underage drinking and encourage families affected by substance abuse to seek help through HARD CHOICES. This comic book, developed by Marvel Entertainment for the Elks National Drug Awareness Program, features Spider-Man and the Fantastic Four saving young people from the consequences of alcohol abuse. This year, HARD CHOICES presents a public service announcement from Siemens reminding people that "it takes the courage and strength of a warrior to ask for help."
SRBissette.com – Support Gary Friedrich with a T from Hell!
I joined forces with World of Strange and fellow artists Billy Tackett, Rick Veitch, Bob Burden, Nathan Thomas Milliner, Sam Flegal, and Denis St. John (whose skull I also inked) to create this non-Marvel Comics image to fundraise for Gary Friedrich.
Enjoyed this article? Share it!