Celebrating Free Comic Book Day At Mile High Comics In Denver
By Andrea "Yunie" McFall
This past Saturday, May 3rd, Mile High Comics opened its doors for the annual celebration of Free Comic Book Day! With friends from the other side of the state, we attended in costume to see what all was being offered by the giant warehouse on Jason Street here in Denver, Colorado. While not as crowded as I expected since we did go later in the day, Mile High Comics still had a large turn out. All the staff was having fun meeting everyone and helping them out, and there were even a few special guests to celebrate the event including local artists and Henry Winkler as well!
Not a lot of people were in costume, but everyone seemed to enjoy those that were. It was also nice as Mile High Comics had a giant prop X-WING from Star Wars set up in the center of the warehouse from a previous event. A little bit of everything for everyone!
After purchasing my pulls from the last few weeks, as I had been a bad fan and not in store until now, we all got in line to get the free comics! The line was a bit long, but the staff was making it go as quickly as possible with the system put into place. Plus, the line went right past Henry Winkler, so you got to chat and meet him. Awesome planning on the store's part!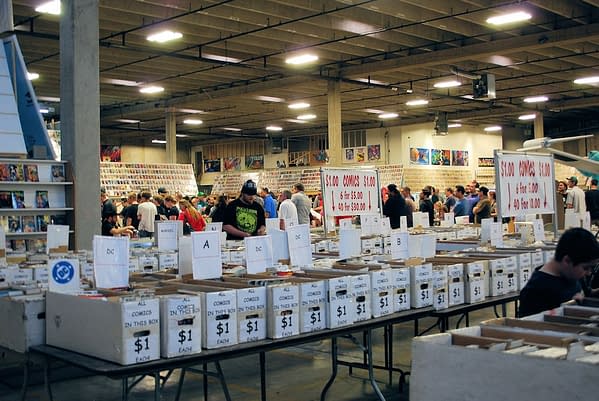 Once the comics were in hand, we did another quick walk-through to see the figurines and other comics, especially since this was the first time my friends had been here and the first time they had attended Free Comic Book Day! We also chatted up the representative there for Denver Comic Con, who was there to get people to attend and let them know where to find tickets now. Online, single day passes are available, but 3-day passes are only in certain comic shops here in Colorado, obviously Mile High Comics being included. Thanks Mile High Comics for continuing to be awesome and setting up a great event! I'll definitely be returning next year.
Andrea "Yunie" McFall is a co-host of podcast Panel 2 Panel. She also works with Anime Jam Session and Cosplay Blog with a Brain, spreading as much geekiness around as possible. You can find her on Twitter as @Koiengi and on Facebook under Yunie/Koi.