Charmed Season 1, Episode 2 'Let This Mother Out': Interesting Dynamic Marred by Glaring Clichés
Welcome to Bleeding Cool's weekly review of CW's Charmed, as we take a look at the second episode of Jane the Virgin creator-showrunner Jennie Snyder Urman's reboot of the popular series, 'Let This Mother Out.'
So at the end of last week's series premiere, Mel (Melonie Diaz), Macy (Madeleine Mantock), and Maggie (Sarah Jeffery) used a ouija board to contact their mother Marisol's (Valerie Cruz) spirit – who in turn warned the trio not to trust Harry Greenwood (Rupert Evans), their "whitelighter" (like a "watcher") and the one who first started filling in the gaps in the sisters' lives.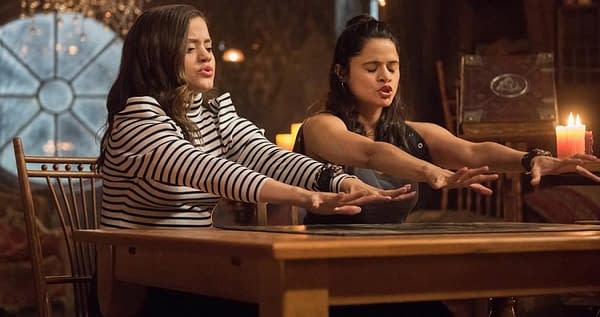 Is "Marisol" right? Is Harry someone with his own motivations? Was that even the Vera family matriarch the sisters were speaking with – or something looking to stop The Power of Three before they've realized their full potential?
To see how well they did at answering (or at least teasing answers to) those questions – and for some friendly advice about not falling into Buffy-like clichés for too long – check out our review of 'Let This Mother Out.'
Spoiler Warning: I'll be covering some themes and takeaways involving major and minor plot points from the episode, so just keep that in mind. Definitely not looking for pitchforks and torches outside my apartment.
Charmed s01e02 'Let This Mother Out': After getting a message from the spirit board to not trust Harry (Rupert Evans), the sisters are conflicted and ultimately concoct a plan to see if he is telling the truth. Desperate to believe the person warning them is trying to protect them, they end up going against their better judgement. Harry soon realizes that the sisters are up to no good and tries to help before it's too late. Meanwhile, this new sisterly unit is not fully unified, with Mel (Melonie Diaz) and Macy (Madeleine Mantock) struggling with who's the real big sister and Maggie (Sarah Jeffery) caught in the middle. Vanessa Parise directed the episode written by Jessica O'Toole & Amy Rardin
https://youtu.be/TadW2PKiAx4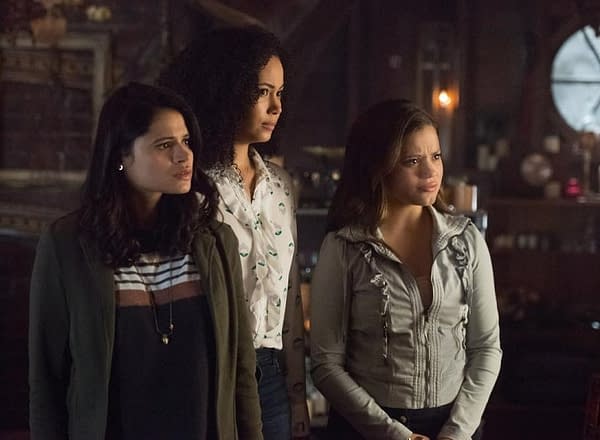 Here's a preview at what's ahead in next week's episode, 'Sweet Tooth':
https://youtu.be/goGzsPahCP0
Charmed s01e03 'Sweet Tooth': HALLOWEEN PARTY TIME — With the instruction of Harry (Rupert Evans), the sisters are put through witch lessons, so they are able to properly practice their magic. However, when Macy (Madeleine Mantock) learns of a mysterious death in her lab from Galvin (Ser'Darius Blain), she informs her sisters and together, they devise a plan to suss out the demon. Trying to speed the plan along, Mel (Melonie Diaz) uses her magic irresponsibly leaving Harry no choice but to constrain her, which creates tension between them. Meanwhile, Maggie (Sarah Jeffery) continues to struggle at balancing her two worlds – her sorority one and her witch one – especially after she volunteers to throw a Halloween party at her house. Ellen Tamaki and Nick Hargrove also star. Michael Allowitz directed the episode written by Joey Falco
Here's a look back at our thoughts on the season premiere: