Comic Con Collapse? Trouble With Geek Expos, Stan Lee And Nerd Year's Eve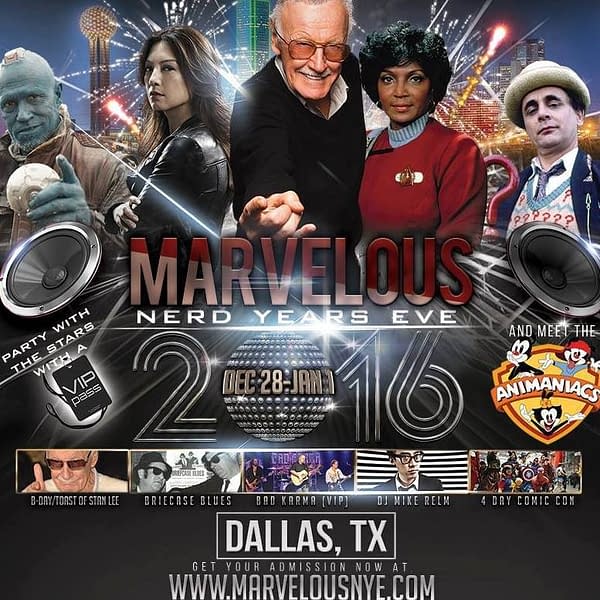 Over New Year's Eve, comic con organisers GeekExpos held a show, Marvelous Nerd Year's Eve in Dallas, Texas with special guest star Stan Lee.
I'd like to say reports have been mixed, but instead they have been disastrous. For some. There are reports of a great time by attendees who found very short queues to get top their star of choice. But that may have been the problem, the crowd stayed away. Apart from the late night parties.
I'm told that Stan Lee got half his appearance fee of $200,000 in advance, but on the day he only got $30,000.
But he was relatively lucky as this seems to have come out of appearance fees for all the rest of the talent there, who had to make do with the money they could make from their own booths and signing tables.
I understand on Sunday, guests also found themselves locked out of their rooms at the Sheraton Hotel after credit cards belonging to the show failed to charge and they didn't get their promised cars to the airport after the show ended.
So what was going on? Well, attendance was notably rather on the low side. Added to a poor performance in their recent Oklahoma show, and the word was that Geek Expos is in the process of being dissolved, with firings across the company including the CEO, and future announced shows, in Dallas and Tulsa, being cancelled.
Vendors and artists complained of their booths being segregated on a different floor from autograph hunters, resorting to using social media to remind people that they were still there.
Volunteer at the show, Matthew Egan, posted on Facebook,
As well as talking about many of the issues mentioned above, he added
One last casualty with fifteen minutes left in 2016, the hotel demanded huge sums of money or they would reset everyone's key or default the rooms to the card left for incidentals.

….

I personally am out several hundred dollars as a volunteer, as the hotel locked the master account and refused to add my room to the volunteer block.
Although he did reiterate,
There is no villain here, no one ran off with the cash, just a show that won't be back because they failed to bring in the bodies they were hoping to.

Don't tell anyone… but I'm still really glad I went, had a great weekend and that Roast of Stan Lee was magical.
Geek Expos have not replied to numerous attempts to get a response online and no one is answering the phones. They were taking messages earlier, but now divert to a voicemail that hasn't been set up and the calls end.