Mall is a comic book announced in May last year by Gary Dauberman, Michael Moreci, Emile Gladstone, Zak Hartong, Addison Duke, and Jim Campbell, published from August 2019 by Vault Comics.
Here in the heartland of the U.S. of A., the world has ended! But worry not, because the mall still stands. And within the walls of this consumeristic mecca lies a new world order: box store tribes and name brand gangs, all vying for limited space and resources. So, actually…you can worry! Especially for poor Andre Reed, who—after the assassination of a tribal leader—has to navigate the mad haven to prove his innocence, and prevent the end of world, again!.
However, The Mall is a comic book by Don Handfield, James Haick III, Rafael Loureiro, Dillio and Hopkins announced in January 2018, and first published on Free Comic Book Day in May 2018 from Scout Comics,
The Mall is set in everyone's favorite decade, the 1980's. This coming of age crime story takes place in a small Florida town at the height of the popularity of indoor malls. When the head of the Cardini Mob Family mysteriously dies, his three illegitimate children each inherit a store in the mall. While the stores front as legal businesses, the real money is in the illegal businesses. The kids are thrust into a world of crime, all the while just trying to survive normal high school life. It's like a John Hughes Godfather movie.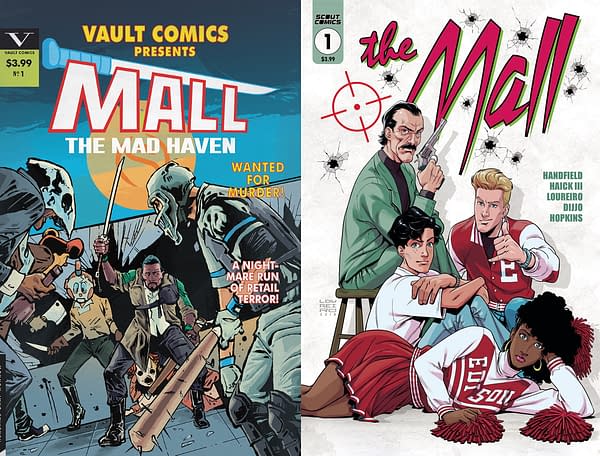 Handfield and Haick have just filed a lawsuit against over the use of the name against Michael Moreci, Gary Dauberman and Vault.  The suit is reproduced below and included letters from Scout Comics publisher James Pruett to Vault, in which he wrote after the Vault Comics title was announced,
Hey guys, hope you ate doing well. Your aannouncement today was brought to my attention concernlng your new title The Mall. First off, sounds very interesting, do need to let know that Scout Comics already has a title called The Mall, co-written by Don HandleId, a known Hollywood writer and producer, and we've published four issues to date, This comic has already been optioned by Ivan Reitman to develop as a possible television series. l know nothing was done intentionally on your end. but we respectfully request that you change the title of your upcoming series as we have already established the name The Mall and are currently publishing it.
In response, Damian Wessel, CEO & Publisher of Vault, replied
After discussion with both our creators and our legal counsel, our current plan is to release the book under its current title. Our counsel has advised that titles are not protectable under copyright law, and the series creator is firmly committed to this title.  In addition to this, the titles are not at all confusable in terms of content: one is a crime story set in the eighties, the other is a post-apocalyptic story of clan rivalry reminiscent of THE WARRIORS. For what it's worth, our book is titled "MALL" not "THE MALL"; the current presence of the article in our Diamond solicits is the result of a Diamond typo.
Don Handfield and James Haick also filed a trademark registration in June 2019 for 'The Mall' for use in comic books, citing first use in February 2018.
Vault Comics has not responded to enquires made by Bleeding Cool over the past two days, nor Michael Moreci from today, but Mall has not been pulled from Diamond listings, as happened with the likes of Dead Rabbit from Image Comics. Mall #5 is due to be published next Wednesday. The collection of The Mall is due to be published on the 25th of March.
Enjoyed this article? Share it!