DC Comics Cancels Super Sons With #16 – And Where Is Supergirl?
The arrival of Brian Bendis on the Superman comics continues to make ripples. As he takes the writer reins on Superman and Action Comics, making them monthly titles in the process, what of Super Sons? The series featuring Damian Wayne and Jonathan Kent, Robin and Superboy, written by Peter J Tomasi who has also been working on those Superman series until now.
Well, it looks like its final issue will be in May. Super Sons #16 will be the last issue. That isn't mentioned in the solicitation text released today…
SUPER SONS #16
Written by PETER J. TOMASI
Art by CARLO BARBERI and ART THIBERT
Cover by JORGE JIMENEZ
Variant cover by DUSTIN NGUYEN
Retailers: This issue will ship with two covers. Please see the order form for details. Includes a code for a free digital download of this issue.
"END OF INNOCENCE" part two! The epic battle between the Super Sons and Kid Amazo crashes to a close, and Superboy and Robin must decide how to pick up the pieces of the disastrous Amazo Project. The Super Sons face tomorrow in this latest chapter of their journey together!
On sale MAY 30 • 32 pg, FC, $3.99 US • RATED T
But the cover does have The End written on it, as signage going down the building.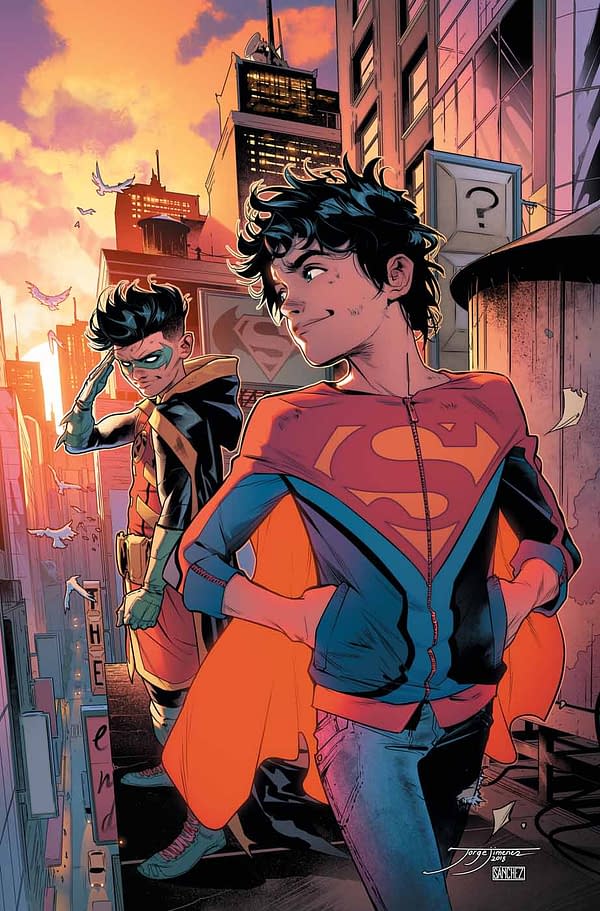 Oh and that's too subtle for you if you're still not sure, it is listed as FINAL ISSUE in the catalogue text in next week's Previews catalogue.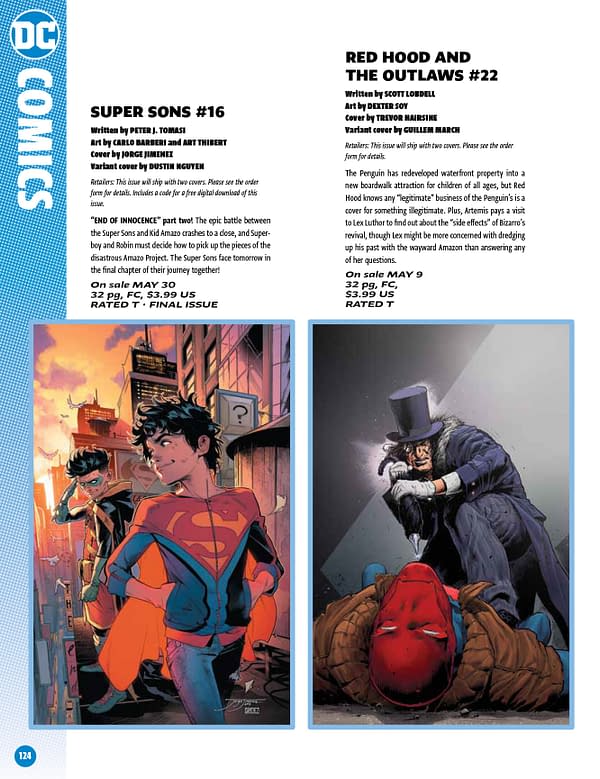 So there's that as well…
Sorry folks. Oh and Supergirl also seems to be missing from May. How final was its April solicit? Is it a skip month?
SUPERGIRL #20
Written by STEVE ORLANDO and JODY HOUSER
Art and cover by ROBSON ROCHA
Variant cover by STANLEY "ARTGERM" LAU
Supergirl must fight both Mokkari and the out-of-dimension Viking Judge to save Director Bones from the fury of the Viking's magical ax! Meanwhile, with Director Bones out of the picture, Cameron Chase and Lar-On must break into the D.E.O. to save Veritas before the clock counts down to zero and the psycho-redactor erases her memories forever!
On sale APRIL 11 • 32 pg, FC • $3.99 US • RATED T7
The only non-Bendis continuing Superman comic in MAy 2018 is New Super Man And The Justice League Of China...
But Super Sons fans may find some solace in the DC Zoom titles, with a graphic novel by Kingdom Keepers writer Ridley Pearson.

And his Super Sons story out in April next year, featuring Jonathan Kent and Damian Wayne, the sons of Superman and Batman, will be about climate disruption. With Lower Metropolis under twelve feet of water, with super storms cycling around the world destroying farmland and with what Ridley described as "a coastal ambush" of refugees heading to Denver and Lincoln, Nebraska as the coastline get flooded.
These super sons abandoned by their fathers, will meet a young woman and rightful heiress of a continental empire facing four rival girls. They will work together, be friends together, be middle school kids and solve a world crisis. Maybe.
Say, talking of Bendis' Superman – wasn't the first issue of Man Of Steel meant to be out for May 30th? Not mentioned in the DC May solicits…