DC Universe Doesn't Present, it seems.
DC UNIVERSE PRESENTS #19

Written by TONY BEDARD

Art by JESUS SAIZ

Fold-out cover by JESUS MERINO

On sale APRIL 17 • 32 pg, FC, $2.99 US • RATED T • FINAL ISSUE

• In this final issue, what time displaced-hero has arrived on our world—and is the destruction he brings the herald to a great disaster?
Noe, "fold-out cover", confirming Bleeding Cool's stories about the cover gimmicks for April 2013. Not an April Fool, it seems. So what is going to be on the other side of all these covers?
UPDATE: In the Bob Harras/Bobbie Chase interview at CBR;
There's also some sort of unnamed event in April that will feature a lot of the April covers having "shocking" moments for their lead characters. What's going on with that?

Harras: That is going to be on all the New 52 covers. It is part of, as we explained earlier, the theme of game-changing, upping the stakes for our heroes. This was a way to accentuate that threat or shocking moments in our heroes' lives. What we're doing with the covers is thematically linked to that. They will be page-fold covers; the covers will tell you a story. There will be an image that will crack the page fold, and as you open up the cover, you'll say, "Oh, wow!"

Chase: You might even say, "What the F?" [Laughs]
No, Bobbie, you might say "Holy Shit!"- that was the internal name…
UPDATE ends
Here's one from Katana #3,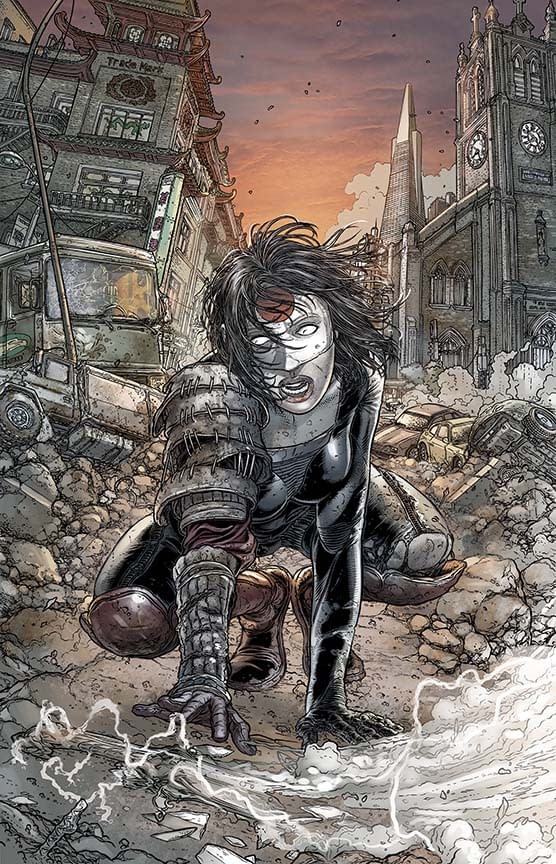 Enjoyed this article? Share it!