Delete Blood Cancer At JHU Comics Benefit For Seth Kushner + Signing
We announced on Bleeding Cool a couple of weeks ago that award-winning pop culture photographer and comics creator of the recent Kickstarter success Schmuck, featuring the work of 22 major indie artists, Seth Kushner was diagnosed with rapid-onset Leukemia and undergoing his first round of chemo, after which Kushner received the difficult news that he would require a bone marrow transplant from a donor.

At the time, his wife Terra Kushner and young son Jackson appealed to family, friends, and the comics community to be tested as a match for Seth. Since then, there has been a massive amount of support among comics creators, many of whom had already benefited from Seth's outstanding photo portraiture as seen in the photo-profile book Leaping Tall Buildings with Christopher Irving or who had been part of Seth's wide-ranging Kickstarter Schmuck featuring tales of the modern quest for love in an overly-ironic and cynical world.
But now, JHU Comics and a raft of comics creators are teaming up in New York to host a "bone marrow drive" to register as a donor and signing to spotlight Seth's need and help others who may be waiting for life-saving bone marrow transplants. They are encouraging us to step into the role of hero and take the time to serve those in need, Seth included.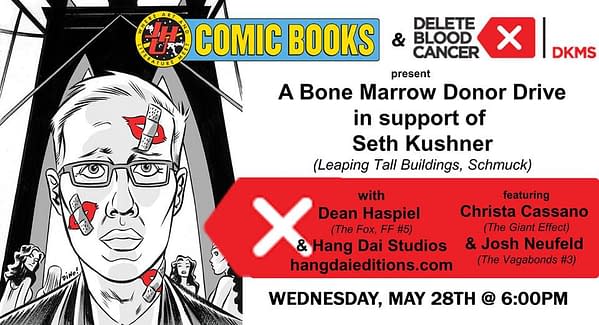 Seth Kushner's home studio, Hang Dai Studios of Gowanus, Brooklyn, will be turning out for the signing next week on Wednesday, May 28th, starting at 6PM at JHU Comics, and encouraging those who attend to take a simple cheek swab to be tested as a bone marrow donor. They're teaming up with the non-profit Delete Blood Cancer to handle the registration process at the signing.
Hang Dai Studio members attending include Emmy Award-winning artist Dean Haspiel of The Fox, and currently appearing in The Fantastic Four #5, Gregory Benton of the MoCCA Fest Award winning B+F from Adhouse Press, Christa Cassano of The Giant Effect and a contributing artist on the Schmuck collection (like Haspiel and Benton), and Josh Neufeld of A.D.: New Orleans After the Deluge, and The Vagabonds. There may also be other comics creators participating in the signing and the bone marrow drive.
Here are some of the qualifying factors to be a bone marrow donor, according to Delete Blood Cancer:
We want to make sure that helping a patient get healthy won't impact your health. Please review the following list of conditions. If you're not sure about a condition, feel free to call us: 212-209-6700.
You are eligible to register if you are:
-Between the ages of 18 and 55
-In general good health
-At least 4'10" and 110 lbs
You are not eligible if you have:
-HIV
-Hepatitis B or C
-Kidney or liver disease
-Chronic or severe neck or back problems
-Epileptic or other seizure within past year
-Diabetes that requires medication
-Sleep apnea, breathing problems or severe asthma (daily inhalers are acceptable)
-Autoimmune disorders such as lupus, rheumatoid arthritis, multiple sclerosis or fibromyalgia
Or a history of:
-Heart disease/surgery
-Strokes, including TIA
-Blood clotting or bleeding disorders
-Cancer, with the exclusion of melanoma, breast, bladder, cervical (stage O, in situ) and cured localized skin cancers such as basal cell or squamous cell
Even if you can't make it to the event on Wednesday at JHU Comics, you can still register online to be tested through the mail as a bone marrow donor here. But you can find out more about the event at JHU Comics here.
And here's some more information courtesy of Delete Blood Cancer, including thematic superhero designed by Seth Kushner for the event: "The Match".