Earlier this week, Bleeding Cool ran a story that Marvel's plan for the X-Men books is to split tham along two political lines. I wrote
I'm told the members of the X-Men are planned split into two very distinct teams and books, each with a different moral outlook, aligning along the traditional Xavier/Magneto divide. Scott Summers, Cyclops, will lead the Xavier-minded team, while the Magneto-motivated will be led by… Wolverine!
I also mentioned a couple of involved mini-series that would see issues drawn by successive artists.
In the new Cup O' Joe at Comic Book Resources, Tom Brevoort stated, regarding the planned mini-series X-Men Prelude by Paul Jenkins, with different artists on each issue (Robert De La Torre, Laurence Campbell and more) and the continuing storylines of the X-books
Certainly within the books over the past couple of years, the X-Men have drifted away from Professor X's philosophy and onto another path that Cyclops has been forced by circumstances to take them down, along with some other folks — Wolverine and Rogue and a few others. Paul's story specifically focuses on the four characters who are at the forefront of the leadership question for mutantkind: Professor X, Cyclops, Wolverine and Magneto. Each issue of the series — because Paul tends to focus on individual 22-page stories even as they all connect in the larger whole — will paint a picture and give you an idea of what the mindset, direction and directive for each of these guys is going into the next event. And as I said, that'll be less about who leads the team as it will be about, "Where do we go from here?" or, "What is the path we'll choose to follow?" Some degree of optimism has returned with the appearance of Hope and the Five Lights, meaning that maybe the mutant race is not as absolutely on a path to extinction as it seemed over the past couple of years. So what do they do next as a result of this sea-change? Paul's story is very much about who these four characters are as individuals and what their specific philosophies are as we dive into that epic.
Not exactly a "Respectfully We Informed You Of This Event At An Earlier Juncture" moment, but food for thought, no?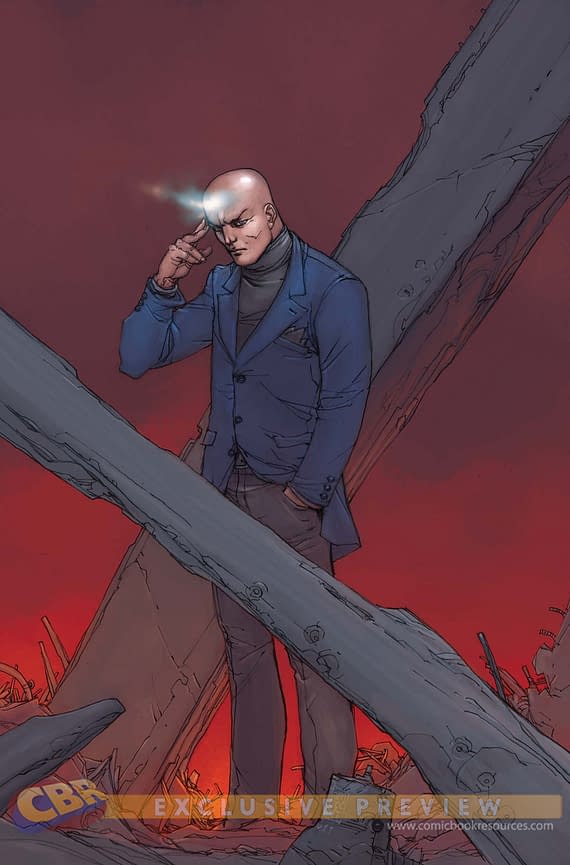 "Be thinking you…"
Enjoyed this article? Share it!