Last October's MCM London Comic Con had Jim Shooter as a guest. Former teenage writer of Legion Of Super-Heroes, Editor-In-Chief of Marvel Comics, writer of Secret Wars, founder of Valiant Entertainment, Defiant Comics and Broadway Comics, he is the co-creator of co-creator of Star Brand, Parasite, Archer & Armstrong, Eternal Warrior, Harbinger, Rai, Shadowman and X-O Manowar.
Shooter had many, many tales to tell and regaled fans at panels and at his table, often for hours, with stories of comic books past, present and even future. But he also had some folders with him, full of memos, sketches and pieces of artwork from his long career. He said he just grabbed a few on his way of of the door but he has many, many more. He graciously allowed me to take a few photos of some of them, telling undocumented tales of comic book publishing past, and last Thanksgiving, Bleeding Cool shared and transcribed a few of these (use this handy dandy tag), but these are but the tip of an iceberg. If Jim Shooter is a guest at a show that you can get to and will be 'tabling' there, as the Americans have it, do what you need to do to get to his table and look through his folders – and be prepared for a conversation, a story, that may last for a good chunk of the show but will stay well with you.
One memo concerned the use of phone numbers in comic books…
PHONE NUMBERS

Somebody at a con said that the FF's phone number was printed in an issue of Micronauts–and it was a real number!

If this is true, don't let 'em do it again. We could be sued by the owner of the phone number….
Here's the comic in question, by Bill Mantlo and Gerry Conway.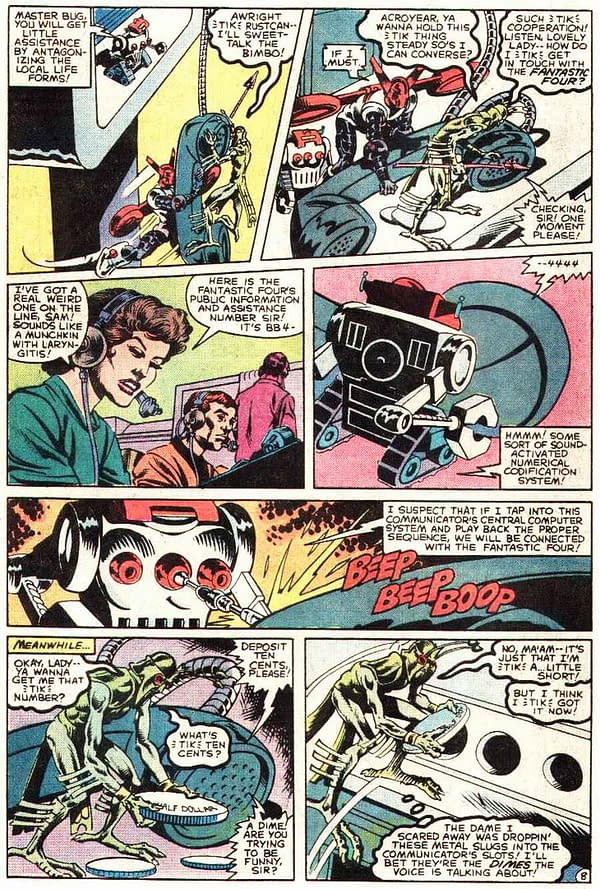 Classically, US TV shows use numbers with 555 in them – as no US number has that configuration, Weirdly, my own home phone number has those three digits together in a row, living as I do in the UK, leading some Americans to doubt it is my real number…
Enjoyed this article? Share it!