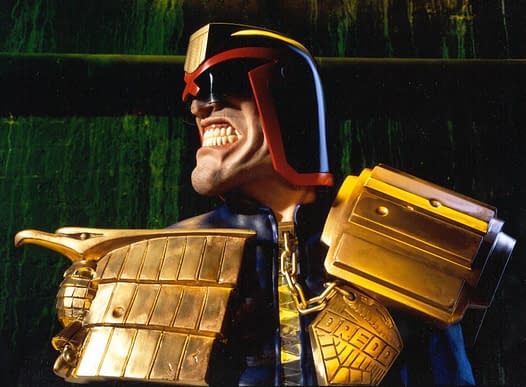 Gaze into the fist of Dredd as it smashes out of the screen and through your poncey 3D glasses.
Deadline Hollywood is reporting that the DNA Films/Reliance Big Entertainment production to finance Judge Dredd, written by Alex Garland, directed by Pete Travis, with concept art by Jock, will be shopped around Cannes. With a budget under $50 million, this could be a decent pick up for some.
And if not, twenty years in the cubes!
Dredd co-creator John Wagner commented on the movie script a while ago saying;
I have read the script (by Alex Garland) and seen Jock's visuals. While I can't go into detail about the content I can say that it's high-octane, edge of the seat stuff, and gives a far truer representation of Dredd than the first movie. I hated that plot. It was Dredd pressed through the Hollywood cliché mill, a dynastic power struggle that had little connection with the character we know from the comic.

Confident? I will be once I hear they've started filming. There's many a slip…
Enjoyed this article? Share it!