Friday Runaround – Heroes In A Plant Pot
TweetWatch: "Huh. I didn't know there was going to be SUICIDE SQUAD book with King Shark and Deadshot. That would have been nice to know, guys." – GailSimone
BlueWaterWatch: AmberUnmasked reports on the Hillary Clinton comic book, currently featured on the likes of CBS and the HuffPo. And how the cover was totally swiped from an artist who was asked to submit her work for the project.
At least she got paid first…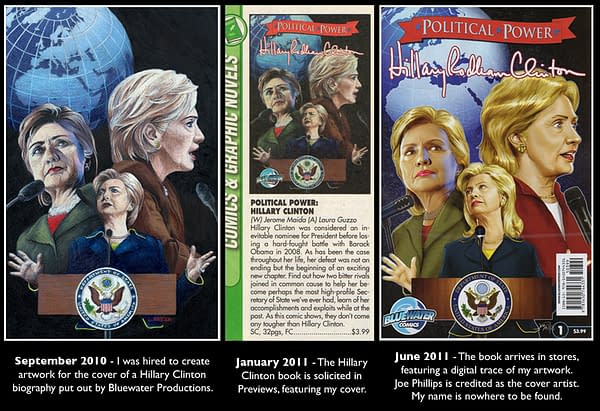 ConWatch: The horror convention… that wasn't

SecondPrintWatch: "Not only did we go back to press on BOOSTER GOLD #44, we're doing so on #45 as well!" -Jurgens to Comic Related's Gold Exchange
TheftWatch: A Pikesville resident reported that a burglar took $5,000 worth of comic books from her storage area at work, in the 3500 block of Carriage Hill Circle in Randallstown, Baltimore. You know what this means…
FightWatch: Virgin Comics co-creator of Voodoo Child, Wesley Coppola Cage in an on-set fight with his personal trainer that left him "in a bloody pulp."
This is Computo the Comic Link Conqueror speaking. I come for your women. But for now I merely collate comic-related bits and pieces online. One day I will rule. Until that day, read on.
They say I am a work in progress. The fools.
Fired Spider-Man director Taymor claims royalties | Reuters
Julie Taymor, the ousted director of Broadway's troubled "Spider-Man" musical, is seeking an estimated $300,000 in unpaid royalties from producers, the union representing her said on Thursday.
Brian Wood – Comics + Graphic Novels
I am offering a free download of the entire 132-page Public Domain 2 artbook. It's about 115 megs, nicely high res, and looks great imported onto my iphone and ipad. It represents about a decade of sketches and random art.
sarah's nuigurumi, I crocheted some Teenage Mutant Ninja Turtles…
I crocheted some Teenage Mutant Ninja Turtles cacti!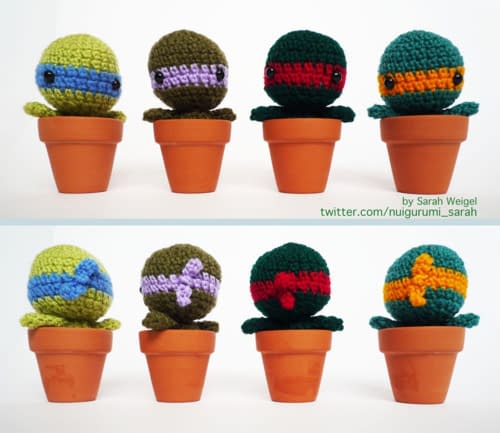 CNS STORY: Pope to get manga comic treatment in time for World Youth Day
A 32-page Pope Benedict manga comic will be distributed in August during World Youth Day in Madrid. Lin said he expects to have 300,000 copies produced in Spain to meet demand. He hopes it will whet World Youth Day participants' appetites for a longer Pope Benedict manga to be produced this fall in the United States.
THE LEGAL VIEW: The DCU Relaunch and the Superman Copyright | The Beat
By this line of reasoning, the relaunch would establish a clear foundation for making DC the sole owner of the current Superman and Superboy, leaving the Siegel and Shuster heirs with nothing except the original–and far less lucrative–Superman from 1938.