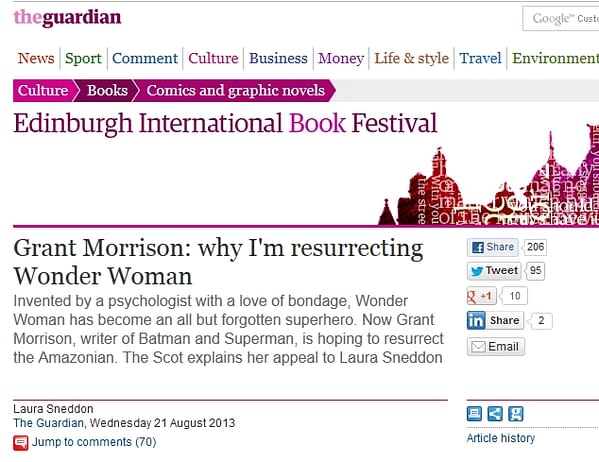 "We, uh, we spent five grand on lawyers' fees. They sent [Rebellion] letters. We were very keen to discuss it and we've never heard back from them. All I can say is that we tried to get into a discussion with them and they just didn't reply. I don't know what to do at this stage." – Grant Morrison
That was from today's Guardian newspaper, Grant Morrison talking to Laura Sneddon about a number of matters. Rebellion had previously assured me they had not received any such communication, though that was over a month ago.
But the article is mostly about his upcoming Wonder Woman original graphic novel with Yanick Paquette, The Trial Of Diana Prince.
"Steve takes the stand and speaks for men about women – he's the first man allowed on this island and he goes, 'OK, here's what we think.' Also, without giving too much away, this let me explore the differences between what a trial convened by society of enlightened utopian women would be – as opposed to what we think of as a trial."
And, revamped on the skinny side in the New 52, Etta Candy is returning to her more familiar size as Beth Candy.
"She's major and she's Wonder Woman's pal. I wanted to get in as many relationships between women as possible – there's Wonder Woman and her teacher, Wonder Woman and her mother, Wonder Woman and the girl she kind of fancies at school. I wanted lots of different female relationships to show that there's not just one type of woman and she's not representative of all women."
Morrison also stated that the final part of his creator owned DC/Vertigo Seaguy is due next year.
"It's honestly the best I've ever written… It never sold well, but it's my thing. I want Seaguy to remain as my statement about life and death and the universe."
Though Seaguy co-creator and artist Cameron Stewart might want to have a peek at some point.
INB4 everyone assuming Seaguy 3 is done or even a work in progress, when I have still not even received a script

— Cameron Stewart (@cameronMstewart) August 21, 2013
Which isn't to say I've been sitting around waiting for a script that isn't coming – I've been busy, so has Grant. It's still a long way off

— Cameron Stewart (@cameronMstewart) August 21, 2013
And then a few hours later…
Oh hey remember when I said earlier I hadn't received a script? I looked in the mirror, said its name 5 times and… pic.twitter.com/9z16hz9XZ5

— Cameron Stewart (@cameronMstewart) August 21, 2013
Now for the bad news: I literally won't – can't – start working on this until 2014, so

— Cameron Stewart (@cameronMstewart) August 21, 2013
Enjoyed this article? Share it!