There have certainly been Palindrome cartoons. There's a website devoted to them over here. But an entire palindromic comic? That's a new one on me.
The upcoming Ice-Cream Man #13 from W. Maxwell Prince & Martín Morazzo published by Image Comics on July 31st is one such beast. The issue, dubbed 'Palindromes' is one. To some degree at least.
The issue can be read forwards (from first to last panel), or backwards (from last to first panel). Either way you read, you get the exact same story, a simple psychological study about a man descending to the Underworld to find out why his husband had to die.
The panels per page create a numeric palindrome 24 pages: 1,2,3,4,5,6,7,8,9,10,11,1,11,10,9,8,7,6,5,4,3,2,1.
Some of the characters speak in palindromic sentences.
And the comic required words and pictures, that could be reflected at the midway point of the issue, and then, when read in reflection, still make sense, while also having a slightly different meaning than when read forwards.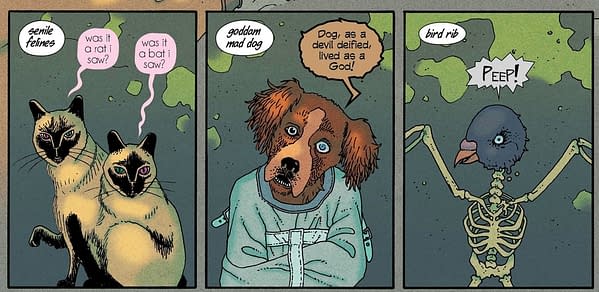 Of course, this also means that anyone running a preview of the first pages of the comic is automatically running a spoiler for how the story ends…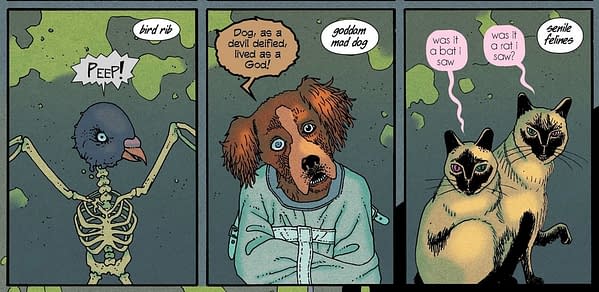 Oh and it also means that Martín Morazzo only had to draw twelve pages…
They are FOC'ing this weekend if this is the kind of thing that floats your boat. It does mine, I once wrote a Doctor Who comic called Room With A Deja Vu, that could be read in different directions but this is a whole new ball game…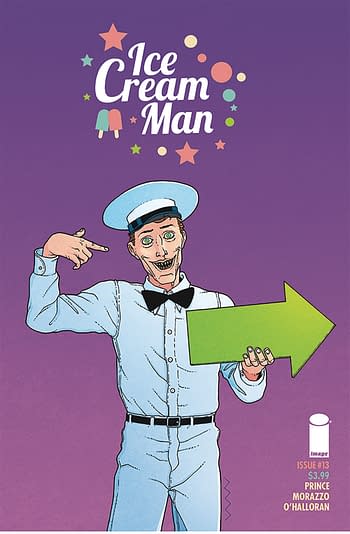 ICE CREAM MAN #13 CVR A MORAZZO & OHALLORAN (MR)
(W) W. Maxwell Prince (A/CA) Martin Morazzo, Chris O'Halloran
NEW STORY ARC!
"PALINDROMES"": What if you could have it both ways?In Shops: Jul 31, 2019
Final Orders Due: Jul 08, 2019
SRP: $3.99
Enjoyed this article? Share it!